World's Most Popular Brutalist Buildings, Architecture Guide
World's Most Popular Brutalist Buildings Guide
1 Oct 2020
To celebrate World Architecture Day, on Monday October 5th, Musement has revealed ten of the world's most popular brutalist buildings on Instagram.
Most Popular Brutalist Buildings in the World
1st October 2020 – Many impressive buildings and architectural styles with a historical and interesting past have lost appreciation and admiration in everyday life. Despite this, social media networks have succeeded in the resurgence in popularity of certain architectural styles, particularly with brutalism.
Brutalist architecture emerged during reconstruction projects in the post-war era during the 1950s in Great Britain. The style is often characterised by exposed concrete, modular geometric shapes and utilitarian feel. By the late 1970s brutalist designs fell out of favour, with many people associating the style with urban decay and oppression.
Now, with over 869,000 posts on photo sharing platform Instagram, #brutalism is now considered cool again. Popularity of these massive concrete structures has risen greatly, becoming a trend amongst social media users. Musement, the online platform for tours and activities, has compiled a ranking of the most popular on the social platform:
Torre Velasca (Milan, Italy) 23,591 posts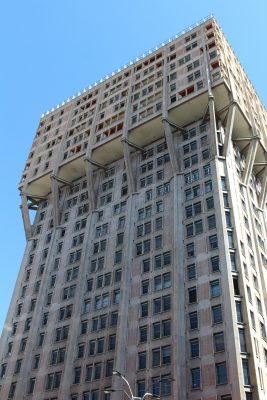 photo : Stefano Ferrario
The Velasca Tower is a skyscraper built in the 1950s by the BBPR architectural partnership in Milan. A modern interpretation of a medieval castle, the building is approximately 100 metres tall and sits south of Duomo Square. Standing out against the city skyline, the building is regarded by locals as one of the ugliest buildings in the city, yet it seems to be particularly popular with Instagrammers.
Trellick Tower (London, England) 19,225 posts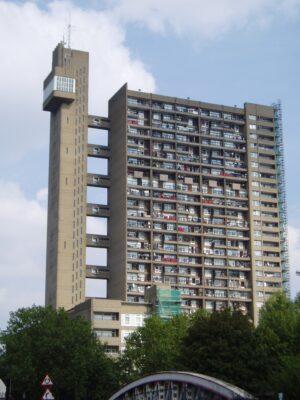 photo : Steve Cadman
One of the most photographed buildings in London, the Trellick Tower is a 98-metre-high residential building. Designed by architect Ernö Goldfinger, the unique building features a separate lift and service tower linked to the main building by walkways. High rise apartments and brutalist architecture were falling out of favour by the time the tower was completed in 1972. Nevertheless, the building has seen a resurgence in popularity on Instagram and as a filming location in recent years.
Habitat 67 (Montreal, Canada) 18,911 posts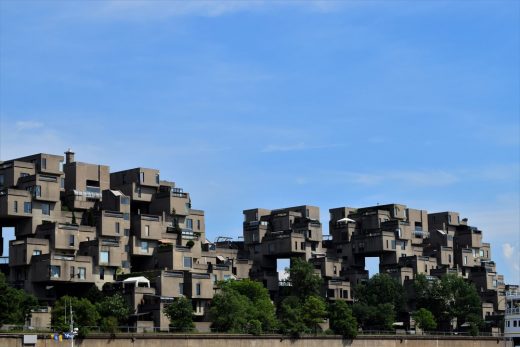 photo : Ingi Finnsson
Presented as modular housing by Moshe Safdie at the 1967 World Expo in Montreal as a vision of social housing for the future of cities. Comprising a three-dimension landscape, 354 stacked concrete 'boxes' are cleverly joined together to make 158 residential buildings. It is currently one of the most famous buildings in Montreal.
The Barbican Estate (London, England) 16,284 posts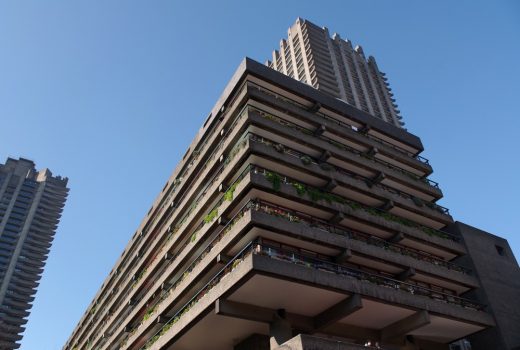 photo : Matt Buck
The Barbican Estate is a complex of brutalist buildings erected in the city of London in the 1960s. The complex includes the London Museum, the Barbican Public Library and the Barbican Arts Centre. The complex, designed by Studio Chamberlin Powell and Bon, was not built for social housing like other brutalist buildings of its time, instead it was designed for affluent city professionals and their families.
Renaissance Center (Detroit, USA) 13,310 posts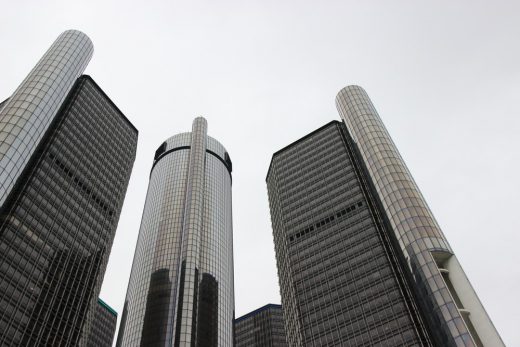 photo : Jowest
One of the largest building complexes in the world, seven skyscrapers comprise this brutalist structure in central Detroit. The first phase of the complex was completed in 1977 and consists of a five-tower rosette, with four 39-story towers surrounding a fifth 73-story building. Two additional 21-story towers opened in 1981. Known as a city within a city, this complex is featured heavily in brutalist architecture on Instagram.
Unité d'Habitation – Citè Radieuse (Marseille, France) 12,533 posts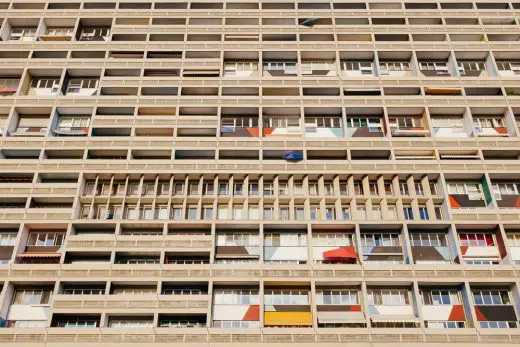 photo : Alexander Rentsch
Within this brutalist complex, the Cité Radieuse building stands out. Designed by Le Corbusier, this complex became a model of brutalism and influenced many other brutalist buildings across Europe. Made of exposed concrete, the building is arranged over 12 stories and is suspended on large pillars.
Ihme Zentrum (Hanover, Germany) 10,472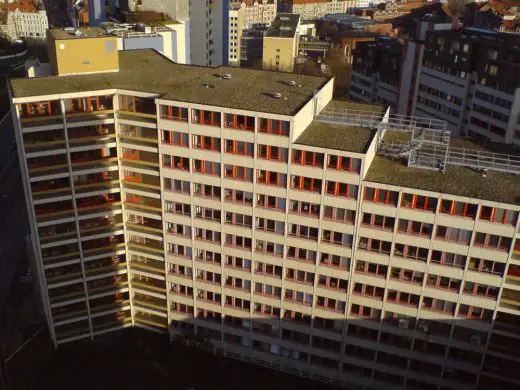 photo : Niels Heidenreich
The Ihme Zentrum in Hanover was built in the 1970s. It was designed to be a 'city within the city' offering plenty of residential, office and commercial space. However, the building complex has been left in a state of decay in recent years, which has only added to its popularity on Instagram, precisely because of it's deserted atmosphere.
Geisel Library (San Diego, USA) 7,768 posts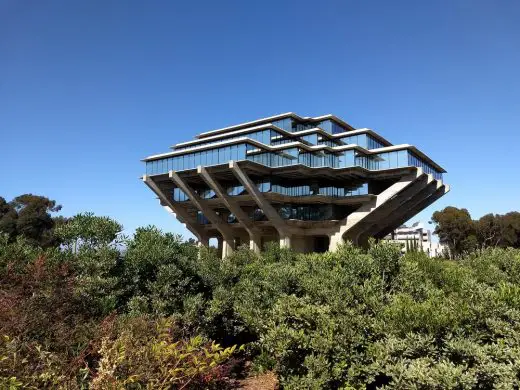 photo : Talal Albagdadi
One of the most recognisable buildings at the University of California in San Diego. Designed by William Pereira, the structure is reminiscent of hands holding a book. The 33-metre-high reinforced concrete tower is considered a fascinating blend of brutalist and futuristic architecture.
Boston City Hall (Boston, USA) 6,386 posts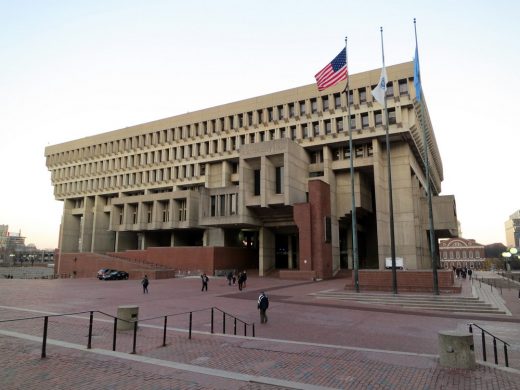 photo : Daniel Lobo
Nine floors of exposed concrete make this building one of the most important brutalist symbols in the United States. Designed by Kallman McKinell & Knowles between 1963 and 1968, it is a prominent and controversial example of brutalist architecture. The structure has been subject to public disapproval and is often called one of the world's ugliest buildings.
Torres Blancas (Madrid, Spain) 5,786 posts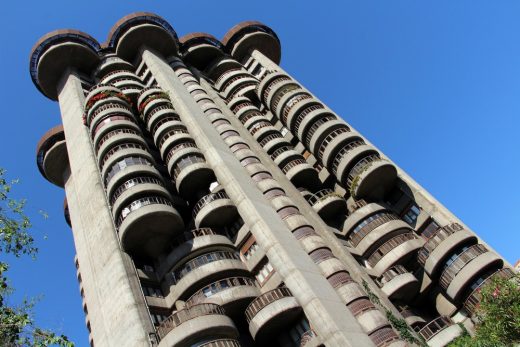 photo : Fred Romero
This 81-metre high tower, which was built in Madrid between 1964 and 1969 is an extraordinary example of brutalist and organic architecture in Spain. The top of the exposed concrete building is designed to look like a tree-top, so that it would merge with its surrounding landscape.
Source:
Musement Analysis – The number of posts on Instagram for 200 brutalist buildings was analysed. Buildings with general names that cannot be clearly assigned to the buildings and those in which major events take place were excluded from the results.
Musement is headquartered in Milan and has offices in Hamburg, Amsterdam, Barcelona, Dubai, London, Munich, New York, Orlando and Paris. The company has been certified as a Great Place To Work® and is listed in the top 25 Best Workplaces® in Italy (within the 150-499 employee subgroup). In September 2018, Musement became part of the German group TUI, the largest integrated tourism operator in the world.
Comments / photos for the 8 Ways You Can Take Care of Your Home in the Winter Advice page welcome
Brutalist Buildings
Brutalist Building Designs
Boston City Hall Building
Design: Kallmann, McKinnell, & Knowles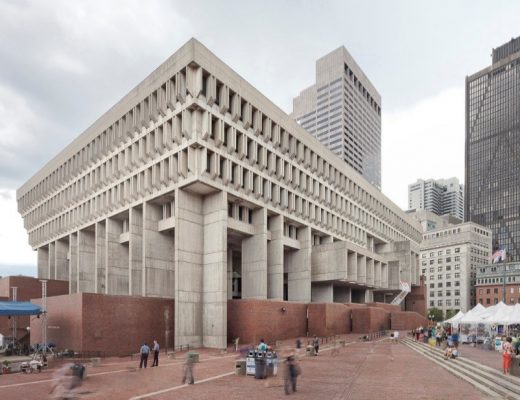 photo © Naquib Hossain/Dotproduct Photography
Boston City Hall Building
Brutalist Architecture – Habitat 67, Montreal: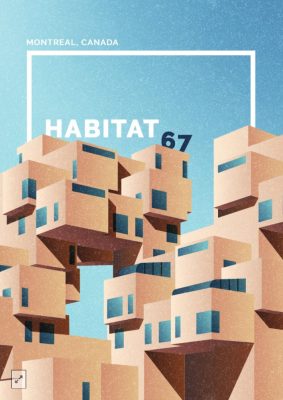 image courtesy of architects
Brutalist Buildings
Barbican Estate
Barbican Estate London: Brutalist Buildings
Brutalist Architecture in London – New Photographs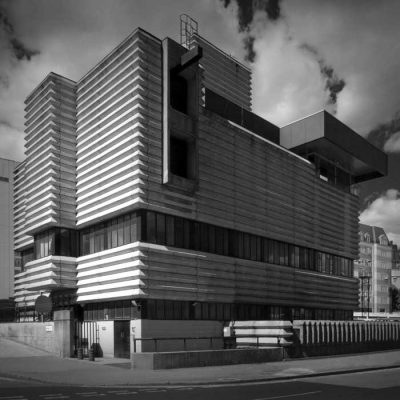 photos © Andy Spain Photographer
Brutalist Architecture in London