Expert reviews on the current set of standing desks out in the market right now, Workplace furniture advice
Expert Reviews on Standing Desks on the Market
21 Mar 2021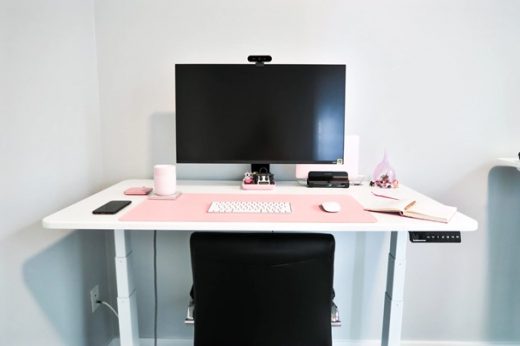 As the pandemic hit the globe last year, a huge portion of the working population was not ready for the new setup. Today, almost every professional and worker is close to the first anniversary of working from home. Are they comfortable now? Well, while some are happy with remote working, some are still not getting the hang of it. Your work set up at home may be to blame.
It is not hard to understand why work efficiency depends a great deal on how you tack together your work atmosphere. More or less, everything is going to impact you from your devices to even the smell in your room. One of the important factors improving work efficiency that most individuals often miss out on is furniture – especially the desk.
What Are The Best Standing Desk Options Available For You
A desk is where you spend most of your work hours – and that can be really uncomfortable. Your problems can be attributed to the extended period of slouching over the desk that causes back pain, anxiety, and sluggish performance. Why not get a desk that keeps you energetic and productive throughout your day.
Of course, we are talking about standing desks. A standing desk, also known as an adjustable desk provides great ergonomics by allowing you to change the height of the desk so that you can work in the stance you are most comfortable with. In other words, you may work standing, sitting, and you can fit it as per your height. The height and width you get entirely are based on the adjustability of sit stand desk frames that you can lower or raise as you see fit. If you have the desktop and legs ready, you may check out frames online. But for those who are looking for a brand new standing desk, let us check out some of the top ones in the market that you must not miss:
Devaise Adjustable Height Standing Desk
As per reviewers, this is the best budget standing desk that people can buy. The height of the desk can be adjusted manually from 29.5 inches to 45.5 inches using a crank. What is more, is that the feet of the desk are also adjustable to fit the floors. The wide frame of the desk allows you to multitask easily while also keeping your snack plate on the side if you want to. With a weight capacity of 100 pounds, the Devaise adjustable standing desk is a pretty complete package.
Anonymous L-Shaped SmartDesk
Well, this one is a bit different mainly because of its shape which makes the alphabet L. The Smartdesk is called because it allows you to make good use of overall real estate and more so, it is powered by 3 electric motors. You can take it all the way up from 28.5 inches to 47.5 inches. Besides the design and adjustability, the SmartDesk also has a solid built-quality because of its frame that is made out of steel which allows it to hold up to 330 pounds. Sick! To experts, it is the ideal choice for anyone who has a corner office.
Seville Classics Airlift Height Adjustable Electric Desk
Another electric player on the list, Seville Classics electric desk is a bit more intuitive than others. In addition to the great steel and glass body and weight capacity of 160 pounds, the desk offers you a built-in dual USB charger that is capable of supplying 4.8 amps of power which means you can easily charge your phone and laptop at the same time. You can lower or raise its height anywhere between 29 inches to 47 inches.
Fully Jarvis Bamboo Standing Desk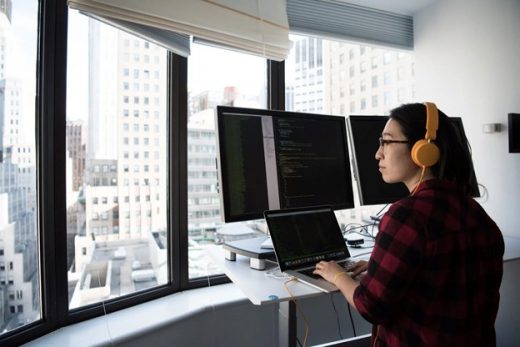 If you want an eco-friendly desk, look no further. The bamboo desk is made out of bamboo grown without fertilizers which makes it the greenest table you can find around. With a holding-up capacity of up to 350 pounds, the bamboo desk offers the best range for height adjustments from 21.9 inches to 50 inches which is absolutely impressive.
Teknion hiSpace Quick Connect Electric Height-Adjustable Table
This is one of the best high-end table options for you and there are several reasons to justify that. The table offers the height adjustment range of 22.6 inches to 48.7 inches. The model uses two motors that can change the height with a simple click of a button. As per Teknion, the desk can be effortlessly assembled within 30 minutes.
A standing desk is important both for your efficiency and health. Before you get to select one for you, you must know what is right for you based on the nature of your work and the number of items that you typically have on the top of your desk. Remember that a standing desk is more than just a desk.
Comments on this Expert Reviews On The Current Set Of Standing Desks Out In The Market Right Now article are welcome.
Furniture
Furniture Posts
Bauhaus inspired architecture and furniture
Ideas on What to Put On a Coffee Table
Furniture that Help You Work Better at Home
Home Articles
Residential Architecture
Comments / photos for the Expert Reviews On The Current Set Of Standing Desks Out In The Market Right Now page welcome