Some pro tips to prepare your home for winters advice, House guide, Online property help tips
Some pro Tips to Prepare Your Home for Winters
7 October 2021
The beautiful fall is on its way, and so are the celebrations. The celebrations and winters demand hugging and a warm place for your family and your friends.
Luckily, With minor checks and repairs, you can become winterproof. So be proactive and check all your preparation to make your home a cozy one.
Reconsider your space and make a list of all rechecks and preparations. Then, let's have a look at some pro tips you need to prepare your home for wintertime.
#Check Your Heating System Thoroughly
You surely don't want to go for heating system repair on the coldest of the evening. Instead, call a technician and clear your heating pipes, pumps, and furnaces.
Check for carbon monoxide leakage. If you have an electrical heating system, you must make sure it's working well.
#Pay Attention to Doors, Windows, and Roofs
Reapply exterior caulk to your doors and windows to prevent any cold from getting inside. Recheck your roof for any leakage and maintenance.
You must look at the wooden frames if they need repairs. Replace all the glass with storm glasses.
#Don't Forget the Plumbing.
Plumbing checks are essential as you must have noticed some emergency plumbing problems. Repair all your pipes so that you don't face water leakage.
You must turn off your exterior faucets because, in icy cold weather, the line may blast. Instead, provide insulation to your pipes with the help of insulating agents.
#Gracious Wall art
When you are finally done with all the rechecks and repairs, it's time for some decoration. But, first, you have to set up the tone according to celebrations and weather. Then, you can install outstanding wall prints from an unbelievable collection of wall canvases.
You can choose a framed, unframed canvas of all shapes and sizes. You can also turn your family Christmas group photos into a custom canvas. A collage, multiple hexagon frames, or panoramic canvas. The options are various and amazing
# Cozy Lights
With celebrations comes the warm lights. First, decorate your fireplace top with candle holders and lots of lights. Then, install traditional wall sconces and light up your house.
It provides warmness and sets a generous, joyful mood. Place a classic candle holder over the dining table. On some beautiful glass jars, add string lights and keep them at different places.
Install hanging ceiling lights over the dining area and in living rooms. Don't forget to place candles everywhere.
#Warm layerings
There are lots of options for winter layerings as you have to keep yourself warm. Place a warm rug under your couch and bed with a bright pattern.
Place cushions and comforters in all the seating areas. You can place a long stair carpet of Moroccan or reindeer print on the staircase. It feels good and looks very stylish.
#Essential Winter Wreath
Winter wreath on your entry door is the sign of upcoming winters and happiness. Decorate your door with a garland wreath or yarn wreath.
The metallic wreath is also so much in trend as it has an inviting look. Decorate your entrance with festive objects.
#Comforting Greenery
Green looks good; make a centerpiece with flowers and lots of greens. The rustic wooden green masterpiece looks good too. Finally, make a magnolia garland and brighten up your mantle.
Red and green are colors of celebrations, place indoor plants and decorate them with wintery showpieces like handmade snowmen or bells.
#DIY Snowflake Garland
You can easily make a snowflake garland and decorate your stairs with it. What is a better sign of winter than snowflakes? You can make a snowflake garland and hang it on the railings of your house.
#DIY Pine Cone Decoration
Collect some fallen pines on your way home. Color the pines and decorate them on tables with some greenery.
Painted pin hangings with string lights also look very chic. Pine cones also look great on your console table when appropriately accessorized.
#White Knitwear decorations
You can make cushions covered with your knitwear like sweaters. You can also wrap lampshades with knitwear. This looks wintery and gorgeous.
Whites complete winter, so white knitwear all overlooks well. White drapes to white table cloths and knitted comforters give your place a hugging look.
# Beautiful Napkin Rolls
Design your dining table with next-level detailing. Napkins rolls tied in jute thread with a cinnamon stick and green leaves look exhilarating. The table decor is so much prime, and each and everything must be looked upon.
Let's Sum up
With some essential checks and repairs, you can keep the coldness away. First, however, make sure you also invest your time in decorating your home for cozy winters.
Your family friends may spend nights here. Make sure you are creating worthwhile memories with a comfortable, beautiful winter-ready home.
Comments on this guide to some pro tips to prepare your home for winters article are welcome.
Building Articles
Residential Architecture
The Bellhop Hotel, Rotterdam, The Netherlands
Architecture: local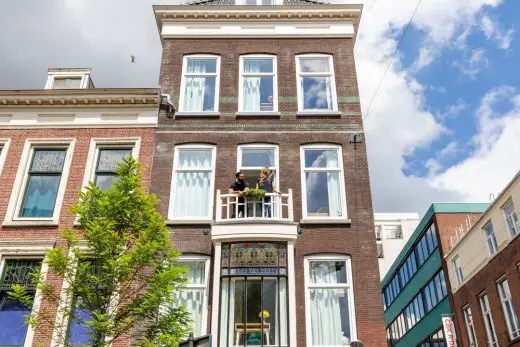 photo : Joey Van Dongen
The Bellhop Hotel
Home Improvement
Home Improvement Posts
7 Steps To Modernizing Your Home
Home improvement tips to give old house a fresh look
Upgrading your property: home improvement projects
Comments / photos for the Some pro tips to prepare your home for winters guide page welcome