Sliding door soft closure systems, Property security tips, Online house safety advice
Sliding Door Soft Closure Systems: A Silent, Stylish Solution
27 March 2022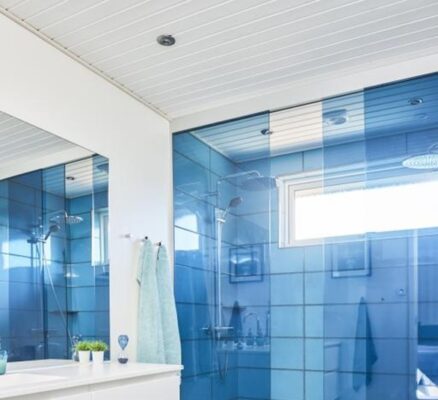 Rollglas + by KLEIN is a soft-closing sliding door that combines fixed and mobile glass panels on a single track, allowing for versatility in design and application
Sliding doors: elegant and practical, the perfect solution to transform any home or office space. Right? Well, some people still have their doubts. Worried about them sticking or bouncing noisily back when closing, they'd rather compromise their design plans and go with a typical slab door than try a new and riskier approach. This is where KLEIN's sliding door soft closure systems glide gracefully into the conversation. A recent innovation in contemporary door design, these ingenious new systems might be just what you need to (silently) close the door on your apprehension.
Why Soft Closing Matters
Soft closing doors boast several advantages. For starters, their braking system prevents them from slamming, allowing for greater durability – less impact means a longer lifespan for your door. This attenuation of door closure noise is also much easier on the ears, which is particularly helpful for maintaining focus in a workspace, or for simply keeping the environment peaceful while relaxing at home. Another convenient feature of soft closing doors is their lack of bounce-back – once you slide them shut, you can be sure that the spaces have been adequately separated. If your space is used by children (or clumsy adults!), then it may be worth noting the increased safety that a soft closing door's slow braking system provides.
The KLEIN Braking System (KBS+)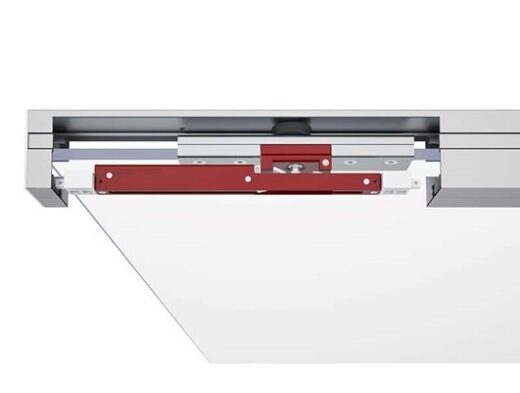 KLEIN's new soft closing Braking System (KBS+)
An upgrade to the game-changing KLEIN Braking System, the KBS+ comes as standard with the entire KLEIN+ line of sliding doors. It is by no means a "standard" stopper, though – its cutting-edge hydraulic dampers with multiple springs ensure smooth performance and high levels of durability. With the KBS+ installed, your sliding door will glide shut with minimal effort, braking to a soft close at .79 inches. For those who value the visual connection that glass doors allow but have concerns about the frequent impact caused by their opening and closing, the KBS+ provides peace of mind through its secure breaking mechanism. Plus, it's super-quiet, ensuring that movement in and out of the space is as unobtrusive as possible.
The KLEIN Soft Closing System (KSC)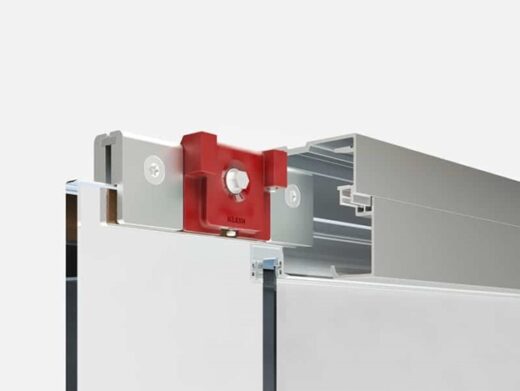 The KSC Soft Closing System by KLEIN was designed to make installation easy, even for heavy doors.
The KLEIN Soft Closing System (KSC) goes one step further than even the incredible KBS+ by introducing a gradual brake over 6cm. The KSC is equally as effective on wood and glass doors and is recommended for projects that require the maximum amount of durability and protection, supporting even the heavier doors in KLEIN's range. For particularly demanding conditions, there is no better option available on the market. Being the smoothest soft closure system yet, the KSC ensures zero bounce-back and virtually silent closing – perfect for maintaining peace, quiet, and privacy in both work and home. And to top it all off, it's a breeze to install on a range of different doors.
Door Types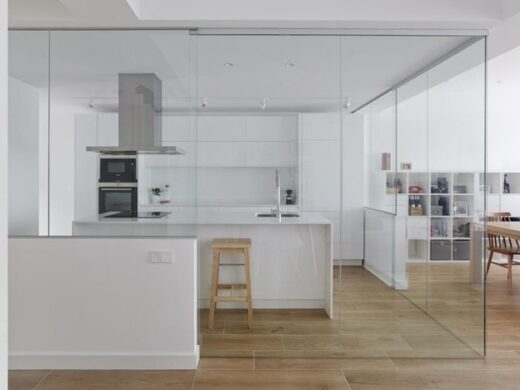 Liteglass + by KLEIN can be used to partition off workspaces with a soft-closing mechanism, allowing for light and noiseless ad hoc modification of spaces.
Door selection can be a limiting process if soft closing is a must – thankfully, though, KLEIN offers a range of door types that support the KBS+ and KSC closure systems, catering to an array of needs and aesthetic tastes. First, there's Unikglass+, a discreet, single glass pane that requires no floor tracks, making it perfect for a clean, minimalist design. Rollglass+ combines fixed and mobile glass panels on a single track, creating a light and delicate effect. Liteglass+, on the other hand, is bold and versatile and can be used singly or for bi-parting glass doors. If wood is a better fit for your project, then there's Lite+, a sleek, single wood panel that allows for added privacy and, like some of its glass-based relatives, is free of any floor tracks.
For projects that require even more spatial separation, there's FRONT – this striking combination of fixed glass panels and sliding wood doors comes fitted with the ultra-smooth KSC system as standard. The KSC system is also included in LIGNEA, incorporating the same elegant sliding wood doors in a complete interior glass wall system. A spectacular way to divide a room, LIGNEA strikes the perfect balance between modern and earthy, creating spaces that are closed yet have an open feel.
Smooth Operators
Whether your project requires traditional sliding doors, corner doors, or pocket doors, seriously consider a soft closure system to give your space a slicker, more modern feel. With second-to-none noise dampening and smooth motion without the bounce-back, the innovative systems offered by KLEIN are sure to convert even the staunchest sliding door-skeptics. KLEIN is a leading manufacturer in the field and is committed to providing creative solutions for a diverse range of interior design needs; if you'd like to know more about their sliding doors and how you can incorporate them into your project, contact KLEIN today!
Comments on this guide to sliding door soft closure systems article are welcome.
Doors
Doors Posts
Door hardware to complement your architecture guide
Help from a Professional Locksmith
Installing a home security system guide
Locksmith for NYC: New York City home security firm
Building Articles
Residential Architecture
Comments / photos for the Sliding door soft closure systems advice page welcome