RIBA 2030 Climate Challenge Architects, Net zero whole life carbon sustainable architecture, Eco Buildings
RIBA 2030 Climate Challenge
Green Building: Ecological Architectural Debate – CO2 Emissions Reduction News
4 Oct 2019
RIBA Climate Challenge News
RIBA sets climate challenge for architects
The Royal Institute of British Architects (RIBA) has, on Thursday 3 October 2019, launched a climate change initiative to encourage the profession and wider construction industry to achieve net zero whole life carbon for all new and retrofitted buildings by 2030, alongside a campaign for Government to set new regulatory standards.
Global Climate Strike 20 September 2019: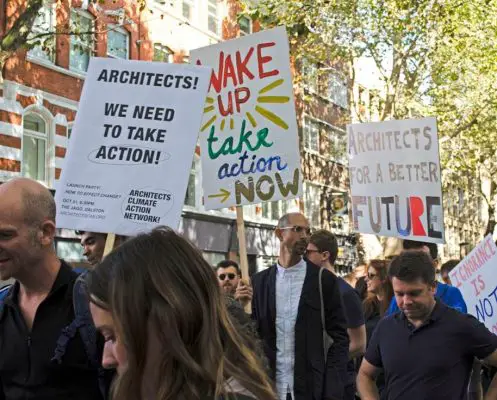 photo © Charlotte Collins
The RIBA 2030 Climate Challenge is part of the Institute's commitment to ensure that architects and the built environment sector are at the forefront of driving the change and delivering the solutions needed for a zero-carbon future.
The RIBA 2030 Climate Challenge asks all Chartered Practices to commit to four key targets:
Reduce operational energy demand by at least 75%, before UK offsetting
Reduce embodied carbon by at least 50-70%, before UK offsetting
Reduce potable water use by at least 40%
Achieve all core health and wellbeing targets (set out below)
RIBA President, Alan Jones, said:
"Given the built environment is responsible for around 40% of our carbon footprint, the way we design and deliver, run and maintain buildings must transform if we are to effectively tackle climate change. Architects have the knowledge, skills and experience to take the lead. I encourage all RIBA Chartered Practices to demonstrate their commitment and sign up to the RIBA 2030 Climate Challenge. This is an emergency and we must all take action, without delay."
RIBA CEO, Alan Vallance, said:
"The RIBA 2030 Climate Challenge sets the targets we, alongside other expert bodies, believe are vital to encourage the construction industry to deliver the necessary change. If all 3688 RIBA Chartered Practices sign-up and commit to this challenge, we will be on the trajectory for 2030 net zero."
More information on the 2030 Climate Challenge here: www.architecture.com/2030challenge
The 2030 Climate Challenge has been developed with RIBA's expert Sustainable Futures Group, in consultation with the Green Construction Board and the Committee on Climate Change.
In autumn 2019, the RIBA will publish the RIBA Plan of Work 2019 which includes updated sustainability guidance, and a new guide on sustainable outcomes. These materials will support members and practices to develop and deliver clear, measurable and realistic goals that ensure their projects meet the 2030 Climate Challenge targets.
Sustainable Architecture Archive
UK Stakeholders for Sustainable Development Report
Sustainable Development Report News
Population and climate change conference

For too long, population has been ignored from discussions and plans to tackle climate change, to devastating effect.
However, last year, analysis undertaken for a plan to reverse global warming – Drawdown – identified family planning and the education of girls as among the top 10 workable solutions available today.
We are pleased to contribute to an initiative like Drawdown with a conference focusing specifically on the link between population growth and climate change. It is urgent.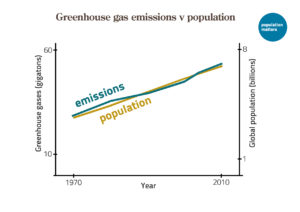 image courtesy of Population Matters
Population and climate change conference
Construction Climate Challenge – Emission Reduction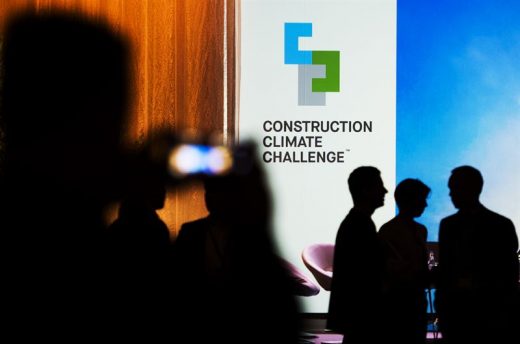 Sustainable Architecture – Population Growth Drives Housing Crisis
Population growth increases the number of wealthy carbon emitters and poorer climate change victims and hampers mitigation and adaptation efforts. In 2016, humanity used the sustainable resource output of 1.6 Earths.
Sustainable architecture aims to reduce the adverse effect of human activities on our world, particularly climate change.
Long Life, Loose Fit, Low Energy
Sustainable Design : article by Trevor Tucker. 15 Sep 2009
Sustainable Architecture News Scotland : News
Example of sustainable architecture:
Panyaden School, Thailand, Southeast Asia
Design: 24H > architecture



photo © Ally Taylor / Panyaden School
Thailand School Building
Sustainable architects : Bill Dunster Architects / ZED Factory
Sustainable Building Design : article by Trevor Tucker. 18 Aug 2009
Sustainable Buildings : Brief informal discussion re some of the issues
Sustainable Architecture : Lotte Glob House
Sustainable Architecture : David Douglas Centre
Sustainable Architecture – Links
DTI Low Carbon Buildings Programme: https://www.flatpackhouses.co.uk
Population Matters: http://www.populationmatters.org/population-growth-drives-housing-crisis – Population Growth Drives Housing Crisis
Greener Homes & Buildings: www.ghb.org.uk
Guidance on procuring higher recycled content in construction: www.wrap.org.uk
Forest Stewardship Council – FSC: www.fsc.org
BREEAM: www.breeam.com
Comments / photos for the RIBA 2030 Climate Challenge for Architects – Sustainable Architecture page welcome