Restaurant booths: Buying guide and tips, Bar furniture advice, Property style suggestions
Restaurant Booths: Buying Guide and Tips
31 July 2022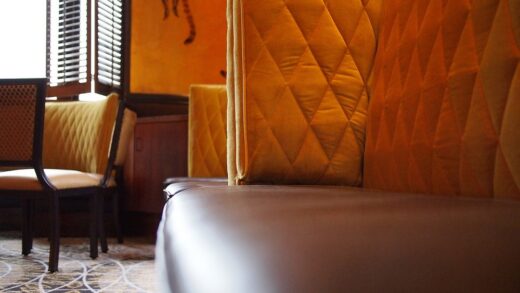 Most restaurants, diners, and bars have at least one restaurant booth in their dining area, which is understandable considering that commercial-grade restaurant booths offer numerous benefits such as comfort, privacy, and more space for customers. If you have booths with cushy, comfortable padded seats and backs, your customers can sit back, relax, and enjoy their meal.
The added padding, paired with a high back, muffles and mutes sound and keeps conversations contained to the booth, giving your visitors greater privacy. Most restaurant visitors prefer booths over tables and chairs, and the average customer spends more money sitting in a restaurant booth than at a table with restaurant chairs.
Booths are a very important component of your restaurant business because of all of the benefits they can give you. With so many choices, it may be tough to know where to begin when trying to decide which restaurant booth is perfect for your venue. In our restaurant booth buying guide, we will help you through the process of picking a design and theme, selecting the proper materials, and more!
Restaurant Booths Buying Guide and Tips – List
Sizing
The length of a booth is the most important factor to consider while sizing it. The standard booth length is 48″, but bigger sizes are also common; a good rule of thumb is to allow at least 24″ per person. You can then specify the height of the back. Back heights commonly range from 36 to 42 inches "to 43″, with 43" being the most common. Height can also be changed. If you want more privacy, choose a booth that is 60 feet long "or higher.
Shapes
Consider what form you want your restaurant booth to be in order to achieve the best fit. Booths are available in three standard shapes. The most common is the straight booth, which is exactly what it sounds like. The majority of the restaurant booths run parallel to one another. It can be placed with its back to a wall or with its back to a window. It can also be double-sided, allowing you to seat clients at two different tables using the same booth.
The second shape is the L-shaped booth, which is formed by pressing two straight booths together to form an L. L-shaped booths are perfect for establishing discrete little dining enclaves in corners and other constrained areas.
The third shape is a U shape. It is made up of three straight booths arranged in the shape of a large U. It is typically used to make small private rooms large enough to seat entire families.
Match The Materials With The Design Of Your Venue
Not only is the style of the booth important to consider, but the material from which the booth is made also has an impact on the restaurant's ambiance. Most booths are made of wood, laminate, and upholstery. These various materials are used to increase the booths' attractiveness and comfort level.
Classic wood booths are made of easy-to-clean wood and add a more contemporary and rustic feel to your establishment.
Laminate booths, which have an easy-to-clean trim over a solid wood structure, are most commonly found in diners and bars.
Upholstery, such as vinyl or cloth, is used so the foam padding is covered on the booth's seat and back, offering a comfortable dining experience. Vinyl padded booths, for example, are the best solution for a family-friendly restaurant. Vinyl is easy to clean and stain resistant, which is very important for youngsters.
Consider Your Venue Space
When deciding about the size of the restaurant bench seats you'd like to order, consider the quantity of room available in your location.
If space is an issue for you, consider wall seats as well as single and double booths. By combining wall benches and restaurant chairs, you may conserve space while comfortably sitting more people. If you own a small café, consider acquiring one of our single restaurant booth chairs and placing it against a wall to optimize your walk area. A double booth is a better option in a high-traffic area because it has back-to-back benches and thus can seat more people.
Custom-made restaurant booths
Custom-made restaurant booths are the best choice for large and popular venues that serve a huge number of visitors. Large groups can be comfortably seated in half circle or three-quarter circle booths, especially when booth tables with a cut corner are used.
Restaurant booths are normally made of wood and upholstered in fabric or vinyl with springs and high-density foam seats and backs. Some booths are fully padded and upholstered, while others have a somewhat padded back or an unpadded wood seat and back.
Finally, booths are a cost-effective and space-efficient addition to any event. They are a popular seating option that is designed to keep guests comfortable! If you have any further questions, our professionals can help you with selecting the best booths for any restaurant type!
Comments on this guide to Restaurant Booths: Buying Guide and Tips article are welcome.
Restaurants
Restaurants Posts
Tips to Make Your Café More Exciting
Make your restaurant profitable and stand out
Things every restaurant owner should know
Building Articles
America Architectural Designs – latest building updates
Comments / photos for the Restaurant Booths: Buying Guide and Tips page welcome