Five ways to use ceramic tiles tips, Building material advice, Home tiling help guide
Five ways to use ceramic tiles guide
22 July 2021
Ceramic tiles are popular in construction due to their durability and ease of maintenance. Being composed of a mixture of sand, quartz, water, and other clays, they offer a sturdy, water-resistance material that can be extremely versatile in its appearance. Generally, ceramic tiles are made with red, white, or brown clay, and are slightly less dense than alternative tiles.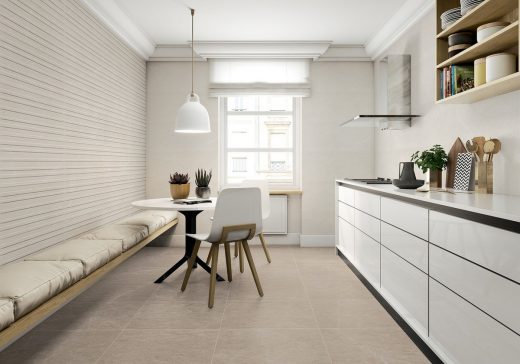 There are many ways to use ceramic tiles due to their versatility, but this article will cover five of the key areas.
Flooring
One of the most common uses of ceramic tiles is for flooring. This is for various reasons, but it mostly centers around the way it remains intact. Ceramic tiles are extremely hard and durable, meaning they will not wear from foot traffic, unlike wood and carpet.
Ceramic tiles are also very good at conducting heat. Whilst some may consider their coldness to be a disadvantage, it allows for great cooling opportunities in summer when using AC. Alternatively, they heat up very easily when running hot water under them – like the Romans used to.
MindTile is a place in which many different ceramic tiles can be found for flooring – and other uses – and display the versatile possibilities it can offer, particularly in terms of aesthetics. They're also very pet friendly.
Backsplashes
Backsplashes are the line of defence behind a stove or hob to protect the wall from the steam, smoke, and splashes when cooking. Ceramic tiles are absolutely ideal for this because of how easy they are to wipe clean. Very quickly, they can return to looking brand new and will not be damaged by things like smoke and oil splashes, and they are fully waterproof.
Of course, the decorative potential also makes them a popular choice for backsplashes too, as they're easy to install to size and create interesting designs. Unlike glass backsplashes, which are very difficult to cut to size and install – and the material itself usually costs more too. Furthermore, ceramic tiles can easily become an extended backsplash across the entire kitchen wall, seeing as they're so easy to install and extend on the fly.
Wall tiling
Ceramic tiling of walls has always been popular in bathrooms because it offers water resistance, easy-to-clean, and nice designs – just like the backsplashes. However, the benefits of the ceramic tile are starting to be realised around other areas of the home, such as bedroom walls.
Originally this may seem strange, but not if you consider the different materials and designs that can be achieved by the tiles. They can create appearances of cement, wood, metal, marble, and stone – many materials that can look stunning on a bedroom or kitchen wall. They can achieve an ultra-modern monochromatic look for a bathroom or a traditional rustic wooden look.
Of course, let's not ignore the Mediterranean appearances that can be achieved with patterned ceramic tiles, such as Greek Meander or Spanish mandalas. Whilst ceramic tiles have a reputation for being modern, they can be used in alternative ways too, such as bohemian and romanesque.
Countertops
When constructing countertops, granite, quartz and wood all come to mind. However, ceramic tiles are extremely functional and are becoming increasingly popular for countertops due to their head resistance. It's also understood that using large tiles can cut down on cleaning time, so less grout is in the way. In fact, coloured grout is often used to accentuate the tiles too and can hide dirt better.
Countertops tend to require the cutting of tiles because of their small size, unlike walls and flooring. It's important to take into account the cut tiles when picturing what the end result will look like.
Decoration
We can take inspiration from all of these different uses, and all the accompanying designs, to create unique decorations that express our personalities. They're a relatively quick way to completely change the dynamic of a room and increase the texture and feel.
We can create feature walls, murals (even by painting onto the tiles ourselves), and table runners. In fact, we can use leftover tiles for coasters, fridge magnets, planter boxes, bookshelves, tables, and many other creations. Mixing and matching designs are easy too, as many places sell tiles individually. They're also very easy to place into the frame without actually installing them – so we can see exactly what they will look like in context prior to installing.
Five ways to use ceramic tiles – Final Word
Whilst porcelain tiles have their place in the home too, ceramic tiles are generally preferred for being less hard-wearing and abundant in modern designs. Generally, you will find many more adventurous and interesting designs with ceramic tiles, making them more versatile for a variety of uses. Of course, they are cheaper than porcelain too, which is important when looking at construction.
Generally, ceramic tiles are easier to cut, shape, and are available throughout Europe. It's important to understand the difference between glazed and unglazed when choosing which tile to purchase, with the former being more protected and long-lasting, yet less rustic and artistic.
Comments on this guide to Five ways to use ceramic tiles article are welcome.
Ceramic Tiles Articles
Ceramic Tiling Design
How to choose between ceramic and porcelain floor tiles
Benefits of having stone mosaic tiles guide
Building Articles
Comments / photos for the Five ways to use ceramic tiles help guide page welcome