Poker room, Macau casino buildings design, Las Vegas gambling architecture
Know When to Hold 'em: Designing the Picture Perfect Poker Room
International Architectural Design Article
12 June 2019
Know When to Hold 'em: Designing the Picture-Perfect Poker Room
Poker is the name of the game, and many homeowners want to take it with them when they leave the casino. However, the atmosphere of a personal poker den requires some finesse to get right: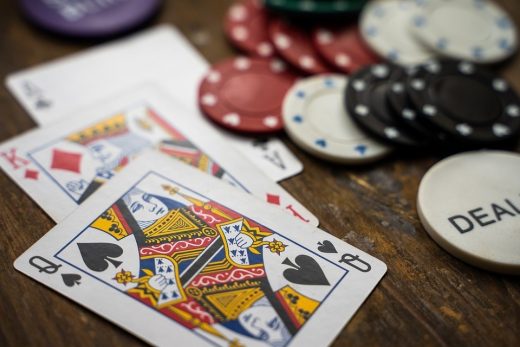 image : Pixabay / Public Domain
Perfect Poker Room Design
Poker is one of the world's favourite pastimes, providing hours of fun and relaxation for enthusiasts everywhere. It's most often played in casinos, but real die-hard fans might prefer to keep their creature comforts a little bit closer to home. So, what goes into creating the perfect residential poker room and how can you execute the design flawlessly?
A Touch of the Casino
To create the kind of atmosphere that lends itself to playing poker, an in-home room will have to have a casino-type feel. That's because the entire point of the room is to be a sanctuary for the game, a place where poker is safe and where any and all necessary accoutrements are accessible easily. Since these are qualities of a casino poker room, it only makes sense that your in-home room will reflect that — to a certain extent, of course.
Although you don't need to recreate a casino exactly, you may want to examine one to find some inspiration. Colours, dimensions and flow should all come into play here. It is a combination of all these elements together, which both inspire and motivate at-home poker players to the table at night. Building the perfect home-based poker game requires a delicate juxtaposition of homey comforts and a strong casino atmosphere, which you can only achieve through certain accents, lighting and spatial design.
More importantly, it must have a distinct feeling of cosiness and usability for the owner. It's the desire to play poker that spurs somebody to the casino for a night out, but it's also the desire to be at home while playing poker that inspires the construction of an at-home room — therefore, the room still has to contain elements of the individual.
Private in-home poker rooms should be elegant, reflecting the design of a casino — plush chairs, plenty of space and good lighting are all imperative: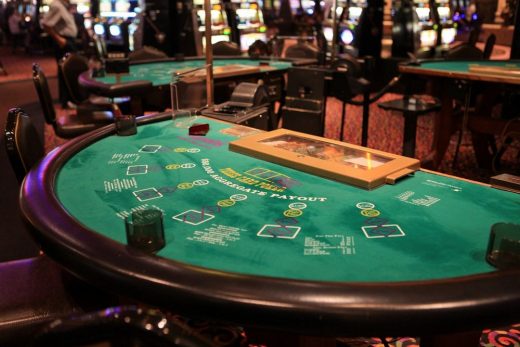 image : Flickr / CC BY
Colour Scheme & Accents
When designing a poker room, the colour scheme is paramount to the success of the space. Casinos typically exude elegance, so the room should have a rich and warm colour for the walls. Avoid stark colours like white and ultra-bright colours, as these are more appropriate for decorative rooms — however, the choice of colour should what you prefer. There are no hard-and-fast "rules" to picking your colour palate, but the colours you do choose should enhance the space.
Go for deeper shades and elegant hues that complement the size of the room. If the room you're working with is smaller, then a lighter shade of a rich colour, such as tan, terra cotta or gold can be more appropriate. In this case, use patterns or contrasting walls to add variance. If the room is larger, then you'll be free to use richer colours like red shades, mahogany and chocolate. These work perfectly for a poker room because they draw the eye with an opulent style but don't distract from the task at hand.
If you're unsure about colours, consult this colour cheat sheet to learn about the moods that different colours convey and use them to create a customized scheme for your specific room: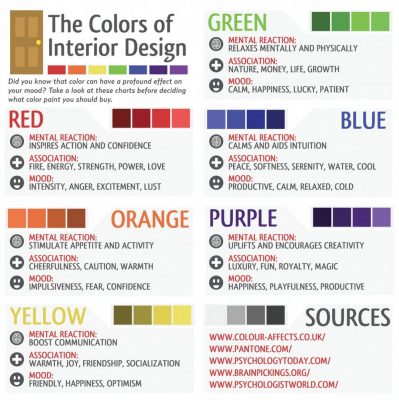 Infographic by Visual.ly
Accents should be both tasteful and practical. For instance, light fixtures are necessary components, but it's a good idea to use them as design elements as well. Depending on personal tastes, it wouldn't be inappropriate to add a chandelier as the main fixture — after all, most casino poker rooms do have a few.
However, you could also install pot lights and have a hanging fixture or lamps. Whatever lighting you decide on, however, be sure to have a few different sources. People require different levels of light at different moments, so having several fixtures increases comfort and enhances personal agency in the use of the room — something which casino poker rooms cannot achieve.
It's also a good idea to have some televisions installed in the room as well as an entertainment system with surround sound and voice-activated controls. Although they won't necessarily be on all the time, they can provide ambient music as a backdrop for the poker game as well to look up pertinent information without having to leave the room.
Technological accents are more important now than ever before to make a home poker room more comfortable, but they still don't trump air conditioning when it comes to importance. Studies have shown that players perform better in colder temperatures, concentrating for longer and making better-calculated decisions. Having temperature controls in a home poker room is imperative for the comfort of the guests and hosts, so make sure that units are quiet and control pads or knobs are subtle and don't interfere with the colour and accent scheme.
Spatial Awareness & Furnishings
The furniture is perhaps the most important element in a home poker room. Users will likely perch on these seats for hours, so they need to follow the typical casino poker room design and be as plush as possible. Choose chairs with large and comfortable cushions, drink holders and armrests that match your colour scheme. Darker colours are better for furniture, as they can withstand more usage without showing wear and tear.
As you can see, a casino floor has a design that features precision — bright lighting complements darker furnishings, everything is spaced out neatly and the room gives an air of elegance:



image : Wikimedia / CC BY-SA
Depending on how large your room is, you can put in a few couches along the walls for bystanders or those who prefer to watch if you so desire. End or side tables are also a good idea for storage, as is shelving. Position any storage or "convenience furniture" to be accessible but out of the way.
It's imperative you match the wood tones of the furniture to your current colour scheme. You want the room to be elegant but not brooding. It should seem spacious and airy, but it doesn't need to be an auditorium. Therefore, matching your colours correctly goes a long way in setting the right tone and helps you use your space positively.
The poker table itself should be the centrepiece of the room. Although you don't have to position it at the absolute centre, it should be right under and adjacent to a good light source. Choose a poker table or have one custom-built for maximum comfort to fit in with the dimensions of the room. You don't want players to cramp around a table that is too small for the space or spread too far around a hulking monolith when a smaller table would be more appropriate.
Which poker table you decide to buy should reflect the type of poker you like to play and how often you'll use the room — here are some of the top picks for poker tables in 2018:

Remember, poker is the reason for the entire room, and the table is the most important part. So, spend some time picking out or building your perfect table — you will impress your guests, and your game night will go off without a hitch.
Now that you know how to build a picture-perfect poker room, it's time to get started designing your dream. No matter how large or small your space, you can use what you have to create an idyllic home-based paradise for you and your poker buddies to relax. So, get to building your room and let the games begin today.
situs judi online
Building Articles
World's Tallest Hotel Buildings
World's Highest Observation Decks
World's Most Colourful High Rises
Las Vegas Architecture
Las Vegas Architecture Designs – chronological list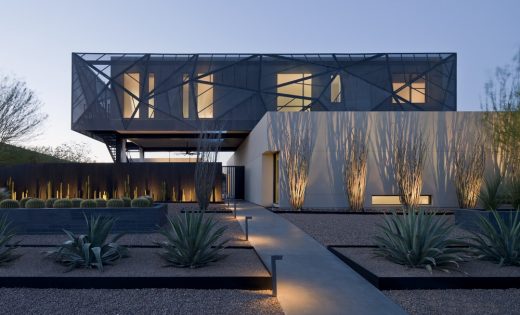 photography : Bill Timmerman, Zack Hussain
American Architecture – Nevada Selection
City Center Las Vegas building
Comments / photos for the Know When to Hold 'em: Designing the Picture-Perfect Poker Room page welcome