Colourful Buildings, Tower Developments Images, Architects, Architecture Color Designs
World's Most Colourful Buildings
Tower Structures across the Globe: Architects + Images + Links
15 Nov 2013
World's Most Colourful Towers
An end to gray monotony – The World's Most Colourful Towers
Hamburg, November, 2013 – High-rises don't have to get lost in the gray concrete jungle: some are a real riot of colour, with vivid facades in scarlet, turquoise or canary yellow – or even combining all the colors of the rainbow. Facades such as these break the drabness of so many concrete tower blocks, and their creative designs stimulate the imagination. A list of the world's most colorful high-rises has now been compiled by Emporis (www.emporis.com), the international provider of building data.
Varyap Meridian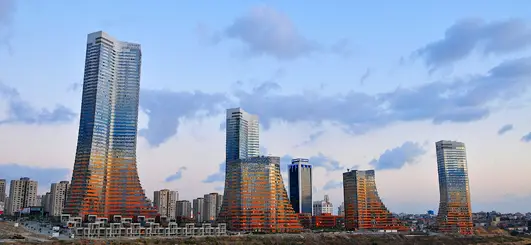 photograph © Atakan Esser
In the case of Colorium, probably the best-known building in Düsseldorf's Medienhafen ("Media Harbor"), the name says it all: the building's exceptional aluminum ribbon window facade, consisting of over 2,200 panels of glass, was screen-printed with 17 different geometric patterns of single or up to four colors. The top floor juts out well over the harbor basin and particularly catches the eye with its signal-red coloring and night-time illumination.
Broadcasting Tower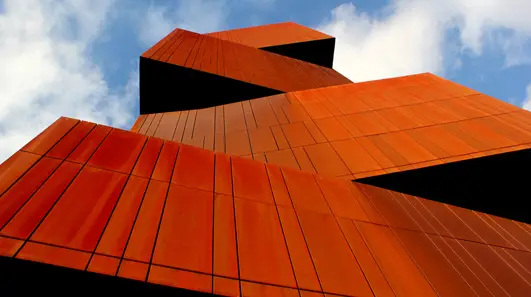 photo © Dibyendu Rout
The most colorful high-rises
Building Name / City / Country / Height / Architects / Year
Al Attar Tower / Dubai / UAE / 130 m / Al Turath Engineering Consultants / 1997
Broadcasting Tower / Leeds / Great Britain / 69 m / Feilden Clegg Bradley Architects LLP / 2009
Colorium / Düsseldorf / Germany / 62 m / Alsop & Störmer / 2001
F&F Tower / Panama City / Panama / 243 m / Pinzón Lozano & Asociados Arquitectos / 2011
First World Hotel / Genting / Malaysia / 140 m* / AIB Associates Architects Sdn Bhd / 2002
Herkules-Hochhaus / Cologne / Germany / 102 m / Peter Neufert / 1969
Hotel Porta Fira / L' Hospitalet de Llobregat / Spain / 113 m / Toyo Ito & Associates, Architects; b720 Fermín Vázquez Arquitectos / 2010
Mercury City / Moscow / Russia / 339 m / Frank Williams & Partners; M.M.Posokhin; G.L. Sirota / 2013
Oficinas en el Parque / Monterrey / Mexico / 98 – 115 m / GDU / 1998
The Arlington / Charlotte / USA / 94 m / LS3P Associates / 2002
Torre Net / Padua / Italy / 80 m / LVL architettura S.r.l. / 2008
Varyap Meridian / Istanbul / Turkey / 100 m – 188 m / RMJM; Dome Partners / 2012
William Beaver House / New York City / USA / 159 m Tsao & McKown; Schuman, Lichtenstein, Claman & Efron / 2009
Source: www.emporis.com *Estimate
Al Attar Tower



photo © Axel Schmies
Broadcasting Tower



photo © Lieke Ongering
Colorium



photo © Michiel van Dij
The positively idyllic-seeming First World Hotel in Genting, Malaysia, radiates joie-de-vivre, fun and – not least – rest and recuperation from humdrum routine from every inch of its luminous bright facade. It is hardly surprising, then, that the almost five-hectare First World Plaza in and around the hotel complex has a comprehensive range of entertainments on offer, including an amusement park, casino, theater stage and further attractions.
First World Hotel



photo © Eqdoktor
Herkules-Hochhaus



photo © William Sen
Hotel Porta Fira



photo © Jaume Castañé
Mercury City



photo © Igor Butyrskii
The shimmering copper-colored facade of Mercury City in Moscow, on the other hand, might not be able to compete with the fascinating play of colors at the First World Hotel, but, with its imposing and noble visual appearance, succeeds in demonstrating that a brilliant show is perfectly possible with just the one color. The skyscraper, which measures just under 339 meters, stands out on the skyline of the Russian capital and also impresses through its environmental friendliness and sustainability.
Oficinas en el Parque



photo © Carlos Tomás Chávez Cámara
The Arlington



photo © clearskyimages.com
Torre Net


photo © Marco Sarain
Varyap Meridian



photo © Atakan Esser
Colorful buildings do not just provide a welcome change from uniform-appearance blocks: bright colors also have a positive effect on the mood and on the memory and reaction times of those looking at them, as researchers at the University of Essex in England have recently discovered. Particularly during the cold time of year, when the weather is often gray, radiant colors in a vibrant cityscape can indeed help to drive away the winter blues.
William Beaver House



photo © Tectonic Photo
Additional images:
Al Attar Tower



photo © Axel Schmies
Broadcasting Tower



photo © Dibyendu Rout
Hotel Porta Fira



photo © David Guija
The Arlington



photo © Chris Patriarca
The Arlington



photo © Chris Patriarca
Torre Net



photo © Daniele Ceccato
William Beaver House



photo © Nate Lindsey
William Beaver House



photo © Nate Lindsey
World's Most Colourful Towers information / images received from Emporis GmbH
Emporis – external link
World Skyscrapers
World Skyscrapers



photo © Tom Ravenscroft
World Buildings



picture : MIR
Tall Buildings in Cities
Tallest Buildings
World's tallest hotel building : Burj al Arab tower



image from architect
World's Tallest skyscraper under construction : Shanghai World Financial Center



photo © Andrew McRae
World's Fastest Elevators – Skyscraper Buildings News



photo : Daniel Shih
Skyscraper images from across the world welcome
Comments / photos for the World's Most Colourful Tower Buildings page welcome