5 tips for first-time home owners guide, Building Design Tips, Online Property Advice
Interior Design On A Budget: 5 Tips For First-Time Home Owners
15 Apr 2021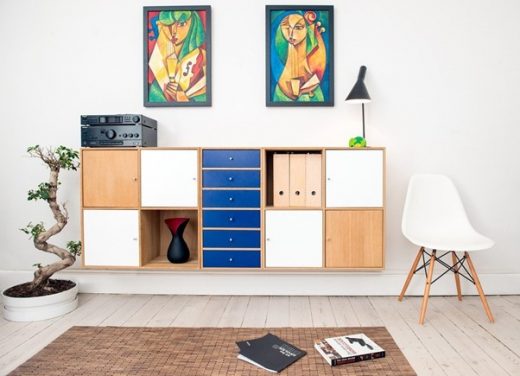 image source : pexels.com
Buying your first home is a really exciting time. But when you're actually moving in and deciding how you want to decorate, it can all be a bit overwhelming, especially if you've got a tight budget. We've put together some interior design tips to help you put your stamp on your new home without spending too much.
Take time to decide
You might have lots of big ideas for decorating your new home, but it's a good idea to live in it for a while to decide exactly what you want to do.
Start by planning out the things you need immediately and what your budget is for them — whether it's new appliances, key pieces of furniture, or fixing a few things that are broken around the house. These should be your main focus at first, then take your time to get to know your new home before you start decorating and furnishing.
A great thing to do is to paint all the walls white. This is a quick and affordable way to freshen up the house. Plus it means you won't be constrained by the previous owners interior design choices — you've got a blank canvas for you to start making the house your own.
Improve the lighting
One of the best things you can do to transform any room is to make them lighter. Maximise the natural light in your rooms by clearing away any trees outside and clutter inside that might be blocking the windows. Paint the window frames and sills white, and choose curtains or blinds that can be completely drawn back.
If there isn't much natural light in some of your rooms then you can use mirrors to bounce light around and ensure there's plenty of artificial lights. Choose some bright overhead lighting and some softer table or floor lamps.
Even if your new home is a bit dated and you want to change other things, improving the lighting is a quick way to completely change how a room feels — it'll help you to create open and spacious rooms.
Invest in key furniture
When you're looking at buying furniture for your new home prioritise a few key pieces that you're going to invest in.
Things like sofas and beds that you're going to be using every single day are worth spending a bit more money on. For example, you want a solid bed that's comfortable, and by investing now it's going to last you for years.
Pick out some inexpensive pieces for less important things like coffee tables and extra seats and you can upgrade them in time when you've got the budget.
Pick up some preloved furniture
Another budget-friendly option for furnishing your first home is to find some second-hand pieces. Your furniture doesn't need to be perfectly matched, vintage pieces of furniture can add some more character to your home and mixing up new and old together makes it feel more personal.
Keep an eye on sites like Gumtree and eBay for pieces of furniture that people are looking to sell near you. Or head to vintage and antique stores to find what you need. You'll be able to find lots of pieces that are in almost new condition. Pieces that are looking a bit worn, especially wooden furniture, can usually be fixed up with a coat of paint pretty easily.
Add a splash of colour
Once you've spent some time deciding on the style you want for your home then adding some colour is one of the best ways to transform the interiors.
You can make a big impact by painting colours on the walls, and there are plenty of affordable paints that can fit your budget. While you don't have to coordinate all the rooms in your home exactly, it's a good idea to have a general style or colour palette that you use throughout to make it feel more together.
Don't be afraid to choose bold shades if that fits with your colour scheme. If you don't want to overwhelm the room then only paint one wall, or just a chimney breast or the alcoves.
For something a bit more subtle, use accessories and decorative pieces to add colour accents. Things like cushions, lamps, and even area rugs can all be very affordable but quickly update a space. Plus it's not too much of a commitment if you change your mind or want to update the colour scheme in the future.
When you're looking at updating the interiors of your new home, it's important to remember that you don't have to do it all at once. Sort out the essentials and then take your time to put together your perfect interiors.
Comments on this guide to 5 tips for first-time home owners article are welcome.
Home Improvement
Home Improvement Posts
15 easy home upgrades to boost home value
5 fast ways to refresh older properties
Beginning a home improvement project
Building Articles
Residential Architecture
Comments / photos for the 5 tips for first-time home owners advice page welcome