Ornamental fountains and water curtains guide, Landscaping trends tips, Property garden impression advice
Ornamental fountains and water curtains
2 July 2022
Fuente Puerto de Mataró, Barcelona, Spain: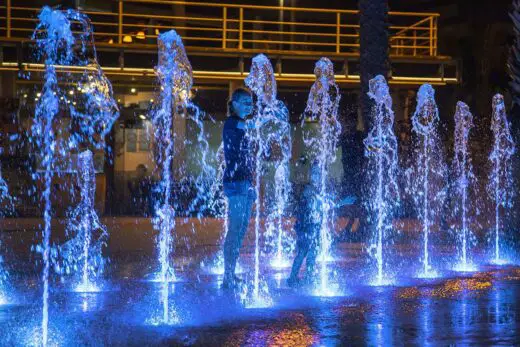 Draw attention to the entrance
The entrance to a hotel or resort plays a key role in shaping your customer's first impressions of you, so it's essential to make it an unforgettable one. Framing the entrance with planters on either side is a simple way to create a bright and cheerful welcome. But for a real spectacle, a structure that jets water into the air for a decorative or dramatic effect adds significant drama!
You can combine water features with colorful planters of flowers and shrubs along the route leading up to your entrance, or even small trees. With professional landscaping services you can ensure they stay looking as good as possible.
Fountains are delightful and entertaining features, but they were originally purely functional, connected to springs or aqueducts and used to provide drinking water and water for bathing and washing to the residents of cities, towns and villages. Until the late 19th century most fountains operated by gravity, and needed a source of water higher than the fountain, such as a reservoir or aqueduct, to make the water flow or jet into the air.
Fuente Paseo de Jaume I, Salou, Spain: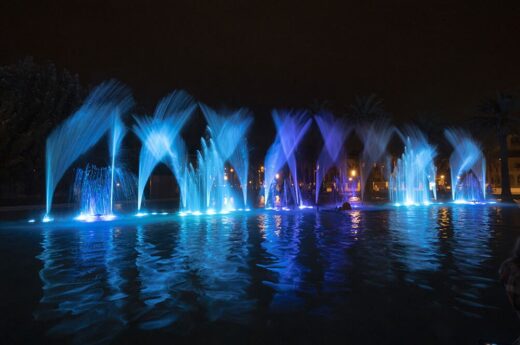 Ornamental fountains and water curtains guide
Add a water feature
Water features are a surefire way to increase the curb appeal of your hotel or property. You don't even need a lot of space to pull off this trend — even a small water fountain or pond can instantly become the focal point of your exterior landscaping. Everyone loves water, especially children, as it forms a mesmerising focus, especially combined with varying colors and movement.
Combining a stunning modern building with a dramatic architectural water fountain is a great pairing. Programme your fountain to deliver high-quality water and light shows, and adjust the theme and mood as needed.
In addition to adding beauty, water features also help reduce noise pollution and create a peaceful environment — which is obviously really welcome in busy, urban areas. While fountains can often be too loud for indoor spaces, they are typiclaly the perfect accompaniment to outdoor commercial spaces and used to effectively beautify the premises.
Fuente Centro Comercial Plaza Mayor, Málaga, Spain: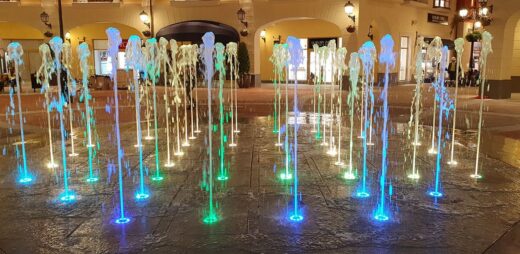 Water Curtain
The water curtain or water wall is a versatile product that works both as an architectural interior fountain, thanks to its silent operation, as well as for exterior fountains, thanks to its high wind resistance.
An installable fountain kit is ideal for decorating interiors and vertical gardens, since the water jets can slide like layers over different surfaces. The most popular surfaces to use are glass (allowing the projection of images), natural stone and wooden walls.
Furthermore, this wall of water or water wall is a low-energy consumption fountain, since it needs minimal pressure and flow for proper operation.
A water curtain is not to be confused with an External Water Spray System (EWSS), which is a domestic external fire sprinkler system designed to protect homes from bushfires and wildfires.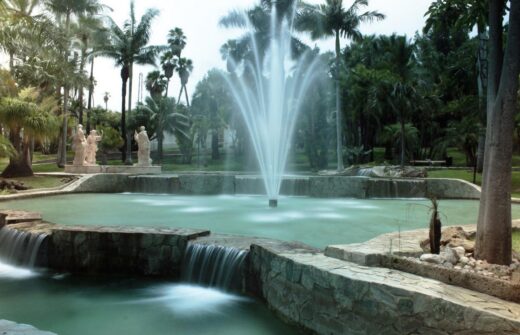 Dancing Fountains
If you desire beautiful scenery and waterscape then dancing fountains would be a good option. Sometimes these are aligned with music, dance and color fire shows.
Musical fountains, also known as a dancing fountains, are a type of animated fountain for entertainment purposes that creates an aesthetic design (including three-dimensional images). This is achieved by employing the effects of timed sound waves and timed light (including laser) against water particles.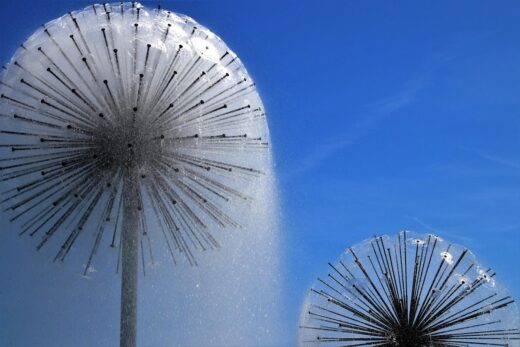 Asymmetrical Landscape Layouts
Asymmetrical layouts are a growing commercial landscaping trend used to achieve a casual, playful vibe. Freeform curves, for example — whether incorporated into pathways or flowerbeds — can instantly add interest to commercial landscaping, while also creating a charming, natural feel.
Include plants of different heights and shapes to enhance visual interest and draw the eye to your premises more effectively. A cluster of low-growing shrubs contrasts well with taller hedges or trees. Switching up your planting colors can also help create a more dimensional look.
Commercial landscaping plays a key role in helping form customers' first impressions of your property. By drawing attention to the front entrance, adding a beautiful water feature, and embracing good quality landscape design, you will enhance your business's curb appeal.
Comments on this guide to ornamental fountains and water curtains article are welcome.
Landscape Design
Fountains Posts
How to cast custom concrete fountains
Advantages Of A Floating Pond Fountain
Landscape Posts
What is Landscape Architecture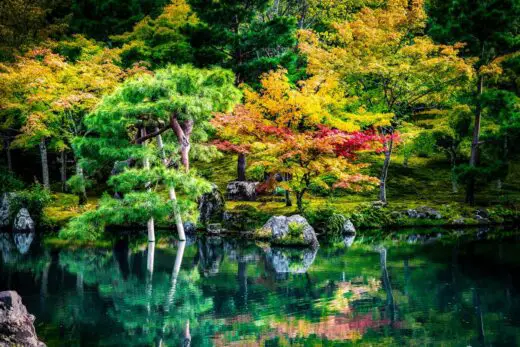 Landscaping and garden design ideas for your outdoors
Top 3 factors for planning new landscape design
Building Designs
Residential Architecture Articles
Comments / photos for the Ornamental fountains and water curtains – landscaping trends advice page welcome