Landscape architecture design and planning guide, Online property garden advice, Planting tips
What is Landscape Architecture?
24 April 2022
The planning, design, and nurturing of both constructed and natural surroundings are part of landscape architecture. Landscape architects use their skill set to enhance human and environmental health in communities – large and small.
Parks, campuses, streetscapes, pathways, plazas, dwellings, and other initiatives that enrich cities, commercial campuses, and neighborhoods are planned and designed by landscape architects.
In addition, there is residential landscape architecture, which consists of small-scale work covering the design process and strategies for single-family residential sites.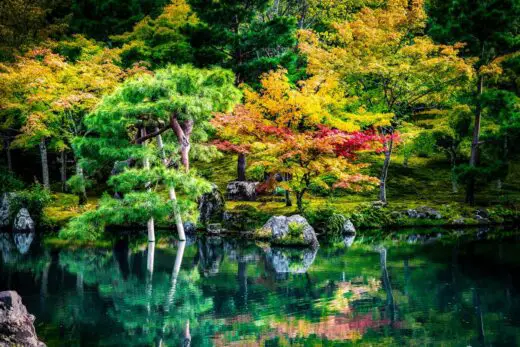 What are the 6 Types of Landscape Architecture?
Landscape architecture can be separated into a number of sub-categories. Here are six of the most common.
#1 Site Planning
Site planning involves making the best use of a piece of land for its intended purpose.
Surface and sub-surface drainage systems, geology, hydrology, and grading are all aspects of site design.
Site planning landscape architecture includes master planning and design for dwellings, new home communities, and local businesses.
#2 Ecological & Environmental Planning
Ecological and environmental planning is the process of developing public places with the least amount of change to existing natural spaces and features.
Green space design, ecological design, coastal and offshore projects, and natural parks are all good examples of this aspect of construction architecture.
#3 Land Development
Land development entails structuring suburban growth, while taking into account many of the same factors as site planning.
#4 Urban Design
This refers to how cities and towns, as well as their infrastructure, future development, and population trends, should be planned. Also taking into account natural geographic characteristics and limits.
Streetscapes, public squares and spaces, transit corridors and amenities, security, academic campuses, corporate institutions, interior landscaping, plus office and urban plazas are all examples of urban design for residential and commercial purposes.
#5 Parks & Recreation
Parks and recreation form of landscape architecture helps to create public, open spaces and leisure locations.
Public trails, therapeutic gardens, arboretums, public parks, playgrounds, golf courses, sports facilities, monuments, landscape art, zoos, and resorts are examples of parks and recreational landscape design.
#6 Heritage Conservation
Historic lands are recognized, protected, and restored through the diligent work of heritage conservation.
Heritage conservation landscape architecture includes habitat restoration, site preservation, and conservation planning.
What are the 4 Design Areas of Residential Landscape Architecture?
A well-thought-out landscape architecture, that is professionally installed and maintained, increases the value of a home and improves the occupant's overall quality of life.
When it comes to residential landscaping, it is often considered to have value if it demonstrates one or more of the following:
It's aesthetically pleasing
It's economical
It's functional (utilitarian)
It's friendly on the environment
#1 Aesthetics
An attractive landscape is important because it adds beauty or makes people feel good.
Creative landscaping architectural design increases the aesthetic splendor of the house and property and helps to conceal any unpleasant flaws.
A landscape's noises are part of its beauty. Sounds, like leaves blowing in the wind, swaying trees, chirping birds, or flowing water, add to the aesthetic characteristics of a home's surroundings.
The scent of flowers, the fragrance of a newly mowed grass, and even the taste of fruit from plants grown on the property can all leave lasting impressions.
A landscape's feeling of touch may also be an aesthetically pleasing aspect. Picture laying in the grass on a warm spring day, hiding from the sun under the shadow of a blooming Japanese Maple.
#2. Economics
The value of a home and the land it sits on goes up when the landscape is done well. Some studies suggest the value of a home can go up from six to 13 percent because of its landscape.
The house, however, is the most important aspect of one's property; the landscape isn't. The job of the landscape is to make the house look more inviting and that is what boosts the overall value.
In addition, environmentally considerate landscaping can also lower energy costs by insulating the home from the heat and cold of the seasons, which, in-turn, lowers the resident's cost of living.
Finally, an outdoor living space can become more pleasant, hence appealing, with the use of trees and shrubs to block out noise, invite in pollinators, and help people escape their normal surroundings.
#3 Functionality
Landscaping can and should have practical value, especially to the owners of the property.
Trees, shrubs, turf, and other construction features that are well-placed make the property more useful for occupants and guests to use.
The right amount of sun in one spot or shade in another, an area for kids to play in, or irrigation for growing fruits and vegetables all add to a yard's functionality.
Functional landscaping helps homeowners to solve problems in their yard and cut down on the amount of work that needs to be done to maintain it.
On a steep hill in a yard, for example, groundcover can help avoid having to mow the lawn all the time. On a very steep slope, groundcover may be necessary to keep the soil from eroding away.
#4 Environmental
Environmentally-friendly landscape designs take into consideration native plants, animals, and insects. This form of landscaping architecture is also intended to improve sustainability.
A good, sustainable landscape collaborates with nature, rather than against it, and thrives with little or no human intervention. A key focus of building beautiful and eco-friendly outdoor environments is to reduce the number of resources required to maintain it.
5 Landscape Architecture FAQs
Below is a list of frequently asked landscape architecture questions and answers.
What is a landscape architect?
A landscape architect is a professional who has studied landscape architecture. Site analysis, site inventory, site planning, land planning, planting design, grading, stormwater management, sustainable design, construction specification, and ensuring that all designs fit current building regulations and local and federal legislation are all part of landscape architecture's profession.
What are the six different types of landscape architecture?
When is comes to commercial landscape architecture, there are six key focuses for designers: site planning, ecological and environmental planning, land development, urban design, parks and recreation, and heritage conservation
What are the four main design aspects of a residential landscape?
When it comes to designing a landscape and/or hardscape for a single-family home, there are typically four considerations that architects implement to the best of their abilities. Some landscapes have one or more, while others may incorporate all of them into their designs. These key areas include aesthetics, economics, function, and environment.
Are landscape architects in demand?
From 2016 to 2026, employment of landscape architects is expected to expand at a rate of six percent, which is about average for all professions. Employment growth is likely to be driven by the need to design and develop new and existing landscapes for commercial, industrial, and residential building projects.
What is the purpose of a landscape architect?
To design environment and sustainable parks, residential projects, campuses, gardens, cemeteries, commercial centers, resorts, transit facilities, corporate and institutional centers, and waterfront developments, to name a few.
Comments on this guide to What is Landscape Architecture article are welcome.
Landscape Design
Landscape Posts
Landscaping and garden design ideas for your outdoors
Top 3 factors for planning new landscape design
Create a Relaxing Backyard Landscape Design
Building Articles
Residential Architecture
Comments / photos for the What is Landscape Architecture advice page welcome