What you need to know about composite decking, Building Design Tips, Online Advice
What You Need to Know About Composite Decking
26 Jul 2021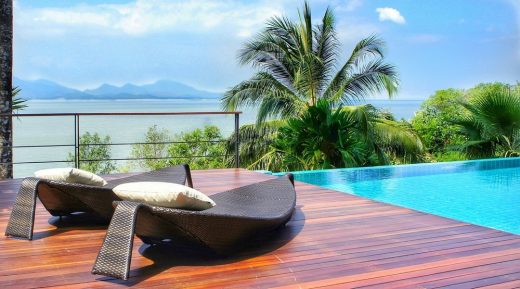 One of the most popular decking materials in 2017 is composite decking. This type of material, made from layers of wood and plastic, offers a low-maintenance option for homeowners looking to renovate their backyards.
Composite decks can be installed quickly and are designed to mimic natural wood with various colors to choose from. With so many benefits, it's no wonder that more people than ever are choosing this type of deck over traditional options like pressure-treated or cedar decks. Here are some of the things you need to know about composite decking.
What is Composite Decking, and How Does It Work?
Composite decking is made from a combination of wood and plastic. It's typically composed of three layers: two outer layers are composed of high-pressure, UV-stabilized polyurethane or PVC that protects against water damage; an inner core, in most cases, will be 100% natural wood. This type of material offers homeowners low-maintenance options for their backyards without sacrificing the aesthetics they expect to see when they come home after a long day at work. Composite decking installation process is easy: it can take as little as one hour per 12 square feet, and you don't have to worry about sanding or painting your new deck because composite decks come with built-in colors that resist fading over time due to sun exposure.
Why Should You Choose Composite Decking over Other materials?
There are many reasons why homeowners choose composite decking over other options. For starters, you don't have to worry about rotting or mold damage because the material is resistant to moisture and insects. These Cladco composite decking boards, also come with a lifetime limited warranty covering cracking, splitting, and warping of your surface so long as it's used following how it was designed for use. Furthermore, this type of deck typically lasts twice as long as cedar decks and can be installed quickly without needing any special tools—a great option for DIY projects!
Benefits of Using Composite Decking
There are many benefits of using composite decking, including the low-maintenance design. Composite decks require no painting or staining as some other materials do; they come with a natural wood grain and built-in color that resists fading over time due to sun exposure. A lifetime limited warranty covers defects in the material caused by normal wear and tear as long as it is installed according to the manufacturer's guidelines—great peace of mind for homeowners looking to invest in their home!
As a bonus, you can choose from different colors when installing your new deck so that it matches whatever look you're going for this year: vibrant solid hues or earthy tones? It's all up to you!
How to Install a New Composite Deck
Installing a new composite deck is simple and can be done in just a few hours. It typically takes about an hour per 12 square feet, so if you have 200 sq ft of space to cover, it will take two hours max. Here are the steps:
Remove any existing surface materials like grass or gravel from your area
Prepare the ground by leveling and compacting loose dirt with heavy equipment (if necessary) before laying down concrete pavers
Layout vinyl sheets that have been cut to fit the perimeter of your project; this helps minimize messes during installation
Place plywood boards on top of each sheet, making sure they overlap one inch at all seams when installing panels for extra protection against water damage
Layout composite panels on top of plywood in the desired pattern
Use panel clips to secure every other row before repeating with the next layer up the stack, overlapping one inch at all seams; this prevents warping due to uneven weight distribution
Attach any trim pieces or handrails that you desire using screws or nails. It's also important to seal your deck after installation is complete to not become wet and susceptible to mold growth. A DIY project doesn't need to be complicated!
Tips for Maintaining your New Composite Deck
It's important to provide regular maintenance for your new deck. Here are a few tips:
A good rule of thumb is to clean your composite surface with a mild soap and water solution; this will help you remove any dirt or debris that may have accumulated on the board
If there are areas where mold, algae, or lichen growth has occurred due to exposure in shady spots without consistent sun exposure—such as corners—apply an anti-fungal spray according to instructions on the container for best results
Always make sure the surface stays dry, so it does not become susceptible to damage from moisture buildup and warping over time! You can do this by sweeping up leaves before they fall off trees during winter months when wet weather is prevalent. This will keep your deck looking fresh and new for years to come!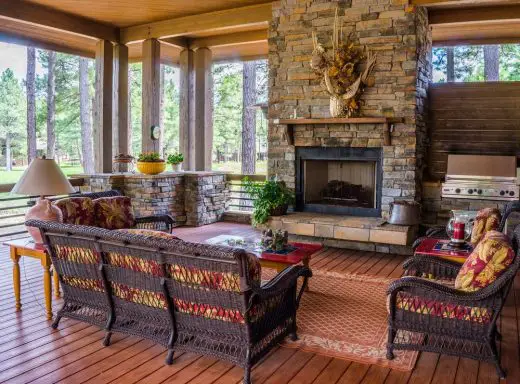 FAQs About Installing a New Composite Deck
Q: What do I need to install a new composite deck?
A: You'll need the following tools and materials for installation—tools that will help you make quick work of any project, like hammers or saws. If you're going with an all-natural look, then some sandpaper may be needed as well when installing your panels.
Tools: screwdriver/cordless drill, leveler (if necessary)
Materials: plywood sheets cut to size; vinyl sheeting; composite boards; panel clips; screws or nails; anti-fungal spray (optional); leaf blower (optional)
Q: How do I seal my new composite deck?
A: You can use a quality stain to protect your hard work and make it last longer! We recommend using one made for exterior projects, as they are more resistant to the elements. Some common stains include oil-based or water-based formulas; you'll want to choose whichever type suits your needs best. Here's how it works:
Apply stain evenly over the entire surface with a sponge before letting dry according to instructions on the container. After the stain has dried, you can seal it with a protective coating if desired.
Q: How often should I clean my composite deck?
A: You'll want to give your new deck an initial cleaning right after installation is complete and then follow up every few months, depending on the climate where the board resides.
We hope this blog post has been helpful to you and that we have answered some of your questions about what composite decking is, how it works, why you should choose it over other materials, the benefits of using composite decking material, tips for installing a new one in your home or business property.
Comments on this You Need to Know About Composite Decking article are welcome.
Decking Articles
Decking Posts
Does Composite Decking Add Value To Your Home?
Tips for building a good looking deck
Tips for staining a previously wooden deck
Building Articles
Residential Architecture
Comments / photos for the Know About Composite Decking page welcome