How modern rugs transform your workspace, tips, Online property flooring advice, New Zealand home floor
How Modern Rugs Transform Your Workspace
8 Feb 2023
The way we work is changing. We are no longer restricted to traditional desks and stiff chairs; instead, workspaces are now an expression of individuality and creativity. Modern rugs can offer a much-needed touch of personality, as well as a sense of comfort and practicality to any workspace.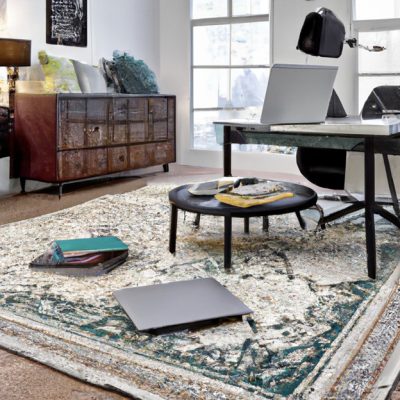 From bright colors to subtle textures, rugs can make all the difference in how you feel while you're working. In this blog post, we will explore how modern rugs can transform your workspace in just a few simple steps. Read on to learn how you can give your workspace a fresh new look with the help of some stylishly designed rugs!
Introducing Modern Rugs
Modern rugs can add a touch of luxury and sophistication to your workspace, whether it's a home office or a corporate setting. They can also help to create a more cohesive look, tying together different elements of your décor.
Rugs come in a wide range of styles, colors, and materials, so you're sure to find one that fits your particular aesthetic. And because they're relatively inexpensive, they're a great way to give your space an update without breaking the bank. If you're not sure where to start, we've put together a few tips on how to choose the perfect modern rug for your workplace.
First, think about the size of the room and what kind of style you're going for. Do you want a bold statement piece? A subtle background element? Or something in between? Next, consider the colors and patterns. Many modern rugs feature geometric shapes or abstract designs, but you can also find softer options with more traditional patterns. Natural fibers like wool and cotton are classic choices that will last for years to come, while synthetic materials like polyester are often less expensive and easier to clean. No matter which type you choose, a modern rug can help bring your workspace to life!
How Modern Rugs Can Transform Your Workspace
If you're looking to add a touch of style and comfort to your workspace, modern rugs are a great option. Not only do they look great, but they can also help to reduce noise and keep your feet warm. Here are some of the ways that modern rugs can transform your workspace: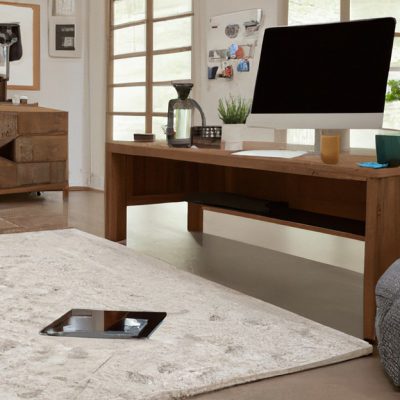 Create a stylish and comfortable space: Modern outdoor rugs can help to create a stylish and comfortable workspace. They can add color and pattern to an otherwise bland room, and they can also help to reduce noise levels.
Keep your feet warm: If you're working in a cold office, modern rugs can help to keep your feet warm. This is especially important if you're standing for long periods of time.
Reduce noise levels: Modern rugs can also help to reduce noise levels in your workspace. If you're working in a busy office, this can be a great way to focus on your work and avoid distractions.
The Benefits Of Modern Rugs
When you think of modern rugs, you might think of sleek lines, geometric shapes, and muted colors. But modern rugs can actually be quite versatile, and they offer a number of benefits for your workspace. Here are some of the benefits of modern rugs:
They can help to define your space.
Modern rugs are often characterized by their bold, geometric shapes and patterns. This can help to create a sense of structure and definition in your space, which can be especially helpful if you have an open floor plan or if you're trying to define a certain area within a larger room.
They can add style and personality.
Modern rugs come in a wide variety of colors, textures, and patterns. This gives you the opportunity to choose something that matches your own personal style and adds some character to your workspace. Whether you prefer vibrant colors or more muted tones, there's sure to be something that will suit your tastes perfectly.
They're easy to clean and maintain.
Unlike other types of rugs, modern rugs tend to be made from materials that are relatively easy to clean and maintain. This means that you won't have to worry about spills or dirt accumulating over time like you might with more delicate fabrics or carpets. With regular vacuuming, spot cleaning, and occasional deep cleans, you should be able to keep your modern rug looking pristine for years to come!
If you have an open-plan office, or if you work from home and don't have a dedicated office space, a modern rug can help to create a separa
The Different Types Of Modern Rugs
You can choose from a variety of materials, colors, and patterns to find the perfect rug for your home or office. Here are a few of the most popular types of modern rugs:
Shag Rugs: Shag rugs are made from a variety of materials, including wool, cotton, and synthetic fibers. They have a thick, plush pile that is perfect for creating a cozy and inviting space.
Geometric Rugs: Geometric rugs feature bold patterns and shapes. And pink geometric rugs can give a vibrant look to your room.
Floral Rugs: Floral rugs are available in a wide range of colors and styles. They are perfect for adding a softer touch to any room.
Solid Rugs: Solid rugs are versatile and can be used in any room. They come in a variety of colors, making it easy to find the perfect match for your decor.
Conclusion
Modern rugs can be an underrated but very effective way to transform the look and feel of any workspace. If you're looking for a quick, affordable, and fashionable way to make your office more inviting or give it a unique flair, adding a modern rug is definitely the right move. It won't just add beauty to your space, but will also help keep it organized and make it easier to keep clean. So go on out there and find the perfect modern rug that speaks to you so you can take your workspace game up another level!
Comments on this How Modern Rugs Transform Your Workspace article are welcome.
Rugs
Rugs Posts
How To Decorate Your Home With Rugs
Rugs in interior design: ways to uplift a room
4 most effective ways to clean rugs at home
Building Articles
Residential Architecture
Comments / photos for the How Modern Rugs Transform Your Workspace page welcome