Make a Grand Entrance: modern door trends, Building entry design tips, Online home wood advice
Make a Grand Entrance: Modern Door Trends
26 Oct 2021
The entry door to your home is something you probably use multiple times a day, but it may be something you rarely give a second thought about. The importance of a front door is often overlooked by most homeowners.
Yet, it's the gateway into your home, and it also marks the first impression for guests. Updating the entrance to your home is a simple and cost-effective way to enhance your curb appeal and ultimately, your home's value. Make a grand entrance to your home with these modern door trends.
Wood Doors
Wood doors are one of the most popular choices when it comes to entry doors. Natural wood doors are incredibly versatile and can convey a variety of aesthetics from modern to traditional, or even rustic charm. They're both beautiful and durable, and when properly cared for, they can last indefinitely.
ETO Doors, a California manufacturer that specializes in wood doors, recommend an annual inspection for wear and damage, and a refinish every 3-4 years, and the doors can last a lifetime. Wood entry doors come in many different types of woods and finishes, easily making it a perfect match for any home. Transoms or glass panes in wood entry doors provide a sleek and modern design while creating a dramatic effect that also allows light into your home.
Colored Doors
Aside from the style and material of your entry door, a great way to add curb appeal to your home is by creating an inviting entrance with a colored door. The color you ultimately choose will depend on the area you live in, the overall style of your home, and of course, your personal preference. Take a look at your house and decide what color will complement the colors and style of the rest of the exterior. Choose from pastel shades, dark shades, bold colors, or neutrals.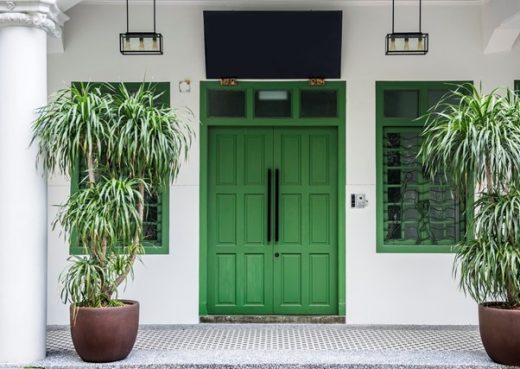 Photo Credit: Depositphotos
Oversized Doors
Large double doors are often necessary on larger homes as the entryway can sometimes otherwise get lost. However, oversized entry doors have become a modern trend, regardless of the size of the home. Oversized or double doors are a great way to add a dramatic effect to the facade of your home, welcoming guests in with a grand entrance. With an impressive entry door, you can forgo other decorative items in the entryway and make your door the main focal point of the front of your home.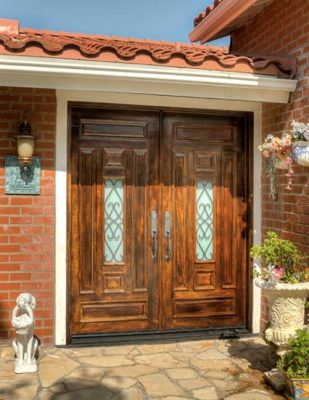 Photo Credit: ETO Doors
Glass Doors
Glass doors are a top trend when it comes to modern homes. Glass offers natural light into your entryway, making the space warmer and more inviting for your family and guests. You can choose from a full glass door or have elements of glass combined with other materials. If you're worried about privacy, glass comes in a variety of textures and opacities to suit your needs. Choose between glazed, rippled, beveled, stained, or frosted styles to best match your home's aesthetic and level of privacy.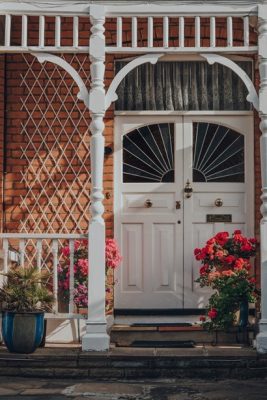 Photo Credit: Depositphotos
Metal Doors
Front doors made out of metals or featuring metal elements have become increasingly popular and work with a variety of architectural styles. A metal like steel, for example, is a lightweight, yet incredibly strong material that's low maintenance, sustainable, and energy-efficient. Metal doors with a foam insulation core may be a smart option for cold-weather climates. Wrought iron elements over glass panes can provide extra privacy while creating a unique look to any entry door.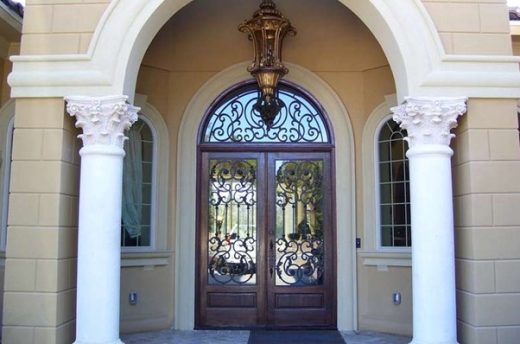 Photo Credit: ETO Doors
Make a Grand Entrance – Conclusion
When it comes to your entry door, the style of your home and your personal taste will ultimately help you decide which to choose for your home. There may be different materials or design elements that will best suit your needs. Consider one of these door trends or even mix and match a few different ones. A beautiful wood door with stained glass window panes could be just what your home needs to make a grand entrance.
Comments on this Make a Grand Entrance: Modern Door Trends article are welcome.
Building
Residential Architecture Articles
Wesleyan House Methodist Church, Wan Chai, Hong Kong, China
Design: Rocco Design Architects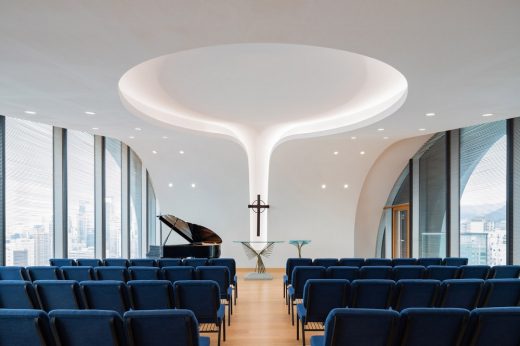 photograph : Rocco Design Architects
Wesleyan House Methodist Church
Home Doors
Property Doors Posts
Increase Security for Your Front Door
How to clean internal oak doors guide
Door hardware to complement your architecture guide
Most Popular Door Styles for your Home
Comments / photos for the Make a Grand Entrance: Modern Door Trends page welcome