Latest hands-free electronic water faucets guide, House decorationg tips, Property renovation design advice
The Latest Hands-Free Electronic Water Faucets
6 May 2022
In addition to saving water and electricity, touchless faucets are safer.
The increased hygiene and water-saving characteristics of touchless water faucets have led many people to install them in their bathrooms rather than just in public venues such as airports, schools, or offices.
The three behaviors that are repeated the most in this new normal are hand cleanliness, a safety distance of 1.5 metres, and the use of a mask. Touchless water faucets are here to stay, thanks to the security and protection standards established by health authorities to prevent the communication of the coronavirus.

Hands-Free Electronic Water Faucets: What Are They?
With a simple flick of the hand, a hand-free electronic water faucet, also known as "contactless," "touch-free," "no-touch," or "hands-free," turn on and off. Upon detecting movement, the sensor activates the valve, allowing water to flow from the spout. The sensor, solenoid valve, power source, and spout are the four components that make touchless water faucets work.
The sensor is responsible for the eco-friendliness and cost-effectiveness of touchless faucet. Water will only flow if hands pass directly in front of the sensor on these motion-activated faucets. There will be no more drips or running faucets; simply place your hands in front of the sensor & the water will wash away without touching anything. This is very useful for keeping germs and bacteria at bay. This fixture may be kept clean by using an automated faucet.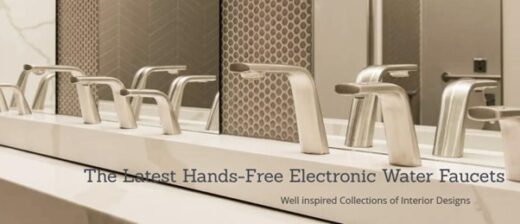 The following are the advantages of touchless electronic faucets
Water-saving faucets. The ability to save water is one of the most significant advantages of a touchless faucet. With this technique, there is no way to leave the water running while washing hands or brushing teeth. If the sensor finds nothing, the water will be turned off automatically, resulting in huge water savings. A touchless faucet saves water by shutting off the valve once you've left the sink, rather than consuming a few more seconds of water to turn off the faucet with your hand.
Conserve energy. Using Motion sensor faucet, you keep the water temperature consistent. Changing the temperature of the water does not require you to exert any additional energy. As a result, in addition, to under conrol the flow of water, touchless faucets are typically far more energy-efficient than standard hand-operated faucets.
It's more sanitary. You may avoid the mess and transmission of germs by using touch-free auto-sensor faucets. The faucet can be operated by simply waving your hand. Touchless auto sensor faucets have a significant advantage over touch faucets in that there is no cross-contamination between users.
Hands-free electronic water faucets include: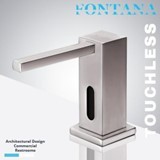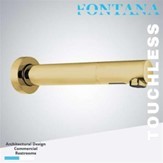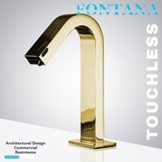 Comments on this guide to Latest hands-free electronic water faucets article are welcome.
Bathrooms
Bathrooms Posts
Bathroom Flooring Best Options Guide
Top ways to upgrade and update your bathroom
Buildings
Residential Architecture Articles – selection:
Comments / photos for the Latest hands-free electronic water faucets advice page welcome