Landscaping and stadium design in football arenas, Building structures, Sports ground architecture
Landscaping and stadium design in football arena buildings
7 Sep 2021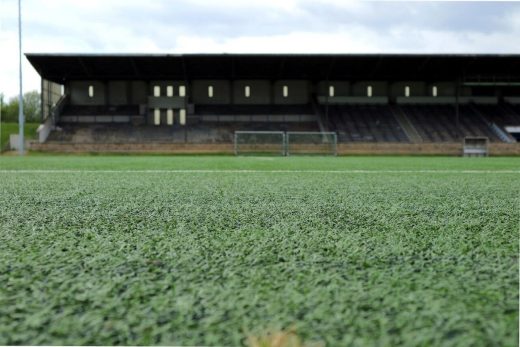 The Hidden Role That Landscaping and Stadium Design Plays in Football
You may have heard that the great Marcelo Bielsa, the notorious godfather coach of the high-octane, high-pressing style of football, used to study agriculture and grass at the university. The ground and grass surface on which a team plays, has a huge impact on its performance and its ranking. But since, according to Legalbet, football is the most popular betting sport, you can say that various grounds and surfaces influence the football betting process too.
Playing style
One thing that has been very noticeable over the years is the progression of the football pitches themselves. 15 years ago, Dean Court was praised for having such good grass. It allowed the players to pass the ball smoothly and consistently, whilst even Premier League teams would have rough mud-laden pitches.
It's difficult to know if technical, short-passing football caused football clubs to invest more in their landscaping, or if the impact went the opposite way, but it was clearly an overlooked variable in football games.
Marcelo Bielsa is known to "obsess over the length of the grass" for example, whilst some teams would leave long grass on the edges of the pitch to restrict how effectively the opposition can attack them down the wings. Mikel Arteta earlier this year went as far as blaming the long grass on their 0-0 draw to Burnley. Furthermore, a very wet football pitch makes it difficult to play intricate passes. So, the rougher the pitch is, the more it hurts the better team usually.
Suspended fixtures
Games can even become suspended in their entirety if they get flooded, too hard, or too much snow. This is the role of the groundsman to keep their soil and grass as healthy as possible, but sometimes it's down to other technology. All clubs in the Bundesliga have installed undersoil heating (enforced by a rule) to prevent games from being suspended.
Once a pitch reaches below -10C, problems arise.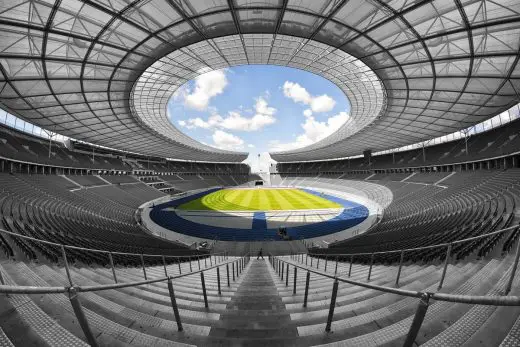 How it impacts football betting
Clearly, all of this can impact the way we bet on football. If a route-1, old-fashioned team is playing a modern passing team, they may have a better chance when there's snow, heavy rain, long grass, or a generally bumpy and difficult pitch. An unpredictable pitch can cause unpredictable movements in the ball, which benefits a long-passing, direct team.
It's also worth keeping in mind that entire accumulators can be altered when some of the games are suspended. So, it's always wise to know which pitches and soil is well kept, and how it will hold up to the weather forecast.
How stadium architecture impact the grass
If a stadium is built for being multi-purpose, i.e. to host Olympic games and concerts, the grass inevitably gets more disturbed. Furthermore, the geometry of the stadium, like the wavy Emirates stadium, impacts wind; thus changing the climate within the stadium.
Computational Fluid Dynamics (CFD) modelling is conducted to help assist the architects when planning for a stadium build; it can help foresee issues around wind flow. Vortexes want to be avoided, though, in hotter countries some wind can be used wisely for cooling. Of course, stadiums built with a roof, as seen in Cardiff, can avoid big downpours and some snow. But other issues arise, like reports of the stadium getting too hot when the roof is closed, as well as concerns about the weight of snow that could fall onto the roof.
Comments on this guide to Landscaping and stadium design in football arenas article are welcome.
Football Stadiums
Football Stadiums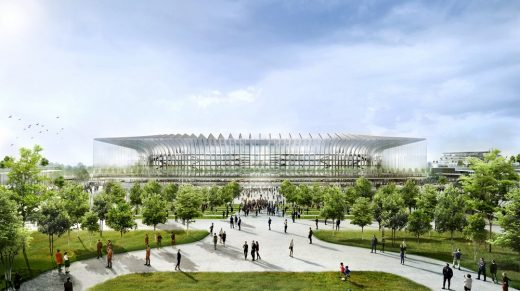 image courtesy of architects
Football Stadium Buildings – Selection:
New Chelsea Football Stadium
Architect: Herzog & de Meuron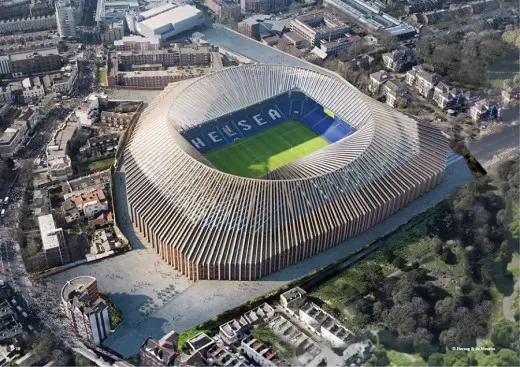 image from architect
Emirates Stadium : Arsenal FC ground, London
Design: HOK Sport Architecture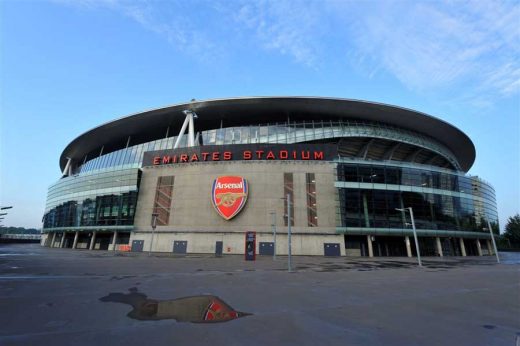 photo © Nick Weall
Wembley Stadium, London
Design: Foster + Partners / HOK Sport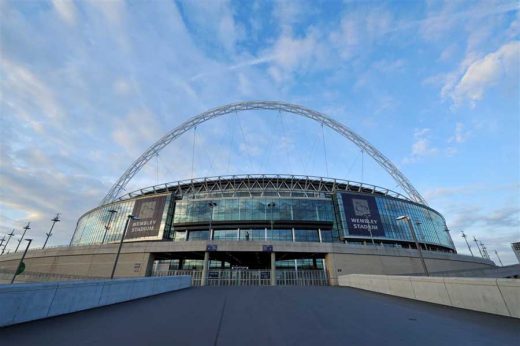 photo © Nick Weall
Stamford Bridge Chelsea Ground
West Ham United Football Stadium
Stadiums
Stadium Designs
How is football stadium architecture changing?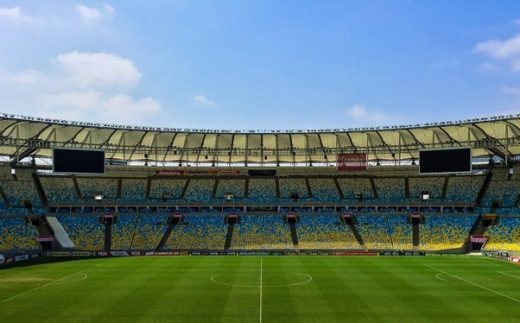 Interesting NFL stadium innovations
Top-5 biggest football stadiums and their history
Comments / photos for the Landscaping and stadium design in football arenas advice page welcome