How is football stadium architecture changing, Sporting building structures, World sports arena designs
How is Football Stadium Architecture Changing?
7 Sep 2021
Football stadia across the world have evolved in recent times and have incorporated some magnificent designs. From the brand-new Tottenham Hotspur Stadium in London to the incredible Mercedes Benz Arena in Atlanta, football stadia are like a badge of honour for clubs who are hoping to impress their fans and provide excellent environments in which a supportive atmosphere can be created.
Fans are fortunate to watch matches in incredible architectural designs, but this hasn't always been the case. In the not so distant past, stadia were simple terraces upon which spectators stood to watch the game, a far cry from the modern arena that is so common in the world's most popular leagues.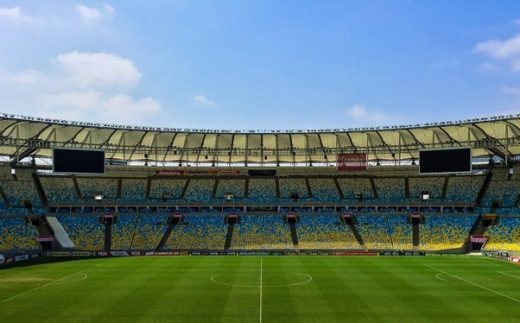 Let's take a look at why football stadium architecture has changed so much in recent times and appreciate just how impressive modern stadia are today.
Standing vs sitting
Until the end of the twentieth century, most football stadia were terraces that housed thousands of supporters. These terraces were often vast, wooden or concrete, and were built for purpose rather than comfort. Supporters crammed onto terraces to watch their teams and the fact that fans stood up to watch the match meant that the atmosphere was usually vociferous and goal celebrations were wild.
However, after tragedy struck at Hillsborough, where fans were crushed to death on the terraces, the Football Spectators Act was passed that required all clubs in the English Premier League and Championship to provide all-seated venues for their supporters. Naturally, this totally changed how new football stadia were designed and required many grounds to be modified to incorporate seats into their vast terraces. Hillsborough itself was transformed and is now an all-seater venue where spectators must sit to watch the match.
Since the inception of the Premier League in 1992, several clubs have built new stadia, including Manchester City (Etihad), Arsenal, (Emirates) and Brighton Hove Albion (Amex). These stadia are of course all-seater venues, and they are shaped very much like arenas as opposed to the traditional structure of the older football grounds in England. What's more, in recent times, some clubs have sought to challenge the rulings of the Football Spectators Act and wish to incorporate safe standing into their grounds. Examples of safe standing in practice can be seen at Borussia Dortmund and Celtic, where the club believes that allowing fans to stand safely during games significantly improves the atmosphere and matchday experience.
While safe standing doesn't necessitate a huge transformation in stadium design, if the movement continues to receive support from clubs throughout the UK, we might see many sections of stadia throughout the Premier League adapt to incorporate standing areas for those that want to stand.
More than just a place to watch football
While stadia of old were built for the sole purpose of watching football, the same cannot be said for the modern stadia that are appearing across Europe right now. If we look at Tottenham Hotspur Stadium, for instance, it's so much more than just a place for supporters to watch their team.
This British football stadium boasts an indoor market-place for fans to enjoy delicious food and refreshment options, which is a far cry from the good old days of a half time pie and Bovril that was customary throughout football grounds in the not so distant past. Tottenham's stadium is also home to its own micro-brewery and even offers a sky-walk experience, where visitors can enjoy incredible views from the roof of the stadium.
Almost every new football stadium that is being built in the modern-day will be multi-purpose, as clubs are looking to maximise their income streams in as many ways as possible. Many teams benefit from sponsorship and you will see ads for everything from betting companies like bet365 to insurance companies. Just look at Fulham's new stand at Craven Cottage, for example, which will house a swimming pool and some of London's most prestigious real estate.
As well as being more than just a football ground, modern stadia are being developed in the design of an arena or bowl, rather than the traditional terraces that used to be so popular in the UK and across Europe. This is perhaps mainly to accommodate the seating requirements of modern stadia but is also a reflection of the current trends in architectural design.
Whatever the reason for the changes in stadium architecture, it's undeniable that we have seen a seismic shift in recent times. With safe standing likely to make a comeback in years to come, it will be interesting to see if we notice any alterations to some of the new stadia that have been built.
Comments on this guide to how is football stadium architecture changing article are welcome.
Football Stadiums
Football Stadium Buildings – Selection:
New Chelsea Football Stadium
Architect: Herzog & de Meuron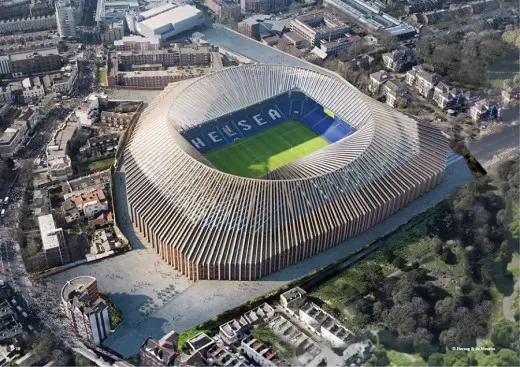 image from architect
Emirates Stadium : Arsenal FC ground, London
Design: HOK Sport Architecture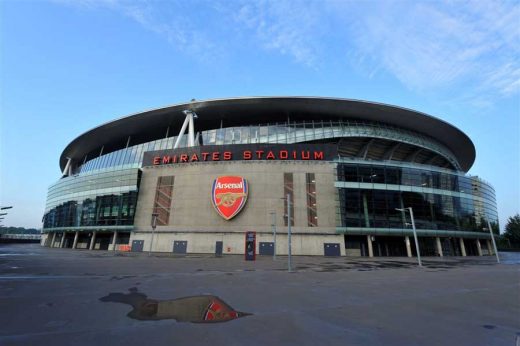 photo © Nick Weall
Wembley Stadium, London
Design: Foster + Partners / HOK Sport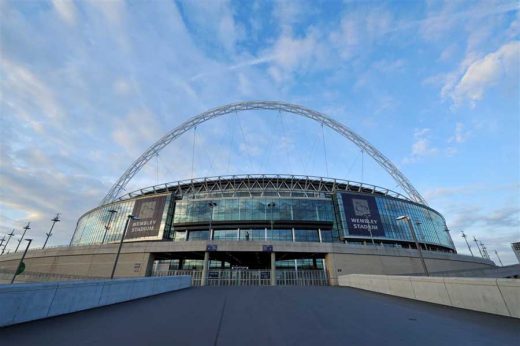 photo © Nick Weall
AC Milan / Inter Milan New San Siro Stadium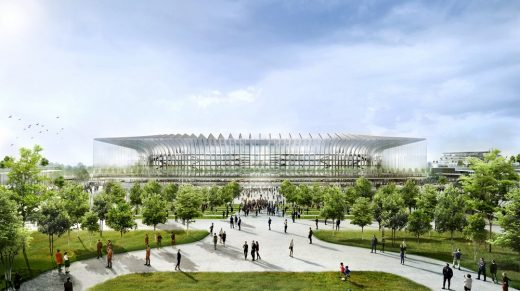 image courtesy of architects
Stamford Bridge Chelsea Ground
Football Stadium architects : Populous
West Ham United Football Stadium
Stadiums
Stadium Designs
Interesting NFL stadium innovations
Top-5 biggest football stadiums and their history
Comments / photos for the How is football stadium architecture changing? page welcome