Kin by Mowlem – new 'off the peg' kitchens, Home Style Renewal, Interior design
Kin by Mowlem – 'off the peg' kitchens
29 June 2020
Kin by Mowlem
Over the course of a quarter century, Mowlem & Co has created an enviable benchmark for elegance, service and quality as an award-winning, fully bespoke kitchen brand. Naturally, such a premium offering is a considered investment for those aspiring to the higher end of the market. Now, however, all the style, skill and standards of the brand can be accessed in the form of a very close relation that offers 'back-to-basics' pricing.
Mowlem & Co is delighted to introduce an exciting new kid in the kitchen block:
Kin by Mowlem is an 'off-the-peg' cabinetry option consisting of two distinct ranges that offer all the craftsmanship and cachet of the original 'couture' brand, now in a highly cost-effective form. Available in standard sizes and the two most popular Mowlem styles, Framed Shaker and Unframed Shaker, the units are supplied in a primed finish ready for hand painting as desired and as directly organised by each client.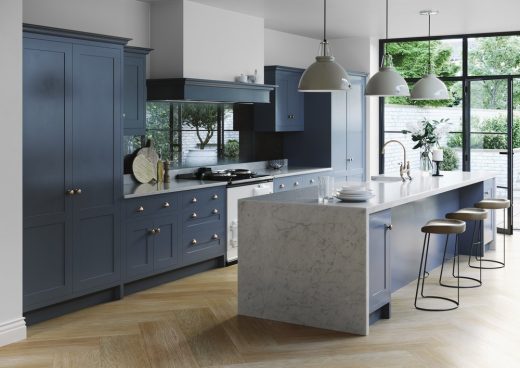 Designed and made to the renowned Mowlem & Co standards, Kin by Mowlem offers all the elegance and quality of the original 'couture' brand in two 'off-the-peg' versions. These allow customers operating on more modest budgets to work from a blank canvas of cabinets and finish their kitchens as preferred.
An example of Kin by Mowlem Framed Shaker units, finished by the end-user to their individual specifications.
A simple and straightforward online ordering process allows customers (whether trade or homeowners) to acquire the key fundamentals and then to arrange for their own fitting and detailing and to source appliances etc. However, this new label still comes with all the renowned Mowlem & Co expertise and at various stages the assistance of the design team can be called upon if needed.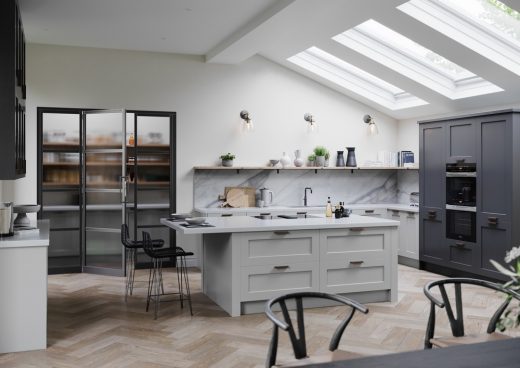 Kin by Mowlem Unframed Shaker units, customised as desired by clients sourcing their own contractors, surfaces and appliances.
The process involves a series of simple steps from the supply of the room dimensions using the graph sheet that is downloadable from the dedicated website, to the development of a layout based on this by the team at Kin by Mowlem.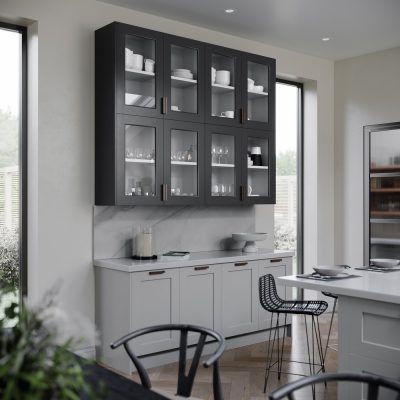 Kin by Mowlem offers a 'blank canvas' of high quality units and a simple online ordering system that allows a whole new set of customers to access Mowlem & Co's style and quality at competitive prices. This is enabled by the flexibility todirectly fit and finish, and to source others materials and appliances, thus managing individual budgets as needed.
This is followed by the selection of precise products from the range, from the size of the drawers to the style of sink, cooking and prep cabinets (which, again, can be chosen either using the downloadable template or with the online advice of the Kin by Mowlem team).
The next stage involves sharing this 'shopping bag' of cabinet requirements for further review, after which any queries will be returned. Once the design is finalised, the order can be completed and the workshop can begin handcrafting the cabinets for delivery.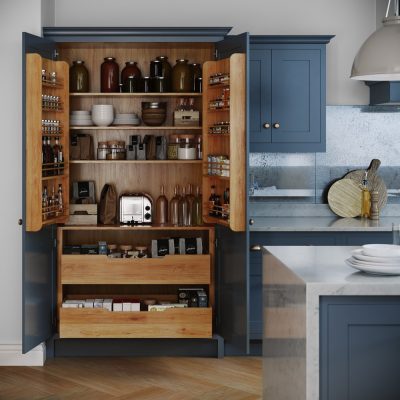 Says Design Director Julia Brown "We've often been asked whether we can supply our skill and craftsmanship in a way more suited to either a higher volume of units or to homeowners looking for our inspiring brand values at competitive prices — and now is the ideal time for Mowlem & Co to enable other sectors of the market to enjoy our distinctive aesthetics and know-how on a more modest budget."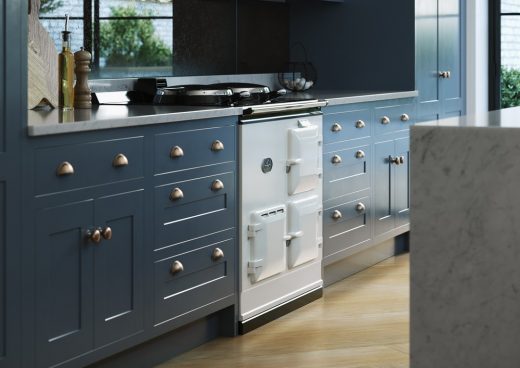 "This is an exciting new development," adds company founder Gary Mowlem, "but one which makes perfect sense considering the expert design and workshop staff we have within our long-standing team, and our reach into the industry. We can now offer a blank 'Mowlem' canvas, if you like, with which a new wave of customers can do whatever they wish and thus manage the levels of their overall spend according to their needs."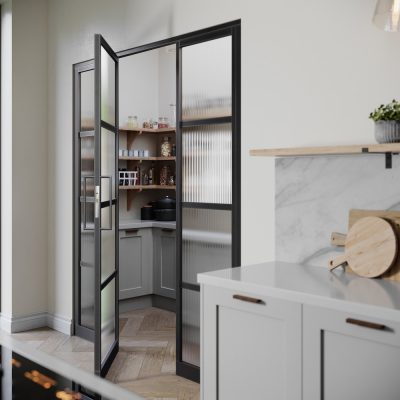 Kin by Mowlem units are available to order now, please visit: Kin by Mowlem (includes example prices for different sizes and layouts of kitchen)
Kin by Mowlem – new 'off the peg' kitchens images / information received 290620
Comments on this Ways on How to Utilize Your Kitchen Space article are welcome.
Kitchens
Kitchen Design
Make Your New Kitchen Tech Savvy
Items You Should Invest In For Your Kitchen
Consider While Renovating Your Kitchen
Kitchen design common mistakes to avoid
Residential Property Articles
Comments / photos for the Kin by Mowlem – new 'off the peg' kitchens page welcome