Invisible Architecture, Daring Skyscrapers, Symbolic Bridges, Global Architectural Design
Invisible Buildings: Architectural Impact
Architecture Discussion by Jane Foster
12 Feb 2013
Architectural Soul
Invisible buildings, daring skyscrapers and symbolic bridges
Sputnik's proposed Great Fen visitors' centre in Cambridgeshire is practically invisible. The Fens, naturally marshy, were first drained in the 17th century so that the land could be used for farming. The Great Fen Project, which combines nature conservation and tourism, is a restoration scheme aimed at bringing the area back to its pre-agricultural state, wildlife and all. So Sputnik's architects (who are based in Rotterdam, in the Netherlands, another region of reclaimed land) have proposed a discrete building that, if completed, would have as little impact as possible on the surrounding landscape.
Great Fen Visitor Centre, England
Design: SPUTNIK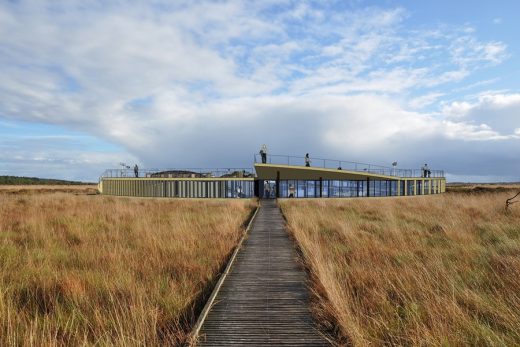 image from architects
Their statement is in not making a statement. Almost indiscernable from afar, their low-rise building becomes part of the landscape, appearing to float gently (or is it submerging, returning to nature?) upon its watery habitat. Despite the building's low-profile, the visitor experience promises to be expansive, with the circular plan and gently curving glazed facade producing interior spaces that are fluid and outward looking, while the circular roof terrace is condusive to panoramic viewing, gazing over the spectacular wetlands and into the distant horizon.
Meanwhile, in China, the Essence Financial Building in Shenzhen presents itself as the antithesis of the above. To put it into context, Shenzhen, which is currently evolving from a manufacturing centre into a services hub, is one of the fastest-growing cities in the world. It numbers 68 buildings over 150 metres tall, with plenty more under proposal.
Essence Financial Building, Shenzhen, China
Design: OMA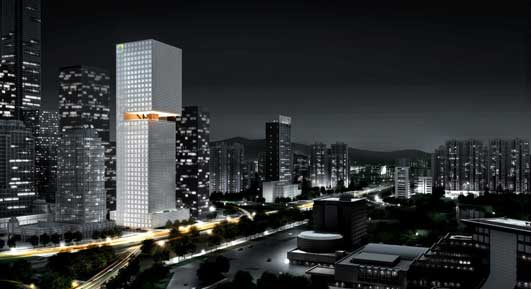 image from architect
So, what OMA, led by starchitect Rem Koolhaas, have come up with is another daring skyscraper. A 180-metre office tower, which approximately two-thirds of the way up is sliced horizontally by a floor-sized open viewing terrace, after which the remaining upper floors are cantilevered out several metres over the main core. The result is a vertiginous top-heavy building that appears to defy gravity with images of risk-taking. Located in the Financial Development Area of city, it will compete with its neighbours for supremacy, standing as a statement of Essence's ability to "achieve the impossible".
Back in Europe, on the River Rhine, the natural border between France and Germany, the neighbouring towns of Strasbourg and Kehl have, since 2003, had plans to unite and become a European transborder metropolis. Historically relations between the two have been fraught, with ugly scenes of domination and expulsion reoccurring several times during the last century.
Strasbourg – Kehl Zollhofareal, France / Germany – international competition win
Design: LIN



image from architects
LIN (with offices in Berlin and Paris) have recently won an international urban design competition to realise the unification of Strasbourg and Kehl. Their proposal introduces more bridges to connect the two European nations, as well as improving transport links and opening up both cities towards enhanced development along the river banks and docklands of the Rhine.
Cities, regions, countries and entire continents are in continual metamorphosis. The people living in them, their perceived identity and their values, are constantly changing (in a direction we like to call progress). One of the most exciting challenges facing architects is to give form to these dreams and aspirations. Or even to anticipate them. How do we want to live? Who do we want to be?
Jane Foster


photograph of Jane Foster
Jane Foster trained as an architect, completing the BA degree course at what-once-was Oxford Polytechnic and doing a one-year internship with Ricci&Spaini studio (www.riccispaini.it) in Rome. She now works as a freelance travel writer (www.jane-foster.com), specialising in Croatia and Greece.
Comments on this Invisible Buildings article are welcome.
Architecture Articles – Selection
Architectural Legibility and Didacticism
Quinta Everest, Apodaca, Nuevo León
Design: Deruiz Arquitectos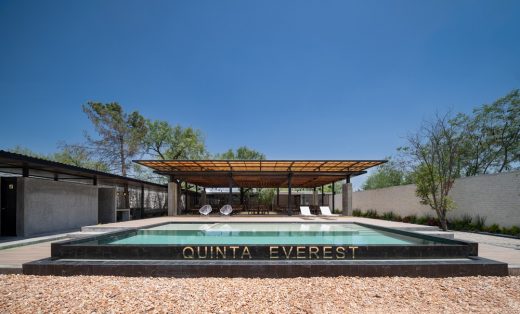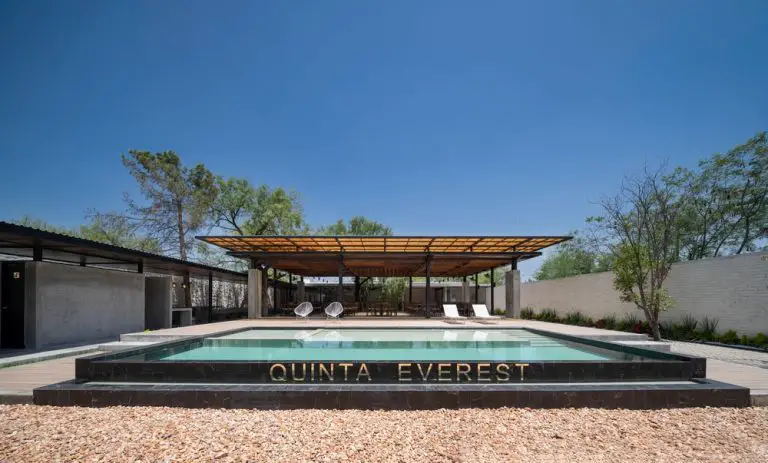 photography : The Raws / Francisco Álvarez
Quinta Everest in Nuevo León, Mexico Party Pavilion
Comments / photos for the Invisible Buildings, Daring Skyscrapers, Symbolic Bridges – Architecture Impact Article page welcome