Interactive menu vs. PDF view-only: Which is better?, QR code advice, Restaurant owner guide
Interactive Menu vs. PDF View-Only: Which is better?
4 Dec 2022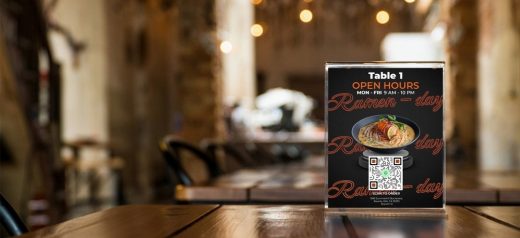 As restaurateurs, you might want to turn your menu into a QR code which the technology comes in two ways: an interactive digital menu or a PDF view-only QR menu.
At a glance, an interactive digital menu may be the better option because they offer more benefits to restaurants — online ordering, payment processing, and customer feedback, among others. However, the choice isn't as straightforward.
So, how can you determine which works better for your restaurant? Take a look at this overview.
What is your restaurant's working budget?
An interactive QR code menu can cost anywhere from $56-199 per month, which can be expensive for new restaurant owners still trying to break even on the investment costs. In this scenario, a PDF view-only QR code menu may be more economical.
Of course, a menu PDF view-only QR code offers a relatively limited set of features. However, this can serve as a launchpad to introduce technology to their customers. It can set the restaurant as a technology-driven business.
Once restaurants have enough budget to commit to a full-time monthly subscription, they can quickly switch to an interactive QR code menu.
What's the restaurant's set of food and beverage selections?
Different restaurants have varying sets of food and beverage selections. Some may need to update the menu every so often, while others may find it more sustainable to keep the same menu for a long time.
If you're an experimental restaurant owner that wants to venture into different selections to find their bestseller, an interactive QR code menu is more beneficial. Otherwise, a menu PDF view-only QR code may be more cost-efficient for restaurant owners that have already established their bestsellers.
Do you want to boost automation in your restaurant?
Automation is inevitable in any industry; the restaurant industry is no exception. While plenty of automation tools are available in the market, they may not be accessible to all, especially to small community restaurants.
For restaurants that can access automation, they can enhance automation processes with a QR code menu. With their versatile contactless nature, menu QR codes are simple to integrate across all restaurant departments — the kitchen, dining hall, inventory and supply, counter terminals, and more.
On the other hand, a PDF-view QR code menu may only appear to offer automation at first glance. However, as the menu is static and requires staffing to attend to customers, it acts simply as an accessory instead of an automation platform.
Can your customers adapt to the QR code menu use?
While your decision as the restaurant business owner is essential, the willingness of your customers to use a QR code menu is just as important. As a business, assessing your market before settling for a QR code menu is important.
If the market of restaurants includes mostly the elderly, who may not be as well-versed with technology, implementing a QR code menu may not be the best option for your business. On the contrary, if the market of restaurants includes young people, then using a QR code menu can prove to be more effective.
Suppose restaurants haven't accounted for customers' switch to a QR code menu. In that case, they may end up reverting to a physical menu within days of implementing it — incurring severe losses for restaurants.
Assess your and your customers' needs before deciding on the best QR code menu for your restaurant
Every restaurant has different needs, and what works for others may not work well for your needs. Restaurants must assess their and customers' needs before finally deciding on the QR code menu that matches them best.
This way, restaurants can guarantee success in their QR code menu implementation and achieve better sales performance in the long run.
Comments on this Interactive menu vs. PDF view-only: Which is better? article are welcome.
Restaurants
Restaurants Posts
Tips to Make Your Café More Exciting
Make your restaurant profitable and stand out
Things every restaurant owner should know
Building Articles
America Architectural Designs – latest building updates
Comments / photos for the Interactive menu vs. PDF view-only: Which is better? page welcome