Inspiring Casino Architecture From 3 World Renowned Locations, Buildings, Gaming resorts, Gambling experience
Inspiring Casino Architecture in 3 Locations
Oct 20, 2020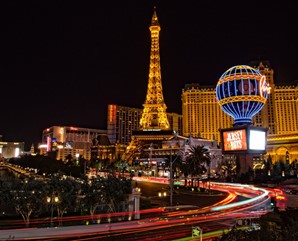 image Source: unsplash.com
Few buildings leave a long-lasting impression compared to land-based casino establishments and resorts. There is doubt that some of the wackiest casino architecture is in Las Vegas a.k.a. Sin City while over in Europe you will find casinos with a more contemporary design blending in with the neighbourhood that the casino operates.
In this piece, we will look at some of craziest casino architecture in the USA's Nevada state capital of Viva Las Vegas, we will also delve into a casino establishment in London before heading over to Macau which just about covers the 3 most prestigious gambling capitals of the world. Take a look at crypto casino options.
Inspiring Casino Architecture From 3 World Renowned Locations!
The Luxor Casino in Las Vegas
The Hippodrome Casino in London
The Morpheus Casino in Macau
The Luxor Casino in Las Vegas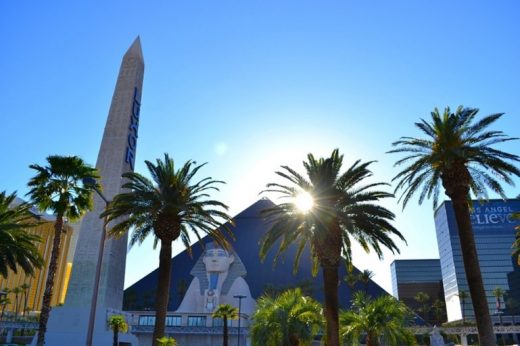 image Source: pixabay.com
If you know anything about online video slots, then you are probably aware that slot game developers love to bring in the Egyptian theme. It is a casino favourite and never grows old within both online casino and land-based casino communities. Even if you don't gamble, Egypt still has a certain fascination about it. Well, The Luxor Casino in Las Vegas, named after an Egyptian city, take the icing of the cake so to speak.
This casino's design is a perfect example of the 1990s 'Postmodern architecture'. The pyramid-shaped resort was officially fully open in 1993 and it takes casino design to a new level and cost a staggering $375 million to build and has since cost another $1 billion in expansion projects!
Outside there are palm trees, Egyptian statues, and water fountains bringing you into an Egyptian oasis in the Las Vegas desert. The casino has tons of slots and table games to choose from and plenty of side attractions. Its atrium is the largest in the world and its Luxor Sky Beam is the strongest light beam in the world.
The Hippodrome Casino in London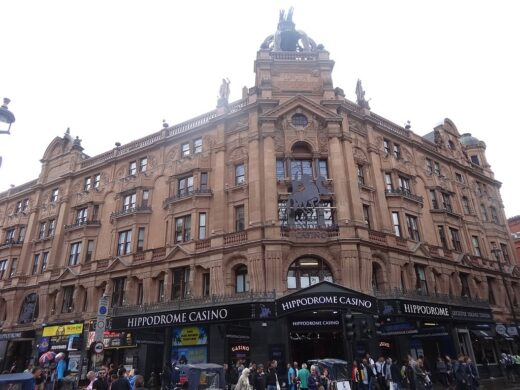 photo : Jordiferrer, CC BY-SA 4.0 https://creativecommons.org/licenses/by-sa/4.0, via Wikimedia Commons
From the large Luxor casino to a small multi-floor but incredibly popular London casino, our journey takes us to the hustle and bustle of London's ever buzzing West End. Set right next to Leicester Square tube station, which runs underneath this casino, is the Hippodrome Casino.
This casino is popular because it houses Poker Stars tables and is also home to 'Roulette' and 'Baccarat' tables played by online casino players courtesy of Evolution.
Originally the Hippodrome was a theatre when it opened in 1990 and it cost £250,000 to build which in today's money would be millions. It gets a mention in this casino architecture piece because inside the casino you will find that the Hippodrome management team still maintains the theatre design.
What's nice about this casino establishment is that it has a history that dates back over 100 years. There are very few casinos that can make the same claim about their casino's origins.
If you were ever looking for an eloquent land-based casino with a mix of old and modern contemporary design blended together, then the Hippodrome Casino is certainly it while the casino's design is also befitting of London's cultural recognition for its diverse architectural styles that spread through centuries of change.
The Morpheus Casino in Macau
Morpheus Hotel, City of Dreams Resort in Macau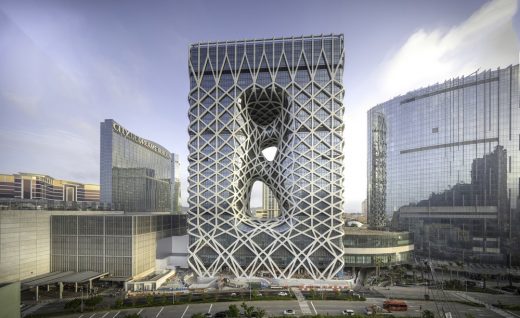 photograph © Ivan Dupont
Over in the world's most lucrative casino city is a design that defies the laws of architecture. Not only that, this monster of a building cost $1.1 billion to complete as is the brainchild of Melco Resorts.
Awards for the architectural design goes to Zaha Hadid a celebrity British architect. Although not quite the contemporary design of the Hippodrome that shows off early British architecture this take British architectural design to a whole new level.
The building is literally morphed as it oddly twists and turns with huge holes through the middle that attract rays of light from the sun making this an astounding building to gaze at during the day, while at night when it is lit up, it is also equally as impressive as during the day.
Other World-Renowned Casino Architectural Designs
There is no shortage of casinos with crazy and whacky designs or designs that replicate another part of the world. The Venetian in Las Vegas is worth a mention because of its luxurious Venice design and architecture bringing an Italian vibe to the Vegas.
While over in Europe you may want to check out casinos such as the Casino de Monte-Carlo in Monaco designed by Charles Garnier. This is a castle design with a huge open front area to the casino. It is a breath-taking beautiful building to look at and has featured in numerous movies.
Plus, you may also like Marina Bay Sands in Singapore which is another whacky design that stands out. If you ever visit Singapore, when you see this building's design, you will never forget it. You can check out the Marina Bay Sands Casino here.
Comments on this Inspiring Casino Architecture From 3 World Renowned Locations article are welcome
Las Vegas Buildings
Las Vegas Buildings
Casino building designs



photo © Joe Lekas
Vdara Hotel Las Vegas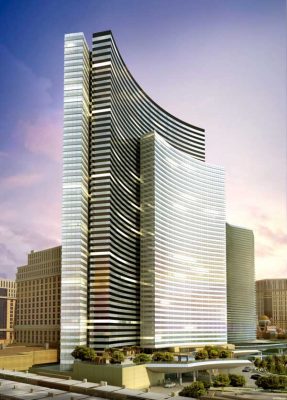 image : CityCenter Land, LLC
Monte Carlo Buildings
Monte Carlo Buildings
Hôtel de Paris Monte Carlo Reopening
Comments / photos for the Inspiring Casino Architecture From 3 World Renowned Locations page welcome