How to pour a concrete patio guide, Home terrrace design tips, Online property landscape advice
How to Pour a Concrete Patio
23 February 2022
A concrete patio is simple to erect, long-lasting, and low-maintenance, so you can enjoy it for many years to come. Making a concrete patio is complicated, but it doesn't have to be that way. You may be apprehensive about making a mistake that will leave you with an unattractive deck for years to come. Pouring your concrete patio for your family to enjoy only takes a weekend if you properly plan and follow a few simple instructions.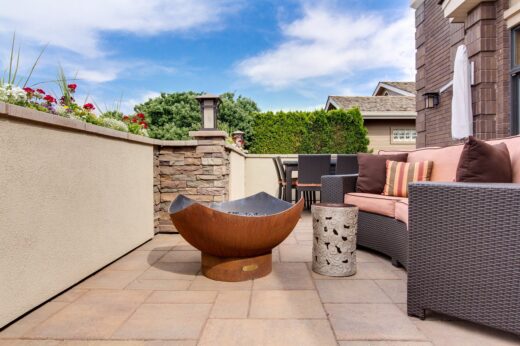 We would always advise someone with no experience to hire a veteraneded professional concrete contractor. However if someone is going to decided to pour their own concrete patio we hope that this article will help guide you along the way! Pay attention to the finer details as these will be what makes the difference between a low-quality slab and a high-quality one.
Preparation of the site
Start by putting four stakes in each corner of your patio to mark the perimeter. Use a level to measure the slope of the ground you're building on by running a line of string around the four stakes. It would help if you built your patio on a level surface that drains well to avoid cracking.
Just remove the top three inches of soil and four inches of concrete, then add three more gravel to your sandy soil. Removing enough soil to accommodate eight inches of compacted gravel and four inches of concrete is necessary if the ground is tough (such as clay).
Constructing the Structure
Follow the level line and hammer your pegs into the ground. Make sure they're as safe as you can get them. Keep the tops peg level with each other as well. Assemble your frame by nailing your boards (we recommend 2×4's or 2×6's, cut for each side of your frame) to each peg, keeping the tops flush with each peg. Then, pour your concrete.
The more secure your frame is, the better it is for you. It's nearly impossible to fix uneven edges in freshly poured concrete because it can push on the boards and bend your frame. Place the "kickers" behind the peg instead. Kickers are pegs nailed into your boards diagonally to your vertical pegs.
Incorporating Gravel into the Landscape
Gradually increasing the amount of gravel on the ground. Again, the amount of gravel or crushed rock you'll need depends on the type of soil you have. Compact and level the gravel using a roller or vibrator compactor. It is important to note the quality of material you use here as it could impact the longevity of the concrete structure being built.
Pouring in the Cement
As long as your patio won't be as large as your driveway, you can use ready-mixed concrete. Make sure to follow the manufacturer's instructions on mixing your favorite brand.
Pour the concrete over the leveled and flattened ground after mixing. With the help of a rake, level the floor as you pour. Pour the mixture in various locations rather than raking and moving more than a few feet.
While your friend continues to rake, use a 2×4 board to level and smooth out the concrete as you go.
With each board pull, resist the urge to remove too much concrete. At first, it is better to move and smooth a little at a time. To get rid of any imperfections, use a floating tool to remove the lines left by the board.
The process of hardening concrete
Keeping the concrete from drying out too quickly as it hardens is critical. You can easily accomplish that by covering the slab with plastic sheeting and keeping it damp. When there is only light foot traffic, concrete takes 48 hours to dry, but it is best to leave it for at least five days. To avoid damaging the edges of the new slab, wait at least 72 hours before removing the formwork. It will be 28 days before the concrete reaches its full strength.
Conclusion
Pouring a concrete patio is a fairly easy job for experienced concrete contractor professionals, however it is still quite detail oriented. This article goes into the best practices for pouring a concrete patio, however there are different variations on time and processes that will still results in a successful pour.
Comments on this guide to how to pour a concrete patio article are welcome.
Patio Articles
Patio Posts
Make your patio into inviting gathering place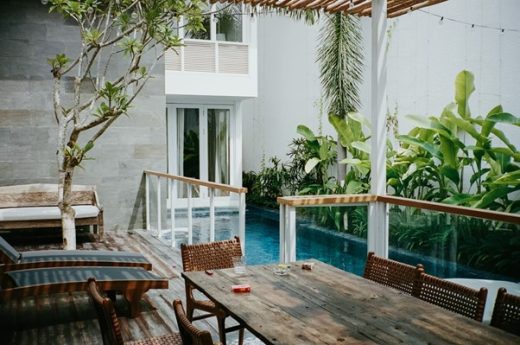 6 Home Decorations You Need To Have On Your Patio
Why choose natural paving stones for patio
Creative ways to enhance an outside patio
13 tips to help you decide on patio furniture
Building Articles
Residential Architecture
House for Four Generations, Japan
Design: tomomi kito architect & associates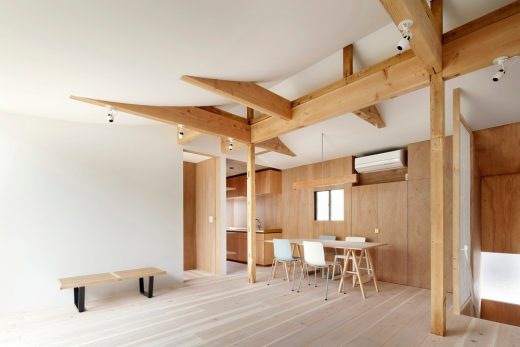 photograph : Satoshi Shigeta
House for Four Generations
Comments / photos for the How to pour a concrete patio advice page welcome