How to keep your dog safe in your home tips, Online pet advice, Puppy house guide
How to Keep your Dog Safe in your Home: Dog Proofing 101
17 August 2021
Puppies can be especially curious about the world around them, and this can mean big trouble if you don't properly dog-proof your home. Preparing your home for your puppy (or even taking the time to dog-proof your home for your adult dog) is not difficult, and it can save you both money and heartache as you will prevent some pet emergencies from happening. Regardless, it won't hurt to invest in pet insurance to make sure even if an emergency occurs, your puppy will be getting the best care and your finances won't be affected.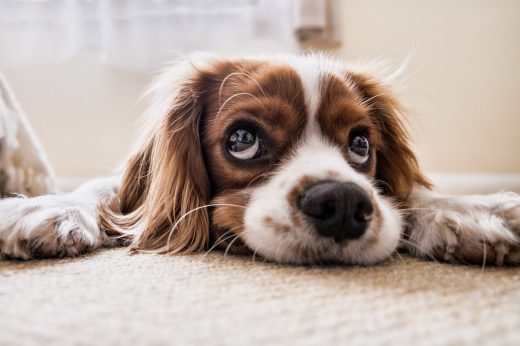 Crate Your Dog
First, let's start by placing a heavy-duty crate in the kitchen or the living room for Fido when you are not at home. This is an important part of keeping your dog safe while you're away. Remember, some dogs get into the most trouble because they are bored while you're at work or running errands.
Purchasing a heavy-duty crate as a vital part of puppy-proofing your home. When you take the time to properly crate train your dog, he will learn to see his crate as a sanctuary and a place of security.
You can place a bed and a food bowl as well as a method of getting water in the crate, and to spruce it up a bit, you can add some of the dog's favorite toys or accessories. After a time, you'll see that Fido looks at his crate as "his" space in your home. Some dogs will even learn to "crate" themselves when they wish to take a nap or just have a little quiet time. You can leave Fido in his crate when you are away from home as a means of dog proofing the home, and it will leave him feeling safe and secure.
Crates also serve as a means of helping your dog deal with separation anxiety. Some dogs become destructive when they are left alone. It's not that the dog wants to behave this way; the anxiety caused by your absence can make your dog misbehave as never before. When he is in a crate, he will be safe and secure, and he won't feel the need to be destructive or get into things that could harm him in your home.
Dog-proofing Other Parts Of The House
Now, we'd like to discuss your kitchen and bathroom. Childproof latches work to keep curious pups out of low-level cabinets where we often store cleaning supplies or other potentially toxic products. It is a good idea to move trash cans in the latched cabinets, or purchase one that has a sturdy lid. Next, if you keep any medications in your bathroom, be sure to put them on high shelves that your puppy can't reach. Nothign beats a dog kennel for making your pet feel at home.
Be sure to look for any small spaces in which your puppy could crawl; you'll need to block these spaces. Always keep food out of the reach of your dog, especially if it is in a wrapper of some kind. Always keep the toilet lid down so that nosy pups can't accidentally fall over into the bowl or drink water that might have been contaminated by cleaning chemicals.
You might assume that your living room is fairly safe; there aren't usually any chemicals or dangerous products in the living room. Plus, your pet will accompany you in the living room. However, there are a few items that might pose harm to your curious puppy or an older dog that is bored. Be sure to clean up any hanging wires behind your television, and keep phone charging cords at a level where a playful pup cannot reach them. Make sure your children never leave game pieces, such as chess pieces or dice, lying around. If you have knick-knacks on low shelves, it is time to place them in an area that Fido can't reach. It is especially important that you move any house plants that could be toxic from the living room.
How to heep your dog safe at home
If your puppy will be in your garage, be sure to move all chemicals to a shelf he can't reach. It is especially important that you remove antifreeze from the garage area. Surprisingly, antifreeze is sweet to the taste, and dogs can ingest even a small amount and face a lethal reaction. Be sure that all tools are put away and out of reach of your dog.
You may choose to keep your bedrooms off-limits to Fido, and that is a good idea. However, you can do a little doggy proofing in these rooms as well. Make sure all laundry and shoes are put in closets and secured by a door that can't be pushed open by a curious pup. Drawstrings and buttons can have a deadly effect on your dog's digestive system. If you keep medications or lotions on your bedside table, you might want to put them out of Fido's reach. If there are any exposed electrical wires, you'll want to move them away from your dog's line of sight.
Make sure you dog-proof your home before bringing the puppy home or do so as quickly as possible for older dogs. Your canine companion will thank you.
Comments on this guide to How to Keep your Dog Safe in your Home: Dog Proofing 101 tips article are welcome.
Building Articles
Carlsberg Central Office, Valby
Design: C.F. Møller Architects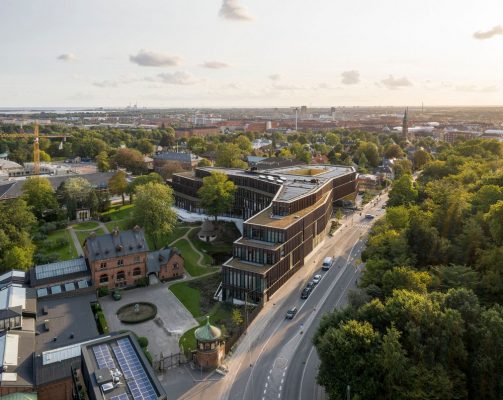 photograph : Adam Mørk
Carlsberg Central Office Valby
New Homes
Telluride Glass House, Telluride
Design: Efficiency Lab for Architecture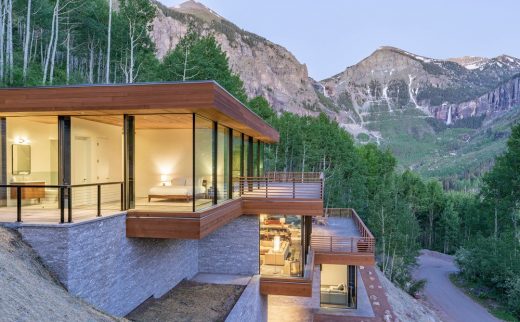 photograph : Josh Johnson
Telluride Glass House
GPS Dog Fence Vs In-ground Dog Fence
Comments / photos for the How to keep your dog safe in your home tips page welcome