How to design a gaming room, ideas for gaming enthusiasts, Building soundproof system, Online acoustic advice
How to Design a Gaming Room?
7 Feb 2023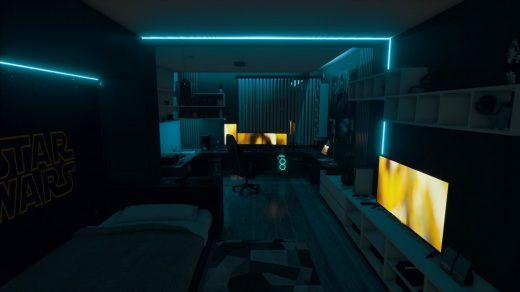 Are you looking to create the ultimate gaming room? Designing a gaming room can be an exciting and imaginative process but can also be overwhelming. From choosing the right accessories and illumination to deciding on a theme, there are many factors to consider. This article will provide an overview of designing a gaming room from the ground up, so let's dive right into it.
Computer Monitors
Designing a gaming room is a challenging feat. It requires careful planning and consideration of all the necessary components. It is, therefore, possible to argue that the importance of your monitor can not be understated.
Indeed, regardless of whatever type of game you want to play, the screen is going to be the component that is ultimately going to make all the difference, as this determines how immersive your gaming experience will be. Whether you want to play a round of poker after checking out online poker reviews, or you simply want to play a more traditional video game, the screen is perhaps the most important thing to consider when designing a gaming room.
Take into account the space available
Setting up a gaming area is an exciting challenge for gamers. It's essential to consider the available space and ensure that it can accommodate all the equipment needed for an enjoyable gaming experience. With careful planning and creativity, you can create a comfortable and inviting space perfect for playing all your favorite games. This will help you determine what kind of furniture, gaming systems, and other items you need to create the perfect gaming environment.
Include Awesome Illumination
Having a great gaming room is essential for any serious gamer. It's not just about possessing the proper hardware and consoles but also creating the perfect atmosphere. Another vital aspect of designing a gaming room is ensuring excellent lighting. Not only does this create a more immersive experience, but it also helps to reduce eye strain from long play sessions. By incorporating the right illumination fixtures and colors, you can create an unforgettable gaming experience in your home.
Consider the temperature and air quality
Designing the perfect gaming room can be challenging, but with the proper considerations, you can fashion an enjoyable and comfortable space for your gaming needs. The temperature and air quality are essential when designing a gaming room. Not only does this affect your comfort while playing, but it also affects the performance of your gaming equipment. You can optimize your gaming experience for maximum performance and enjoyment by controlling temperature and air quality.
Budget correctly
A well-designed gaming room can provide an immersive experience for gamers with the right combination of furniture, electronics, and accessories. However, it's important to remember that you don't have to break the bank to create a great gaming space. With apt preparation and smart shopping, you can create a gaming room on a budget that provides hours of entertainment for you and your friends.
Verdict
Creating the perfect gaming space is all about finding the right balance between aesthetics and functionality. Ultimately, it's essential to consider how you want your gaming room to look and feel and create a space that reflects your style. With apt planning and attention to detail, you can develop a fantastic gaming room that will be both comfortable and enjoyable for epochs of play.
Comments on this How to Design a Gaming Room article are welcome.
Building Articles
Residential Architecture
Gaming
Gaming Posts
The Gaming Industry and the Crypto World
Evolution Gaming is Expanding as a Brand
Top tips for betting on gaming tournaments
Comments / photos for the How to Design a Gaming Room page welcome