How to choose the right greenhouse for your garden guide, House gardening structure
How to Choose the Right Greenhouse for Your Garden
24 Feb 2022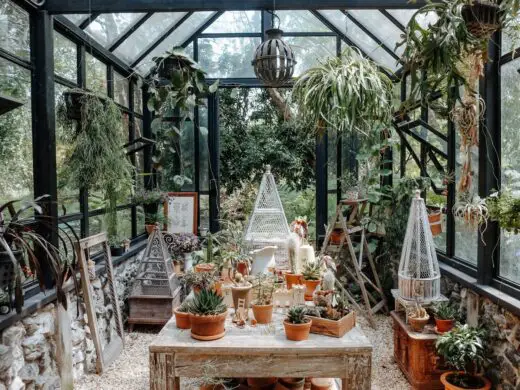 For the latter, it might be worth getting a greenhouse, but you'll generally also want to think about how doing so could impact your home. Sometimes, installing something as large as a greenhouse can impact the value of a property (and not always positively), but they can also block out views and landscapes, which could be a deal-breaker. If keeping the aesthetic of your home consistent is important to you and you're not sure whether a greenhouse would be a good fit, here's a little more information that may help you with making your decision.
How could a greenhouse contribute to the architecture of your home?
So many people worry that a greenhouse just won't look right, often because of the style of home they have. First of all, let's consider some of the ways that a greenhouse could add to the architecture of your property, rather than detract from it.
The great news is that in a lot of cases, greenhouses are designed with simplicity in mind to ensure a seamless blend between home and garden. However, just because a greenhouse can often go with a wide range of property styles, it doesn't mean that you don't need to pay mind to the design of the one you buy (there will still be plenty that are made to look and feel a certain way).
The shape, construction and materials used can all make a big difference to how they fit into your garden, so be sure to consider what you want before buying.
You might even want to consider building your own greenhouse. If you're not entirely sure if DIY will be right for you, it could be worth reading through https://www.e-architect.com/articles/should-you-build-or-buy-a-greenhouse to learn a little more about what the endeavour involves.
How do you choose one that suits your needs?
You'll often find that there is plenty of information available to help you choose the right greenhouse. This could also be beneficial if you're not quite sure about aspects outside of aesthetics – like features that can extend the growing season or ultra-violet protection.
Generally, the best thing you can do is get an idea of what's available. If you head over to Halls Greenhouse, you'll see quite a few of their quality greenhouses – many of which could be a great choice for practically any garden. Be sure to look into what they have to offer!
Comments on this How to choose the right greenhouse for your garden article are welcome.
Gardens Articles
Gardens Posts
5 Reasons To Consider A Greenhouse in Your Garden
5 benefits of owning a garden room
Garden Rooms: Property Expert Guide
Home Articles
Residential Architecture
Comments / photos for the How to choose the right greenhouse for your garden page welcome