Gardens as a Fifth Room Trend, Property expansion, Online home design advice
Gardens As a Fifth Room Trend
4 Jan 2022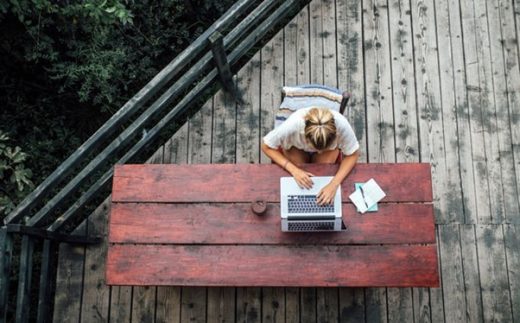 Gardens As a Fifth Room? 5 Reasons to Embrace this Increasingly Popular Trend
Outdoor living spaces have taken on a whole new level of importance over the past couple of years. Staying in has become the new going out, just as working from home is likely to become permanent for millions of households.
Understandably, those lucky enough to have outdoor spaces at their disposal have been making full use of them. To such an extent that gardens are no longer considered gardens by many, but are instead being used as the 'fifth room' of the home.
What's Behind the Fifth Room Craze?
The fifth room craze is rooted in the fact that even the most compact outdoor space is bursting with potential. Being outdoors means being able to soak up the sights, sounds and smells of nature, while enjoying the safety of being on your own private property.
As it became increasingly unsafe to venture out in public, private gardens became one of the most prized commodities known to man.
Consequently, people began actively transforming their gardens into fully functional living spaces. What was once a fairly plain patch of grass quickly became an attractive and enjoyable living space in its own right. One that combines practicality with presentation, while soaking up all the relaxation and stillness the outdoor has to offer.
At a time when the entire country was on lockdown, this really was the ultimate blessing for those lucky enough to have their own garden.
How Households Began Embracing Their Outdoor Spaces
The types of living spaces households began setting up outdoors were different from one home to the next. Understandably, it was a case of figuring out what makes most sense in terms of practicality and desirability for the household in question.
For some, the obvious choice was to set up a comfortable workspace outdoors and install a Wi-Fi signal booster. Others invested in outdoor entertainment for kids, or transformed areas of their garden into dedicated exercise spaces.
But what proved to be the most popular choice of all was creating an inviting dining space outdoors. What was previous a few stone slabs adorned with the cheapest plastic furniture was gradually transformed into the most epic outdoor dining room.
There's something uniquely appealing about dining alfresco to UK households.  Perhaps it's something to do with the fact that we get so few pleasant days and evenings each year, we have to make the most of them. In any case, millions of homes have effectively extended their indoors outdoors in the form of a fabulous outdoor dining space.
A More Inviting Dining Space
The difference between today's approach to outdoor dining and the pre-pandemic approach is the effort that's going into creating genuinely stunning outdoor dining spaces. For example, extendable tables and rustic farmhouse tables are taking the place of more conventional patio furniture.
Combined with exquisitely comfortable chairs and high-quality crockery, it's a world away from the all-plastic outdoor dining experience. Households are also becoming more creative with their exterior lighting, heating and entertainment amenities – often bringing smart technology into the mix.
Far from a passing fad, all signs point to a continuation of this exterior dining trend indefinitely. But what is it about this specific outdoor improvement project that makes it such a hit among UK households?
1.   It's cheaper than an extension
First and foremost, converting a garden into a fifth room for the home will always be cheaper than a traditional extension. A great way of boosting comfort and practicality with a new living space, at a fraction of the usual costs.
2.   There's limitless scope for creativity
Your exterior space is yours to do with exactly as you wish. Go for something elaborate, something understated or something artistic – it's entirely up to you. There's so much more room for creativity and experimentation outdoors, allowing you to do the kinds of things you wouldn't dare attempt indoors!
3.   It boosts property values
Chances are, every penny you invest in your outdoor makeover will be recouped (and more) when you sell your home. Now more than ever, attractive and functional exteriors are making major differences to property values in all areas of the UK.
4.   It has multiple practical applications
Setting up an exterior dining space means massively boosting the practicality of your garden for multipurpose use. Whether you are working from home or simply entertaining the kids, you'll never run out of good uses for your outdoor dining space.
5.   It's a surprisingly simple project
Last up, converting a garden into a fabulous outdoor dining area can also be surprisingly easy. It's often simply a case of stepping up your current furniture and amenities to something of a higher quality standard. Set your sights on something that goes beyond the usual plastic patio furniture and you'd be surprised how much more enjoyment you'll get out of your garden.
Comments on this guide to gardens as a fifth room trend article are welcome.
Gardens
Garden Posts
5 benefits of owning a garden room
Garden Rooms: Property Expert Guide
How to neatly organize your home garden
Building Design
Residential Architecture Articles
The Majlis: a meeting place, San Giorgio Maggiore, Venice, Italy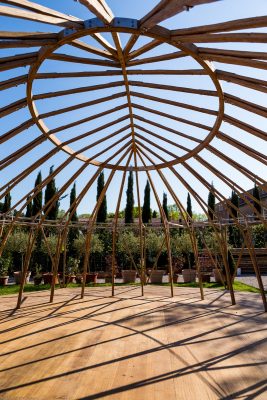 photo courtesy of architects office
The Majlis at San Giorgio Maggiore
Comments / photos for the Gardens as a fifth room trend advice page welcome