How to choose right exterior elements for your home, Property external style advice
How To Choose The Right Exterior Elements For Your Home
18 Aug 2022
Building or renovating a house is quite the project especially if the latter involves significant exterior changes in style and design. Before you make the investment and hire contractors, you need to know how to choose the right exterior elements for your house so that it conveys the décor era you are trying to bring to life, albeit in a semi-modern, functional way.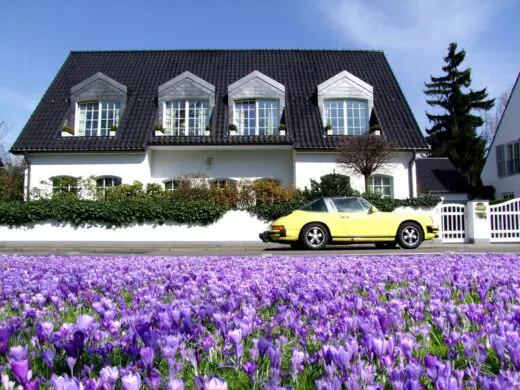 Working With The Climate
The exterior of the house needs to be more than just aesthetically pleasing, it ideally needs to withstand the onslaught of all manner of environmental situations. When deciding on exterior elements always take into account the prevailing weather conditions in the area and choose materials accordingly.
If you live in a rainy area or somewhere it snows for a few months you may need to adopt a sloping roof design or choose more resilient roofing materials so that water damage does not leak into your walls. Your commercial roofing contractor will be able to advise you on the best roofing materials for certain climactic conditions.
For areas that are warmer or experience more sun, you may think installing photo voltaic panels on your roof may be an excellent idea to maximize solar power generation for your home. Another expert designer hack is to choose paler and more neutral color tones if you live in a cold location and brighter and more colorful color tones if you live in a warmer climate.
A Style To Go With
Most houses fall within a certain design concept such as modern, contemporary, rustic, farmhouse chic, suburban chic, traditional French, or even gothic. Choosing a style that inspires you can lay the groundwork for the exterior elements that suit that style. Most modern homes however are typically a fusion of more than one or two styles so homeowners can pick and choose aspects of each style for the finished look.
A Cape Cod home for example which is a fairly popular style of the house involves wood sliding in the exterior, a tasteful sloping roof that is very steep, painted wooden shutters on the windows and hardwood flooring as well as considerable use of wood in general during the construction. French countryside homes may have smaller windows with shutters, stucco walls, a multitude of small arches, and very large, visible chimneys laden with stone. Choose an overarching décor era or style, and the exterior elements become very easy to incorporate.
The Perfect Set Of Materials
As mentioned above the design era and the climate impacts the choice of materials immensely but here are a few options to choose from when you are deciding on the right exterior aspects for your house.
Shingles are the ideal roofing material as they are known to be durable, resilient, and low maintenance. Depending on the climate you can opt for ceramic varieties such as terracotta, metal shingles, and also wooden ones. Furthermore, shingles are very versatile and can be painted easily to match the rest of the house's color scheme.
Bricks are traditional and functional and can also be painted or tinted and many homeowners prefer a bare brick feel as opposed to plastering for the final look.
Stone is a regal and upscale exterior finish and a staple for luxury homes because it is reminiscent of older, grander architecture and at the same time it reflects the relative simplicity of country homes. Stone also rarely needs to be polished or tinted as its natural and organic finish is always appreciated.
Wood is an organic, rustic material choice that fits into a multitude of design styles particularly more remote homes, homes in colder climates, or beach houses. Wood ages well naturally and can be tinted, polished, and treated to make it more visually impressive. Since it ages well on its own, it requires little to no maintenance, therefore, saving money in repairs for years to come.
For homeowners looking for a modern touch but wanting to stay on the affordable side of things, vinyl siding is a plastic finish and it works well. It can weatherproof a house and also be made to resemble wood or metal.
Personal Exterior Touches
After the more structural exterior elements, adding some homely touches such as potted plants, foliage, lawn furniture, pleasing lighting options. You can even add some lawn gnomes can showcase your own sense of style and add comfort and allure. Plants in particular have a major role to play and there are many shrub varieties that can be used for the front of your house to enhance and improve its curb appeal.
Comments on this guide to How to choose right exterior elements for your home article are welcome.
Mortgages
Mortgages Posts
Are You in the Gray Area in Your Mortgage?
Tips how to hire best mortgage broker in UK
Can you buy a house with cash and then a get mortgage
Home Articles
Residential Architecture
Comments / photos for the How to choose right exterior elements for your home advice page welcome