How Architects and plumbers can work together, Castle Hill plumbing, New South Wales building design advice
Architects and Plumbers Can Work Together
22 Feb 2021
What is a plumber?
A plumber is a professional tradesperson who specializes in installing and repairing pipes that are used to supply gas and water to businesses and homes. Furthermore, they are also used to carry waste.
Plumbers also provide services in the form of installation of plumbing fixtures such as toilets, sinks, bathtubs and appliances such as washing machines. There are many plumbing business such as plumber Castle Hill that are near you in Sydney, New South Wales, Australia.
What is an architect?
An architect is an experienced professional who specializes in planning and designing of buildings. They have a major responsibility towards construction. Furthermore, they also have the responsibility of the people's safety who will live in the building they made.
Architects are professionals who are given training in the art and science of building design. In other words, a person practicing architecture is supposed to offer services that are related to the design and construction of buildings.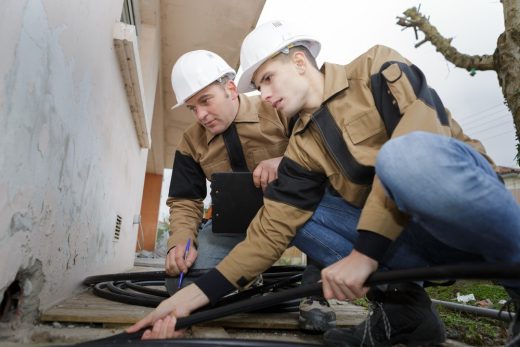 These two professions are more connected to each other than you think. Every home owner wants their house to be perfect and do not want any faults in their house. Since plumbing system is an essential part of the house, it needs extra attention during the construction of the house.
Most of the architects only know how to do their job, which is constructing a building. They do not have the responsibility of other matters such as plumbing systems. Therefore, before the structure of the building is created, you need to hire a professional plumber as well who can collaborate with the architect that you hired, and can install a good plumbing system in your house. Check out Plumber in Sydney.
How do plumbers collaborate with architects?
Since building a house does not only mean putting up the structure of the house. A lot of different things are also involved in this process. Not only you have to worry about the electrical connection but also the plumbing systems. Plumbing system is quite important and is responsible for creating a good water system which is good for sanitation and the drainage system such as sewer pipes. Furthermore, a lot of plumbers are also involved in this as electricians.
Before your architect puts up the structure, make sure to hire an experienced plumber. Most of the time, you can ask your architect to help you find one. Plumbing systems are usually concealed under the building, which means that the plumbers will first install the drainage pipes and other kinds of pipes aka plumbing system, and then the architect will start constructing the structure. It is important do so in order to prevent leakages in the plumbing system, which is possible due to tampering.
So, after you have decided on the design of your home, arrange a meeting with a professional plumber. A professional plumber will help you with the layout of the pipes. Moreover, they will also give you a cost estimate for the job beforehand. However, make sure you take your architect with you as well in the meeting, so both the plumber and architect can discuss with each other and exchange their ideas.
Although, most of the time, if you are building your house from the scratch, most of the architects will have their own team consisting of different tradesperson including a professional plumber.
Comments on this Architects and Plumbers Can Work Together article are welcome.
Plumbers
Plumber Articles
Signs You Need to Call a Plumber
How to Find the Right Sunshine Coast Plumber
How to Know If a Plumber is Good
Great Ways to Market Your Plumbing Business
Homes
Residential Architecture Posts
Comments / photos for the How Architects and Plumbers Can Work Together – Castle Hill plumbing firm in Sydney, New South Wales page welcome