Future Living Space, Futuristic home, Architectural design, Architecture article, Building
The Creation of Futuristic Living Space
Built Environment Article
21 May 2013
Public Spaces Creation
"Tips for creating a futuristic living space" published on www.e-architect.com
The trend for futuristic styles in architecture and design is growing.
It's a look that appeals to anyone with a penchant for the technological or modernistic. If you want to eschew traditionalism in favour of cutting-edge clean lines and functionality, take a look at this seven-step guide to creating a futuristic living space.
1. Ensure it is functional
One of the key features of a futuristic home is a predilection for the functional and an avoidance of anything that is merely decorative. Forms are generally simple and durable, in a style that could only be machine-made. There is no space for the hand-carved in a futuristic house and nor is there any room for follies.
2. Choose eco-friendly
Futuristic design should be sustainable and energy-efficient. An environmentally-friendly under-floor heating system is a great choice, avoiding the need for cumbersome radiators while reducing energy usage.
For more ideas, take a look at the plans created for the Nottinghamshire lottery winners Matt and Cassey Topham, who say they hope their futuristic house plans will push the boundaries of environmental and architectural design.
3. Embrace technology
No futuristic home would be complete without the latest gadgets. At the architectural stage, this may include innovate technologies and electrochromic windows, while at the interior design level this may include pioneering consumer electronics – with a large TV an unapologetic focal point.
4. The future is bright – and very white!
For architects and interior designers alike, one of the key features of the futuristic style is heavy use of white. Exterior and interior walls are pure brilliant white (or white-based for those that prefer a subtle hint of colour), while white, high-gloss furniture accentuates the clean and modern look.
In addition to being white, futuristic-style furniture should be minimalistic. Sainsbury's Trinity range (available online) is made from glossy, hard-wearing melamine and the absence of handles on the TV unit and sideboard keep the style clean and simple.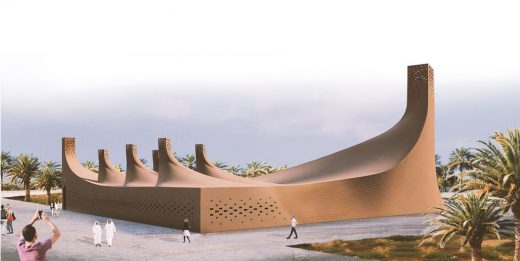 image courtesy of architects
5. A touch of warmth
To avoid rooms feeling more like a science laboratory than a living space, it is essential to introduce a little colour in furniture or soft furnishings.
Splashes of orangey-red, mustard yellow and/or lime green can make a futuristic room a joy to occupy and are perfectly accentuated by charcoal greys. Geometric patterns that combine these colour combinations are ideal for cushions or accent chairs.
6. Storage is vital
At the planning stage, it is crucial to carefully consider how to incorporate plenty of storage space, to avoid the minimalist style of the design being compromised by everyday clutter. Built-in storage is ideal for maintaining clean lines. Again, opt for a white-gloss finish and push-to-open doors without handles.
7. Bold lighting
Rooms should be well-lit with big and bold light fittings, in innovative or utilitarian shapes, made from metal or modern materials. Dark corners are not welcome in futuristic design!
Look to the future with these tips to enjoy the unique style of futuristic design in your home.
Location: Seville, Spain, western Europe
Property Articles
Public Space : article by Joyce Hwang
Public Buildings : article by Roland Wahlroos-Ritter
Public Spaces Creation : article
Architecture Context : article by Trevor Tucker
Sizing Identities : article by Sergio López-Piñeiro
Nature Architecture : article by Trevor Tucker. Sep 2009
Public Architecture in London : article by Karolina Szynalska. Oct 2011
Design Narrative : article by Lee Miles – Sep 2010
International Architectural Designs
Timber Pavilion at Dubai Design Week 2019, UAE
Architects: Collaborative Architecture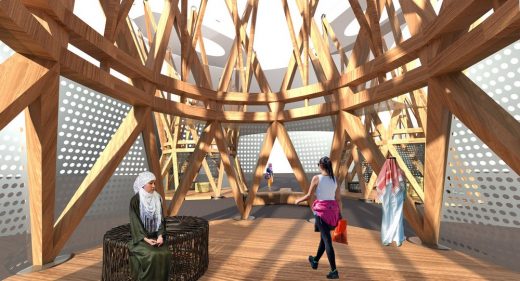 image courtesy of architects
Timber Pavilion Dubai Design Week 2019
Issa Megaron, Vis island, Croatia
Architects: Proarh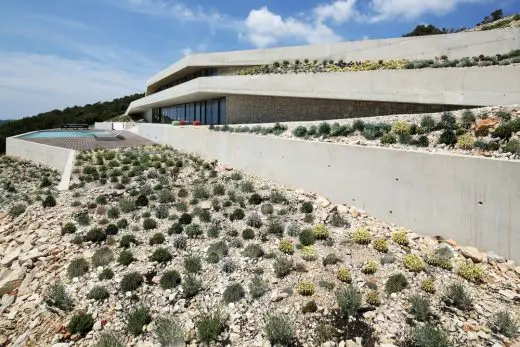 photography: Miljenko Bernfest and Damir Fabijanic
New House on Vis island
Comments / photos for the The Creation of Futuristic Living Space Article page welcome