How to furnish, fill, and decorate your new, larger home, Good furniture choice tips, House style advice
How to Furnish, Fill, and Decorate Your New, Larger Home
8 Nov 2022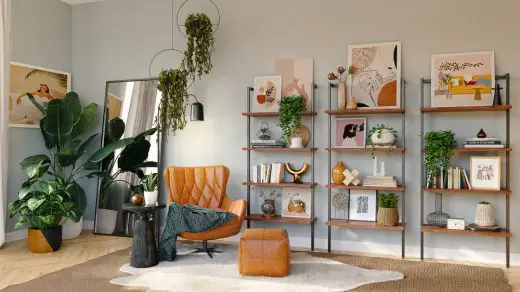 Moving into a new home is one of the most exciting things in the world, as well as one of those occasions that mark a new beginning in your life. It doesn't matter where you're moving and how many times you've done this before, this is always a great chance to start fresh and do something exciting and cool with your living space. This is particularly true if you're moving into a place that's larger than your previous home because this will give you a new level of freedom and turn you into a happier and more fulfilled person. However, there's an issue you'll have to address before you move into your new home – you'll need to find a way to furnish and decorate it. This means you'll have to get lots of furniture and decor pieces that are going to turn your new place into a home you're going to enjoy, but keep in mind that this process is going to take a lot of time, patience, and energy. If you're still not sure how to make it all happen, here are a few ideas that might help you turn your home into the coolest and coziest place in the neighborhood.
Take care of the basics first
Moving into a new home is like staring at a blank canvas – you can do whatever you want and there are more options than you can imagine. That's why solving the biggest problems first is definitely the right way to go because this will help your home from looking a bit more finished and it won't seem so empty anymore.
So, start with your walls – while most people stick to a simple paint job and check out different colors, tones, and combinations, others go a bit further and equip their rooms with cool wallpapers. This will make an empty room look better than ever and now you have just one more problem to solve: what to do with your flooring. If you're moving into an older home, you may find original flooring already there, which is the best option out there but don't be afraid to install new flooring if necessary. Just explore different flooring solutions and stick to an idea that's going to work for you the most. For instance, you can go for luxury vinyl flooring that comes with tons of different benefits, from looking amazing to being affordable and easy to install. Once you do that, you just need to take care of your ceiling, and you'll be ready to move on and actually start furnishing your home.
Take care of the kitchen and the bathroom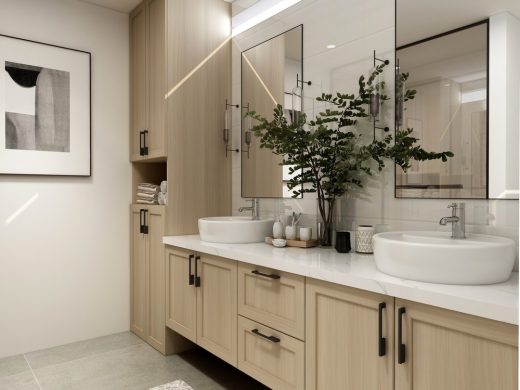 Not only is this the most important room in your home and a place where your family is going to gather and spend quality time together, but it's also where you'll be eating while you're moving in. This is why you should spice up your kitchen first and make it functional and visually appealing because will boost the value of your home and help you fall in love with it even more.
The same goes for your bathroom – you'll be using it from day one, even before actually moving in, and that's why you should make sure everything's working properly. You might also equip your bathroom with a few essential appliances, but try to be thoughtful and avoid cluttering this space. That's why going for a practical washer and dryer combo might be just the thing you need – you'll give your clothes a proper treatment without adding too many things to your bathroom, and that's a win-win combination all new homeowners are going to love.
Take care of the details
After taking care of all those major issues you'll be facing before moving into a new home, you can start thinking about the details that are going to give your home the best vibe possible. These useful little things will be everywhere around you and they're going to tell the world all about you and show your guests why you're such an amazing person. That's why these details need to make sense and tell a story, so take your time and choose them wisely.
Decorating your home might seem like a difficult process, but take it easy and start slow. For example, start by adding some visually appealing plants and flowers that will give your home some much-needed color and a touch of nature. These things are always useful when it comes to decorating your living space, and if you match them with some creative plant stands, you'll get a cool detail that's making your home healthier at the same time. Also, you should hang a picture or two everywhere you can – this is a cheap trick that can go a long way, so find the perfect photos, buy some new frames, and that's it!
Furnishing and decorating your new massive home isn't easy, but it's not impossible either. Just relax, think about your wishes, and find a way to start turning them into reality today!
Comments on How to Furnish, Fill, and Decorate Your New, Larger Home article are welcome.
External Wall Insulation
Building Wall Insulation Posts
Things to check while selecting commercial insulation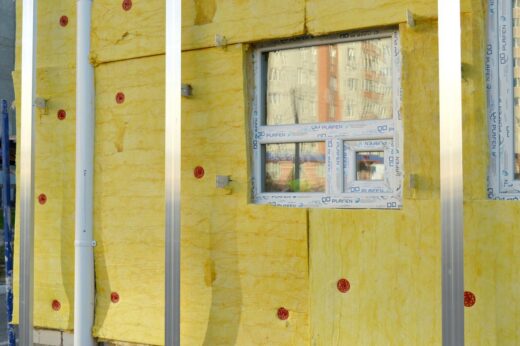 Benefits of External Wall Insulation
Cold-proof your home for winter
Reduce home heating costs with spray foam insulation
Building
Residential Architecture Articles
Comments / photos for the How to Furnish and Decorate Your New, Larger Home page welcome