Furnish a bathroom black tap products, House decorationg tips, Property renovation design advice
Furnish a bathroom? Then follow these tips
22 February 2022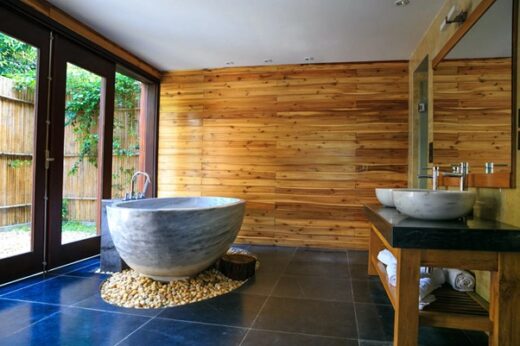 Did you just have a new bathroom? Or does your bathroom really need a makeover? Decorating a bathroom can be a difficult job, because you have to make many choices. Think about what style you want, whether you still have a preference for certain colors or furniture and check the size of your space. To help you on your way when designing your new bathroom, we have prepared a number of tips for you.
1.    Which color?
When designing your bathroom, using the right colors is essential. Colors determine the appearance of a room. Would you like to give your bathroom an open and spacious look? Then it is best to use the color white. Do you prefer a warm, exclusive look? Then choose dark colors, such as a black shower set or a black tap. Since black and white are neutral and go with all bathroom styles, many people often choose these colors.
To add some cheerfulness, you can of course use striking colors, such as orange, blue or pink, in the accessories. Think, for example, of blue towels or pink soap dispensers. Do you like a lot of color and would you still like to color a wall in your bathroom? That too can look stylish. Please note that you do not apply too much color to the accessories, as your bathroom can quickly appear messy and chaotic.
2.    Enough light
Lighting creates an atmosphere, no matter in which room you are. So make sure your bathroom is always well lit. The best light remains natural daylight, but if there is hardly any daylight, there are still plenty of ways to make your bathroom attractive. Think of spotlights, floor lamps, wall lamps and mirror lamps. Make sure you don't use fluorescent light, this often comes across as loud and you get the opposite effect. In addition, it is important that all lights in your bathroom emit the same type of light, so choose either all white light or all yellow light. Do you want to create even more atmosphere? Then buy lamps that you can dim: it couldn't be more romantic!
3.    Store your belongings
A towel here, a brush there: your bathroom can become a mess in no time. That is why it is important that you provide sufficient storage space. You can think of a cupboard, but baskets are also a good way to create more peace. If you have a small bathroom, we recommend that you purchase a wall shelf. You put 2 nice baskets on it and Kees is ready: you don't lose any space and your things are well stored. Goodbye clutter, hello relaxation!
Hopefully, with these tips you have come a step further when designing your bathroom. Who knows, you might soon be enjoying a bathroom you never dared to dream of!
Comments on this Furnish a bathroom article are welcome.
Bathrooms Articles
Bathrooms Posts
The best flooring options for wet spaces
Bathroom end of tenancy cleaning
Top ways to upgrade and update your bathroom
Building Articles
Residential Architecture – selection:
Comments / photos for the Furnish a bathroom page welcome