Factors to help you choose right louver roof awning tips, Home roofing guide, Online residential advice
Factors To Help You Choose The Right Louver Roof Awning
18 May 2021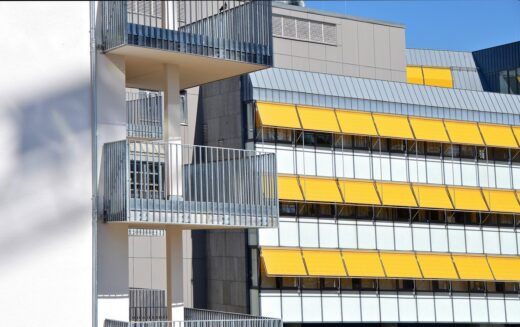 A louvered awning is a beautiful and versatile structure for a roof and one of the most popular types of roofs, especially in an affluent society. The structure is made up of two corners perched on the side of a wall or house with vertical supports on the other two corners.
The size, shape, and framework of a louvered awning are fixed, in comparison to other kinds of retractable awnings, with a rectangular-shaped aluminum or wooden structure at the top which contains the rails. The rails, in between the rectangular-shaped structure, can oscillate to open or close based on the user's preference.
What Is A Louver Roof Awning?
To help answer the question for people who have never seen a louver roof awning, think of a Venetian shade positioned horizontally within a quadrilateral-shaped frame. The beams between the two opposite sides of the frame can be opened to let light pass through or close to get an abundant amount of shade. A majority of the louver roof awnings from the best manufacturers feature fixed position beams that are constantly perpendicular and railings that are parallel to the ground. Louver roof awnings are extremely popular in coastal locations such as California, Arizona, and Florida.
With the increasing popularity of louver roof awnings, manufacturers have created mechanisms that help rotate the louver in the same way as Venetian blinds operate. Manufacturers have also developed gutter systems that can be closed on rainy days and remain open on sunny days so that the space is always available and serviceable. The functionality of the gutter systems gives you the advantages of two very different situations because you can use the patio even during rainy days as well as enjoy the view of the open roof awning.
Louver Roof Awnings & The Substances Used To Make Them
The substances used to make louvered roof awnings can be distributed into two different categories, wooden materials, and metallic substances. Treated lumber is used to make the frame, louvers, and legs of the awning structure. A custom-built piece of lumber is specially cut, designed, and configured to construct the gazebo or awning. Some manufacturers also produce wooden kits that can be put together to construct the framework for awnings but these are a very small number in comparison to the manufacturers providing customized louver roof awnings.
The second category consists of metallic structures which deploy stainless steel or galvanized steel to construct the posts and rafters with the joists made up of lighter forms of metals such as aluminum or any other mixture of alloys. Metallic louver roof awnings are generally marketed as kits that can be installed or put together with anyone with a basic knowledge of home improvement skills.
Nevertheless, this is a two-man job because the expert will require a second pair of hands to help make sure that everything goes into place properly. Louver roof awnings are available in many different basic shapes, some manufacturers let their clients choose the type of shape but these types of awnings can be exceptionally expensive in comparison to the basic shapes.
The Advantages Of Louver Roof Awnings
Louver roof awnings are exquisite, artistic, and tastefully elegant instead of being practical. Homeowners with an exceptionally metaphorical aesthetic sense allow themselves to indulge in these structures to revel in their elegance. The different types of wood used to construct will have a huge impact on the price of the final structure. For example, a louver roof awning made of cherry can be many times more expensive in comparison to a louver roof awning made of pine.
The louver roof awning made of cherry will significantly surpass the structure made of pine in terms of elegance and beauty. As stated earlier, the structure will be significantly expensive but the crowning moment of possession will be worth it in the end for the owner of the cherry wood louver roof awning. The louver roof awning can help to keep your patio or deck cooler about 20 degrees cooler in the summers which can convert into energy savings in the long run. Another advantage of louver roof awnings is that they can be used in conjunction with solar systems which can help produce energy back into the grid.
Determinants For Exquisite Louver Roof Awnings
One of the main determinants for the best and the most exquisite form of louver roof awnings is the price for the structure. Louver roof awnings are not chosen by homeowners as a basic necessity to their house but rather to add intrinsic and aesthetic value to their property. The stunning elegance of the structure attracts attention and helps overcome latent apprehension from the worries of the world.
Just to get an idea of the difference in price a louvered roof awning can be three times more expensive in comparison to one made of simple fabric. In addition to that, the cost of labor and installation will also be comparatively extravagant for the louvered roof awning in comparison to a fabric awning. But a louver roof awning can help pay itself off by working conjointly with a system of solar panels that need to wallow in the sun to produce electricity to supply back to the grid. A regular warranty for the structure is usually for five years, but in reality, the structures often last for much longer than that period of time.
Does A Louver Roof Awning Require A Building Permit?
You might need a building permit based on which area you are going to install the louver roof awning and the type of structure you are going to build. For example, Florida has a requirement that governs the amount of wind that building structures must be able to tolerate.
Similarly, some midwestern states have requirements on the amount of snow a structure must be able to endure. Since this is going to be a significant investment for anybody it is always advisable to contact a local awning company to find out the specific rules and regulations based on your particular area. Having a consultation with a local louver roof awning company is all the more important if you are going to embark on a DIY project for the louver roof awning.
Comments on this guide to Factors to help you choose right louver roof awning help article are welcome.
Building Window Blinds
Building Blinds Posts
5 reasons why to fit electric blinds in your office space
Benefits of wooden natural blinds
6 of the Hottest Window Blind Trends
Building Articles
Residential Architecture
Thermal Performance of Rooflights
Comments / photos for the Factors to help you choose right louver roof awning advice page welcome