Designing a pet-friendly kitchen tips, Home pets design guide, Online furry friends property advice
Designing a Pet-Friendly Kitchen Top Tips
14 May 2021
It is completely easy to design and build a pet-friendly kitchen. If you have got a furry friend, then make sure to remodel your kitchen in its utmost pet-friendly manner. If the kitchen is the heart of your home, then these furry friends are the real heartbeat for homeowners. With the help of these below mentioned details, you will end up creating warm, cozy as well as welcoming looking kitchen for your pets.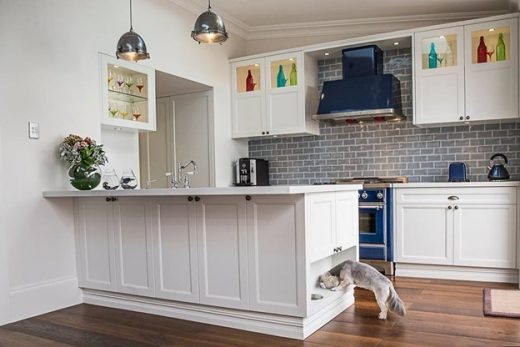 photo : Granite Transformations Sydney South
Designing a Pet-Friendly Kitchen Help Guide
Moreover, try to come up with such kitchen designs that are encompassed by the seamless blend of fashion and functionality. If you think that your kitchen needs a little bit of transformation, then look for a top-notch estimating company and enquire estimates from them as well.
Include a feeding spot for your pet dogs and cats
First of all, you should include a feeding spot for your pet dogs and cats in your kitchen. Your kitchen can only be surrounded by right amount of comfort and warmth if it is pet-friendly looking one. In addition, present day kitchen and cuisine zones hold eating spots for both family members and furry friends. Like, you should place feeding trays for your pets.
This whole trend is all about containment and that is what you need to understand! There are lots of homeowners who end up designing and creating cat-dog specific kitchen feeding stations. In other words, you can create a corner cabinet for your pets with no floor. This is how you can give a safe place to your pets where they can conveniently eat.
Design a kitchen that welcome pet napping time
Rest, pet-friendly kitchens welcome napping time as well. For most of the pets, they find kitchens as the warmest and coziest section of their homes. Furthermore, pet dogs and cats enjoy the most comforting smells in this space.
If you want your pet to be always surrounded by you, then design your kitchen in a nap-friendly manner. It is recommended to utilize the area present under a sink. This may come out as the perfect place to hide away a cozy dog bed. On the other hand, you should not toss away your old cabinets. Instead, you can utilize these wellborn cabinets for the sake of creating a private space for your pets.
Installing pet gates in kitchens
Some people do not want to see their pets jumping and all moving around in their dining rooms. So, as a great solution, they can install pet gates in their kitchens. With the help of these gates, you can easily restrict your pet movements. Pet gates have become increasingly and extensively stylish as well as sophisticated. Furthermore, they are available in many designs. You can have these pet gates in warm woods and hand painted shoji-styles and even in some hot designer finishes. Lastly, it advised to use a pocket door-style gate. Through such a gate, it will become easy for you to slide this door out of sight any time when not in use.
Incorporate pet-friendly smart storage solutions
Last but not the least; you have to remain utmost and excessively smart with storage. This is actually true that the kitchen is a kind of space where dogs and cats bring their very own clutter and mess.
So, what you can do is to place pet bowls in your kitchen. The current kitchen cabinet storage system has become quite smarter. Architects and designers have come up with a wealth of solutions for tackling and handling all that clutter. Furthermore, for creating bin storage, you can use waste baskets. Besides, you can create a dedicated cabinet where you can freely and conveniently organize your pet items.
Thus, this is super easy to design and create a pet friendly kitchen. Beyond, if you can think of more creative and exceptional ideas, then share that with us on this platform. Give your furry friends more cozy and warm space and make each corner of your home pet-friendly. Instead of limiting your pet buddies to specific home corners and sections, it is ideal to give them liberty and freedom. And redesign your whole home by following the above mentioned tips.
Comments on this guide to Designing a pet-friendly kitchen help article are welcome.
Kitchens
Kitchen Design Style Posts
Extend Kitchen Cabinets to the Ceiling
Choosing The Right Shelves For Your Kitchen
Building Articles
Residential Architecture
Things to consider when choosing a fence for your pets
Comments / photos for the Designing a pet-friendly kitchen advice page welcome