Does a loft conversion mean moving out during construction work, Building expansion tips, Home attic advice
Does A Loft Conversion Mean Moving Out During Construction Work?
14 Sep 2022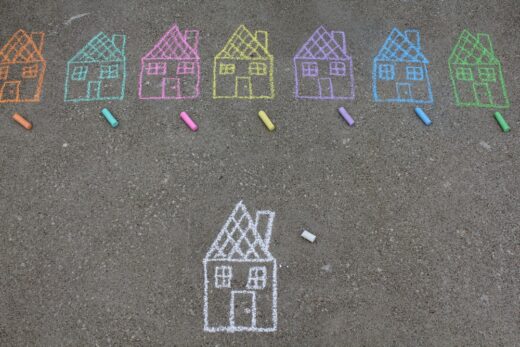 Since the Covid-19 pandemic, loft conversions have become one of the most popular ways to enhance a home. They can add financial value, and most definitely add functional value, giving you a usable space to utilise in any way you like.
If you are thinking of investing in a loft conversion, you've no doubt wondered if moving out is something you have to account for during the construction process. With house extensions, many people have to move out because the build is often centred around the entire back of a home, and disrupts key living space. With a loft conversion, however, it is on top of the house so, it would make sense that you don't have to move out when the work is being done, right?
Let's take a closer look…
First Things First: What Is A Loft Conversion?
A loft conversion is when you convert the unusable space in a loft into usable, functional space. This may, at the least, involve reinforcing the floor, insulating the roof space and adding skylights and stairs. At the most, it can involve roof adjustments and additions, the construction of en-suites, kitchens and multiple rooms, and even external stairs. It all depends on the design you have chosen, but the results can differ greatly.
What's guaranteed is an addition of functional space, which can be used as a bedroom, working space, playroom, creative studio and more – the choice is yours.
Can You Live In Your Home During A Loft Conversion?
For the most part it is usually possible for you to continue to live at home depending on what type of loft conversion you choose. This helps you to save a lot of money on staying elsewhere whilst the conversion is happening (between £150 and £200 a night in a hotel in London). It also means minimal disruption to family life, day to day working from home schedules, and other normal dwelling goings on.
The construction is taking place in the top floor of the house and workmen will erect scaffolding and operate from that, although some work between your highest floor and the roof will need to take place too. Will this be noisy? Probably. But the project may only take a matter of weeks, so it's minimally disruptive compared to an extension.
How To Minimise The Disturbance From Your Loft Conversion: 
There are ways to minimise the disturbance from your loft conversion so that it has the least possible impact on you whilst it is being completed:
Prior To The Conversion
There is a lot that can be done before you have the loft converted to keep disruption to a minimum.
Primarily, it is imperative that you choose a professional and experienced loft conversion company who can discuss the entire process of the build with you. Because you'll choose a fantastic company to do the work, you won't have to be project managing the conversion, or oversee it yourself. Instead, you'll be fully informed and in control, but also trusting of the company and the site manager who will keep you updated whilst also working hard to get everything done to specification.
The best companies will also be very honest with you about the disruption you might face, including shared entryways being used by workmen, any works vehicles being parked on the road, and any potential impact to your home in the way of mess (they will clean everything up but inevitably some dust and other debris may find its way into the home). You can also expect to know about the price, the timeline of building, different stages of the build, and how workmen may need to access different parts of the house.
With the right information, and honest information, you can decide if the conversion is going to impact you enough to cause you to stay elsewhere throughout. Some families with babies and very young children, or a very sensitive working from home job that requires zero disruption, do opt to move out during construction work, regardless of how minimal noise and impact is. It's about individual comfort and how much disruption you feel is acceptable to you.
During The Conversion
When the conversion is being completed you can expect some noise (particularly in the top level of your house as you're underneath the conversion), some debris and dust, and some disruption to your utility services. The best loft conversion companies, however, will give you a ton of warning if there is any need for extensive disruption like the pause of water, electricity or gas services, allowing you plenty of time to prepare.
Another potentially disruptive project aspect is very extensive roof work, which could mean more temporary mess, more noise, and lots of working around the weather, particularly in seasons that are more wet, or very cold. There may also be work done where the ceilings of your highest floor are lowered, which would make them completely unusable for a time, something that could be particularly problematic if you only have a bathroom on the top floor, or if you have babies or young children.
It's also worth being mindful that workmen may require access to your toilets and sinks, depending on the arrangements made. Often, portaloos are used, but sometimes this isn't possible and so, access to your facilities might be needed, which might be something that causes you to want to move elsewhere for the build.
A Quick Word About The Neighbours
Ultimately, the addition of a conversion to your home can only enhance the value of your house, and so in turn, raises the value of the neighbourhood.
Neighbours will likely welcome the development of properties in the area for the above reason, as long as you're sticking to the law. However, it is important to remember that keeping neighbours in the loop needs to go beyond a Party Wall Agreement (if that is something you need). The disruption to you may also be a disruption to them. This includes work vehicles, shared entryways, construction noise, dust and debris.
Working with a professional loft conversion company will erase any worry about workmen behaving badly, or dust and debris not being tidied up. However, even the most minimal disruption has to be acknowledged when it comes to your neighbours, so remain courteous as much as you can. Keep them fully aware of plans and progress, answer any questions they have and consistently ensure your.loft construction team are working within the law. It might seem a bit overboard but it never hurts to keep the neighbours onside.
Speak To A Professional Loft Conversion Company Today To Find Out More
The only way to truly know how much a loft conversion will impact your family at home is to speak to a loft conversion company about the potential design options for your home. With an idea of the kind of conversion you would like, they can provide you with transparency on pricing, timescales, disruption levels and more. Speak to Clapham Construction Service today for advice and information from one of the most trusted and popular loft conversion companies in and around London.
Comments on this Does A Loft Conversion Mean Moving Out During Construction Work? article are welcome.
Building Design
Residential Architecture Articles
Home Loft Conversions
Home Loft Conversion Posts
Top reasons to do a loft extension for your home
Everything to know about getting a loft conversion
How to go about a home addition
Comments / photos for the Does A Loft Conversion Mean Moving Out During Construction Work? page welcome