DIY painting tips, Online home paint advice, Building primer technique guide
DIY Painting Tips
7 Mar 2021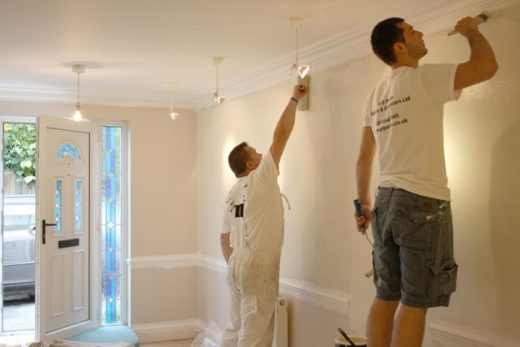 Most people understand the techniques behind painting their homes. They are away are the proper supplies to buy as well as the typical techniques used in the trade. However, there are plenty of other tips the average joe doesn't know. Did you know you shouldn't wash your brushes or rollers? Below, we will discuss a few unknown DIY painting tips shared by professional painters and decorators to help you on your next project.
Modify Your Paint Stick
We all know you should use a paint stick to stir your paint. It helps the paint be more consistent and stops anything from settling. However, did you know you should be modifying the paint stick? If you drill holes in the stirrer, you will able to stir your paint more efficiently. Action Properties, a Santa Clara property management suggests that when you add holes to the paint stick, you can then stir the paint more effectively because the holes allow the paint to flow through the stirrer, creating an overall better mix.
Pick Out the Right Primer
Many people use a basic primer for any wall, but this isn't the best idea. If you're painting drywall, then you should use a water-based primer to help give you the even base you are looking for. If you're painting something like paneling, walls with water damage, or walls with damage from smoking, you should use an oil-based primer.
Never Let Paint Dry in Can
If you store a can of paint that is half full, it will dry out. Surprisingly, an easy way to avoid this from happening to us a golf ball! Drop a few golf balls into the paint can to fill up any extra space. This will help keep excess air from drying out the paint. You can also cover the paint in plastic wrap before you attach the lid. This will also help keep excess air out of the can.
Tape Problems
If you're finding your painter's tape hard to work with and not bending the way you would like, then you will love this tip. Take your roll of painter's tape, and put it in the microwave for a few seconds. I know this sounds crazy, but the heat will give the tape the flexibility you are looking for. This will also help if you are finding the tape keeps tearing or is sticking too easily to surfaces.
Figure out What Kind Of Paint Is Already on The Wall
Before you paint a wall, you should know the type of paint already on that wall. This will help with primer, but also buying the correct paint will produce a much better-finished product.
One of the best ways to do this is to take a cotton ball with a bit of rubbing alcohol on it and rub it across the wall. If there is paint residue on the cotton, then you have latex-based paint on the wall. If there is no residue, then you have oil-based paint.
DIY painting tips – Closing Thoughts
If you add these DIY tips to your arsenal, we know your next paint job will turn out incredible!
Comments on this guide to DIY Painting Tips article are welcome.
Home Painting
Painting Your Home Posts
Advantages of painting exterior of your house
Top 10 things to know before painting a room
Things You Should Know About Painting Your Home
Home Articles
Residential Architecture
Comments / photos for the DIY Painting Tips, home paint advice page welcome