5 tips for designing the perfect contemporary kitchen, Home interior design tips, Property style advice
The Perfect Contemporary Kitchen
15 Oct 2021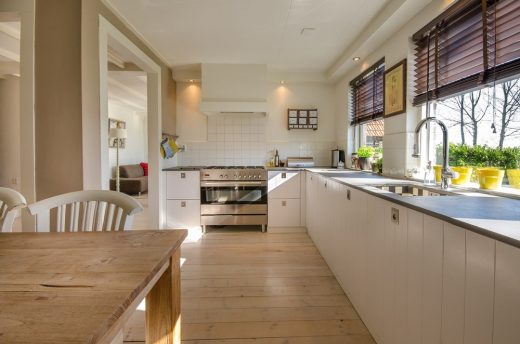 Sleek and sophisticated, they incorporate modern and trending styles alongside minimalistic and chic appeal. Clean fresh lines, together with stylish focal points, make these kitchens a popular addition to any modern home. Here are some tips on how to design the perfect contemporary kitchen that will not only be a joy to use but will also increase your property value.
1. Select a floor plan that's right
The Contemporary Kitchen should be a light, open space with a lot of natural light. With the exception of a few cooking appliances and possibly a pantry, cabinets can be kept to the periphery of the room. This gives more floor space for cooking and entertaining. Contemporary kitchens should not feel cramped or claustrophobic.
2. Choose your colour scheme
Stick to neutral colours like white or grey for the walls and cabinetry. You can also choose grey's and darker shades of green, blue or other earth tones. These colours work well with a variety of other colours and patterns that you may want to include in the design. Contrasting colours through cabinetry or focal splashbacks set the modern scene while helping to create interesting and flowing focal points.
3. Pick out appliances that match your style and needs
There are many different types of appliances that go well with contemporary kitchens. Some of these appliances include microwaves, ovens (induction), dishwashers (12-inch), dishwasher (24-inch) and garbage disposals. While stainless steel is a popular choice when it comes to cabinetry for contemporary kitchens, don't forget about the other options available when considering your kitchen design- white. Be sure to take your lifestyle into account. For example, if you like to cook small dishes, measure your kitchen cabinets and countertops to make sure they can accommodate what you want.
4. Create storage solutions
One great way to create storage solutions in a contemporary kitchen is with under-the-counter cabinets. Pull out drawers, magnetic strips on cabinet doors and open shelves are also other solutions for storing everything neatly. Keep in mind the height of these pieces when designing. Make sure that cabinets are high enough for people to reach what they need but not too high that it becomes uncomfortable or tiring to do so. Think about how much storage you really need and use creative ways to achieve this.
5. Include seating area
A breakfast bar should be installed in a contemporary kitchen for small spaces. A dining table should also be included because it is not only necessary, but also provides convenience. Add a bar stool or 2, 2 high chairs and comfortable lounge chairs for sitting. A breakfast nook next to the kitchen is also great because it allows you to unwind after cooking.
Key Takeaways
Contemporary kitchens are not about what appliances you have, but how you can maximize your space without sacrificing comfort. Maximizing your space comes by way of selecting the perfect floor plan, choosing appliances that will not only work best for you but also enhance your style and decorating choices.
Minimalism is key when designing a contemporary kitchen. This means sticking to neutral colours that blend together to create an ease in any space. Light, airy and open plans are the perfect match for today's lifestyles.
Creating storage solutions is very important in a contemporary kitchen as it allows you to avoid clutter and disorganization.
Most importantly, the perfect contemporary kitchen must be conversation friendly and highly functional with built-in seating. The last thing you want is a beautiful space that nobody ever uses! It's always worth consulting a kitchen renovator if you have any more questions!
Comments on this Tips For Designing The Perfect Contemporary Kitchen article are welcome.
Kitchens
Kitchen Design Style Posts
Tips for a Successful Kitchen Renovation
Designing a professional kitchen considerations
Top kitchen interior trends in 2022
Building Articles
Residential Architecture
Comments / photos for the 5 Tips For Designing The Perfect Contemporary Kitchen page welcome