Top kitchen interior trends in 2022 tips, Home interior decor advice, Property cooking space decor
Top kitchen interior trends in 2022
9 Nov 2022
Your kitchen is the heart of your home – this is where you spend a lot of your time every day and host your guests in for gatherings. It comes as no surprise then that homeowners tend to budget the largest sums of money on designing the most practical kitchen for them that is also stylish. If you are looking for interior design inspiration, here are some of the top kitchen trends in 2022.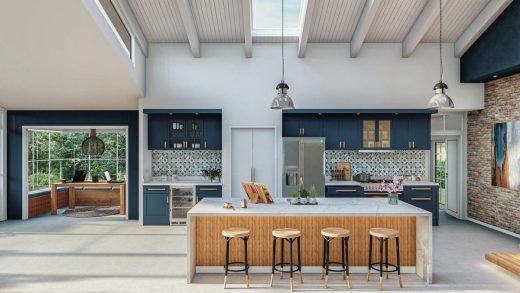 Image: Murat Demircan – mdarchviz.com
Stylish countertops
Choosing the right countertops for your kitchen is no easy job. They must be practical and durable as you are expecting them to last for years to come. However, they are also one of the main ways to add some character into your kitchen. The current trends have shied away from classic wooden countertops and, instead, opt for modern-looking stone. The selection of kitchen countertops by Cosentino represents today's trends well, with most popular materials being marble, hybrid mineral materials such as Silestone or ultra-compact stones such as Dekton for this use.
A pop of color
While neutral tones in the kitchen will always remain trendy, 2022 has shown us a much more brave approach in the interior design. Homeowners are now experimenting with colorful kitchen cabinets and, we must say, the results are absolutely stunning. Perhaps the most trendy colors are navy blue and rich dark green, however, virtually any color will look great if it ties in with the rest of the interior.
Wood flooring
When it comes to practicality, having tiles as your kitchen flooring may be a smarter choice (easier to clean and more resistant to damage). That doesn't stop people from choosing wood flooring, though, as it creates a beautiful balance between a more traditional style and modern kitchen countertops. If you are worried about the practicalities, you can also opt for wood imitation tiles – they may not be the real deal, but they sure will create a similar effect.
The devil's in the detail
Sometimes even the nicest of kitchens seem like they are missing something. This is most often caused by the lack of attention to smaller details within the kitchen. Such things as trendy brass taps or unique handles for the cabinets may not sound that important but, surprisingly, they can make a huge difference in how well everything ties in together. We see a lot of designers in 2022 put great attention on the smallest of details for gorgeous finishing touches. See it as your chance to be playful and creative!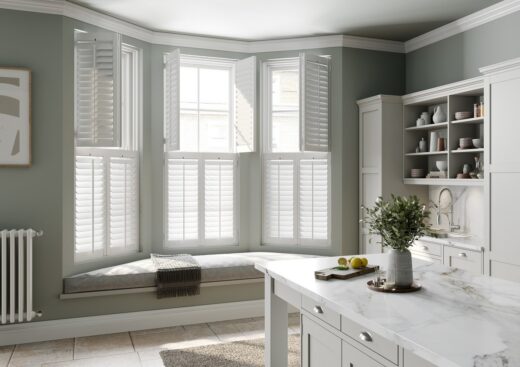 Clever lighting
The way you use lighting around your home is much more important than many people realize. When used correctly, lighting can make certain rooms look larger, taller or create a more cozy vibe in them. It is also crucial in helping create different zones within your kitchen as well as naturally draw your eyes to certain parts of it. Therefore, when designing your interior, make sure you take your lighting into account and think on how each bit of artificial light will affect the rest of the space. You may also go for sophisticated lights and lamps that compliment your interior well too.
Comments on this guide to Top kitchen interior trends in 2022 article are welcome.
Kitchens
Kitchen Design Style Posts
Design Ideas To Achieve a Luxurious Kitchen
Enhance Your Kitchen with A Dramatic Island Bench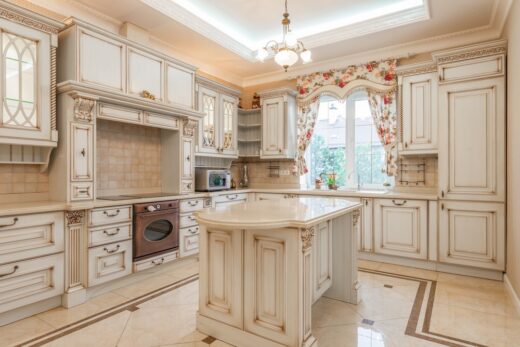 9 expert tips to nail your UK kitchen extension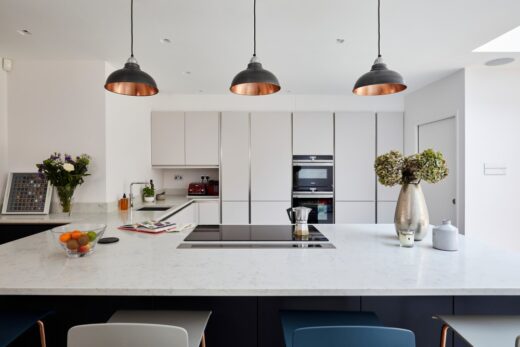 Buildings
Residential Architecture Articles
Comments / photos for the Top kitchen interior trends in 2022 advice – page welcome