Cultural Architecture, Mehri Mohebbi Iran, Architectural Culture, World Building Design
Cultural Architecture
Built Environment Discussion – article by Mehri Mohebbi
3 May 2011
Architectural Culture
Among the three valuable architectural volumes – a museum mostly dedicated to the contemporary arts, a library in a humid climate formed concerning local limitations and finally, a cultural heritage in danger, a building belonging to the Victorian period – the main theme is related to cultural architecture and architectural culture.
First, Soumaya Museum located in semi-new urban context with a dynamic volume. The approach seems being more compatible, expresses and a kind of courage as the main characteristics of contemporary arts.
The whole volume expresses feeling of flexibility and harmony to a visitor walking around. It is a combination of discipline creating a kind of ambiguity, gathering of numerous multi size octagons to create an irregular geometrical volume, which remind us of the significant characteristics of contemporary art, to be different to attract audience to the message of arts. This museum is a piece of art by its own; a statue, a land mark, like a "minaret" in "Persian Architecture": as a sign of an urban context to guide travelers to find their ways in ancient times.
Museo Soumaya, Mexico
FREE | Fernando Romero EnterprisE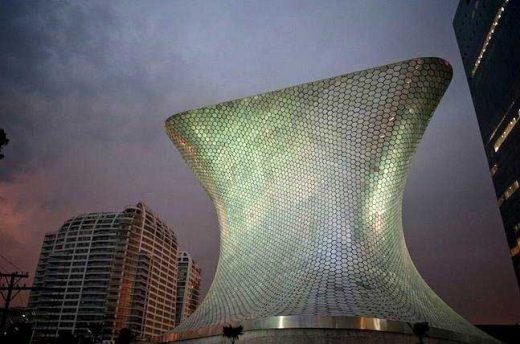 image from architect
The second building, KAUST Library in Thuwal, is a green experience to employ traditional rules of architecture, which are based on climate. It is a successful project according to its comprehensive approach to local ambience of architecture and its correlation with climate, but from the other side, the interior design does not reflect local culture. Forms and materials are not related to the architectural ambience of the context. It is a building which belongs to a kind of culture called international culture. (It cannot be considered as a negative point, it depends on numerous factors such as how local people think about their local culture and if they want it to be more productive and present it even in a scientific academic center.)
KAUST Building, Thuwal, Saudi Arabia
AIA/ALA Library Building Award News



photo : JB Picoulet
The third one, which is considerable due to its historical background, is an old building from the Victorian period in Glasgow, the most famous commercial work of Alexander Thomson, Egyptian Halls. "Thomson's Egyptian Halls is a well-disguised commercial building behind an elaborate façade. The magnificent frontage has a row of shops at ground level, which would have created a nice rental income for the landlord. Above the shops the exterior is different at every level, displaying a highly original selection of exotic themes." Scotland is going to lose one of its architectural jewels due to flawed decision-making regarding a new hotel of 12 storeys and it is our responsibility, as who knows its true value, to protect this valuable building as an influential part of local culture.
Egyptian Halls, Glasgow, Scotland
Demolition threat to Greek Thomson building – before + after:




images from developers
This essay is a considerable opportunity to express our condolence about what has been done or going to be done to the cultural heritages all over the world, and "Egyptian Halls" as one of these valuable heritages gains our attention to shout louder to save what we are. These three projects are considered as what we did and what we are going to do and will do about our culture; to express ourselves and let the future to know about its origin.
The first project was an updated reading of local culture under the force of globalization; the second one is an attempt to encourage a local and international audience to look forward using what we have in the best possible way. And finally the last one is a voice which should be listened to be more sensitive about our historical background and mention that our "past" educates our "present" to construct a more sustainable "future".
Mehri Mohebbi, MSc. Arch.


picture from architect
Mehri Mohebbi was born in October 1978 in an artistic family. Her high school education was based on Mathematics. She earned Master of Science in Architecture from the Faculty of Architecture, University of Tehran, Iran; furthermore she received an opportunity to serve as a research fellow at the University of Houston, Texas in 2006.
Her other collaboration with A&M University is ongoing presently, and the preliminary outcome is "The International Handbook of the Demography of Race and Ethnicity", Chapter of IRAN, which will be published in early 2012 by "Springer". The result of ten years of research by Mehri Mohebbi on Women Issues, Public Spaces and also Local culture and Its Influences on Urbanism have been published in almost 30 international lectures and numerous technical papers. Currently Mehri Mohebbi is leading a team with ongoing research on local heritage and its influences on residential buildings in the department of Architecture at the University of Semnan.
Her influence in three languages, Spanish, English and Portuguese as well as her mother tongue in Persian along with her artistic background moves her towards a multi-dimentional personality as an academic scholar. She is a poet and a translator of Spanish poems. Presently she is working as the head of Architecture Department at The University of Semnan, Iran.
Location: Semnan, Iran, Asia
Architectural Design
Architectural Articles on e-architect : Selection
Architecture Context : article by Trevor Tucker. Sep 2010
Resisting Boredom : article by Joyce Hwang. Jan 2011
Nature Architecture : article by Trevor Tucker. Sep 2009
Planetization Architecture : article by Mphethi Morojele – Aug 2010
Comments / photos for the Cultural Architecture Article page welcome