How to create a more energy efficient home, Eco residence tips, Sustainable property advice
How To Create A More Energy Efficient Home
24 Mar 2021
When you decide to improve your energy efficiency, you are clever on two levels. First, you will be saving yourself a lot of money, and two, you will be helping to protect the planet. Excessive energy use not only sends your utility bills sky high but increases the country's reliance on fossil fuels. There are some simple steps you can take that will make a significant difference. Here we explore some essential tips for making your home energy efficient.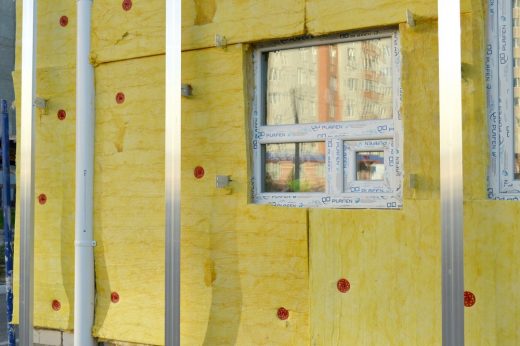 Create A More Energy Efficient Home Help Guide
Getting started
On a basic level, you can hang curtains to retain heat in the home; you can wash clothes that are not too dirty at 30 degrees; you can switch your lights off when not in a room and use comfy accessories to keep the chill away.
You can also take a close look at your home to see how you are using energy. You can seek advice on where your efficiency is compromised from a consultant, who can give you a valuable roadmap for improving your energy ratings, which will ultimately make it easier to sell your home too.
Loft and Wall insulation
Keeping the heat within the home is an essential step in making your home energy efficient. Insulation prevents this heat from escaping and so reduces your need to put your heating on or up.
As heat rises, there is likely a decent amount of insulation in your loft or roof space. To replace this insulation costs between £400 and £500. However, there are government grants to help you with this cost. The Green Homes Grant Scheme offers money to householders looking to make their home efficient.
There is also insulation in the cavities in your walls if your home is of a certain age. New build homes, those built since 1985, have cavity wall insulation per building regulations. This insulation wasn't mandated in earlier houses, but you do have a cavity in your wall, you can retrofit insulation. Retrofitted insulation can degrade, and you may also want to replace it relatively regularly. While the cost for updating your cavity wall insulation can be up to £700, it can reduce your heating bill by 35%. When it comes to insulation for steel buildings, there are a lot of viable solutions that can help you save money and energy as well.
Your boiler
A significant consumer of energy in your home, your boiler requires a good deal of care and attention. On a basic level, you should ensure your boiler's good running with annual services by a Gas Certified Heating Engineer. Booking this service in the summer months makes a lot of sense, as you don't need your heating at this point, and the engineer is not so busy with breakdowns. Servicing in the summer also prevents you from going cold while the boiler is out of action.
The average boiler service will set you back about £80, with parts an additional cost. However, the return on this investment is enormous when you consider breakdown costs, emergency call outs, and an inefficient boiler's cost to your bills.
The average life span of a boiler is between 10 – 15 years. While you can extend the life of a boiler with reasonable care and efficient use, at some point, you will want to replace it. The cost of replacing a boiler can be up to about £5000. However, a poorly functioning boiler is also dangerous, as it can emit carbon monoxide that can silently poison your household. Consequently, the price is worth paying to keep yourselves safe.
A Smart Meter
Utility companies are offering to fit smart meters for free or for a minimal cost. The use of these smart meters is more than just reporting your energy usage for your electricity and gas bill. You can use the meter to walk around your home and see how much energy is wasted. For instance, if you switch off all the electrical items in your home currently on standby, how much does the amount of KWs used go down?
If you switch your heating on, how much does your gas usage per hour leap up?
It is likely that when you see these figures, you will change your behaviours. It might be helpful to take your children around the home too, so they can see the effect of turning off a television at the wall or closing the window to keep the heat in.
Water
Finally, saving hot water has a double impact. First, you save water, which is most commonly metered nowadays. Second, you save the energy it takes to heat it in the first place. Taking a shower with an efficient showerhead is much better than taking a bath, for instance. Using an energy-efficient kettle, which most households boil some 1500 times a year, can save you £4.50 a month on your energy bill.
It is with these simple measures that you can save money and save the planet. As a meerkat would say: simples.
Comments on this Create A More Energy Efficient Home article are welcome.
Sustainable Homes
Sustainability Posts
7 innovative designs to make your home sustainable
How to Make a Home more Eco-friendly
Can you have a net-zero house?
Building Articles
Residential Architecture
Planning Dialogue Hafner – Urban Design Competition, Konstanz, Germany
Design: KCAP Architects&Planners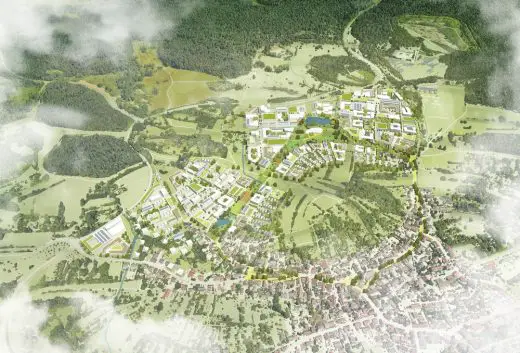 image © KCAP, Ramboll Studio Dreiseitl
Planning Dialogue Hafner Konstanz
Comments / photos for the How to create a more energy efficient home page welcome