4D BIM, Construction technology guide, Structures design, Architecture CAD, Library
BIM: Building Information Modelling Guide
Building Information Modelling – Construction Computer Design Information
20 Jun 2017
BIM Library for Offsite Construction
Stewart Milne Timber Systems first in UK to launch BIM library for offsite construction
Stewart Milne Timber Systems first in UK to create BIM library for offsite construction
Design, construction and property professionals can now access the UK's first timber frame Building Information Modeling (BIM) library, after a successful 12-month project by Stewart Milne Timber Systems, the leading manufacturer of offsite timber systems.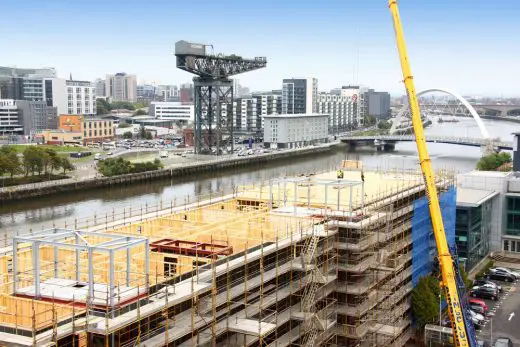 The library has been developed by the company with the support of the CITB through its innovation pilot projects. The BIM library features 102 of Stewart Milne Timber Systems products; including walls, floors and roof products and is free to download from BIM store – www.bimstore.com.
BIM is a collaborative design, construction and sales process which use BIM objects to create intelligent 3D models of a project across multiple professions and trades, to maximise efficiency and avoid conflicts which can add time and cost to a project or a development. The 2016 the National BIM report showed that 86% of respondents expected to be using BIM in projects in 2017, and 97% of projects in five years' time.
Stewart Dalgarno, director of product development at Stewart Milne Group, said: "Part of the challenge of bringing BIM into mainstream construction practice is a lack of available products or systems in an accessible, useable format for clients, designers and construction professional to use."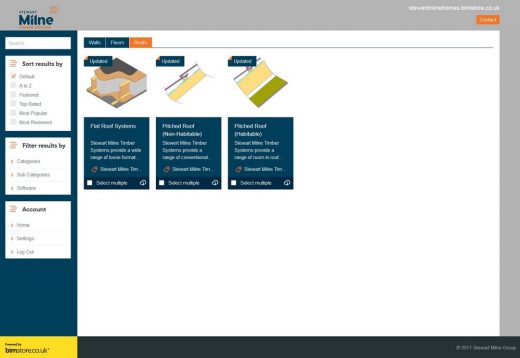 Our research highlighted, that less than 5% of the supply chain are BIM ready, with 40% BIM aware but not active, with the rest not even aware of BIM. There was no dedicated Offsite Timber Frame Systems library and only a handful of Offsite Manufacturers, offering some form of BIM component library.
"We've worked closely with the BIM Store, the UK's leading BIM content and hosting creators, to develop this library and it will help designers and architects build 3D models in Autodesk Revit, in a fast and accurate manner, helping them reduce their effort and improve accuracy, from concept to detailed design."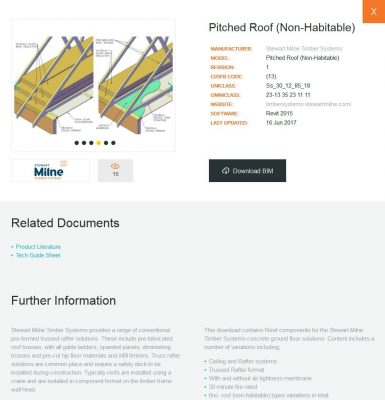 Architects are free to download specific products or systems or the whole library, so it is readily available for them to use, in early stage design work. The use of the Stewart Milne Timber System BIM objects library will reduce lead-in time on a timber frame project, by as much as a month; reduce error, re-working and requests for information, by removing the need for a three-stage 'back and forth' design process between architects and Stewart Milne Timber Systems' design team.
Instead, dimensionally accurate 3D models can be prepared by the design team, immediately after using the BIM library; this allows for the company to automatically create a dimensionally accurate 3D timber frame model, which can be exported back into the original model using an IFC file. This ensure the original model is an accurate representation of the offside system to be erected; it also provides a platform for clash detection and therefore reducing site costs and delays when unforeseen clashes arise.
Issued on behalf of Stewart Milne Timber Systems by Big Partnership.
27 Apr 2017
BIM: Building Information Modelling Event
British Information Modelling Event Speaker Line-up Announced
London, 27 April 2017 – An exciting speaker line-up has been announced for the third British Information Modelling event, including high-profile representatives of IBM, Innovate UK and HOK. Bringing together innovators and experts from across the Building Information Modelling (BIM) sector, the latest seminar – hosted by international architectural practice KPF at their London headquarters – will take place on the 11th May 2017.
Simon Hart, Senior Innovation Lead for Smart Infrastructure and Management Officer of the BIM Task Group at Innovate UK, will provide an update on BIM Level 3 strategy. Described as 'the game changer', BIM Level 3 puts whole life processes and open standards as the primary objectives. Greg Schluesner AIA, Principal and Director of Design Technology Innovation at HOK, the largest US based architecture-engineering firm, and Martin Coyne, BIM Manager and Associate Principal at international architecture practice KPF, will present different perspectives on the cutting face of BIM. They will draw on real world projects to explore some of the challenges and opportunities facing the sector.
David Platt, an associate partner in IBM's Global Centre of Competence for Engineering, Construction & Operations (EC&O), will explore the role of the Internet of Things (IoT) and Machine Learning within the construction industry, while Heba Bevan, the brains behind the smart sensor revolution Utterberry, will demonstrate how sensors, combined with artificial intelligence, can be used to provide real time feedback for construction projects.
Steve Brown, European Client Lead at Emmy Award winning production studio Unit 9, will present some of the latest innovations in Virtual and Augmented Reality, and Andrew Norrie, Commercial Director at 3D Repo, the company behind multi-award-winning technology that allows complex BIM datasets from multiple sources to be stored and easily accessed anywhere via the web and organisers of the event, will present the latest developments for knowledge base driven collaboration and analysis.
"It is a real honour to welcome some of the best known names from the sector to the third British Information Modelling event," commented 3D Repo's CEO Dr Jozef Dobos. "The combination of thought leaders, policy influencers, innovators and frontline practitioners makes this seminar unmissable for anyone involved in construction and infrastructure or with an interest in BIM."
12 Apr 2017
KPF Joined by HOK, Ordnance Survey and Unit9 for Third British Information Modelling Event
London, 12 April 2017 – The third British Information Modelling event will take place on 11th May 2017 and is hosted by international architectural practice KPF at their London headquarters. Bringing together innovators and experts from across the Building Information Modelling (BIM) sector the latest seminar will feature speakers from the UK government's innovation agency, Emmy Award winning production studio Unit 9, and the largest American architecture-engineering company HOK.
The British Information Modelling seminar and open panel discussion will look at how the UK BIM strategy is developing with an update from Innovate UK on BIM Level 3 and on how practitioners and end clients are implementing BIM projects with perspectives from KPF and HOK.
The early evening event is organised by 3D Repo, the company behind multi-award-winning technology that allows complex BIM datasets from multiple sources to be stored and easily accessed anywhere via the web. The event will also feature talks on the latest innovation for the industry from Ordnance Survey, Unit9 and UtterBerry the developers of intelligent wireless sensor systems that are helping construction company's remotely monitor infrastructure projects.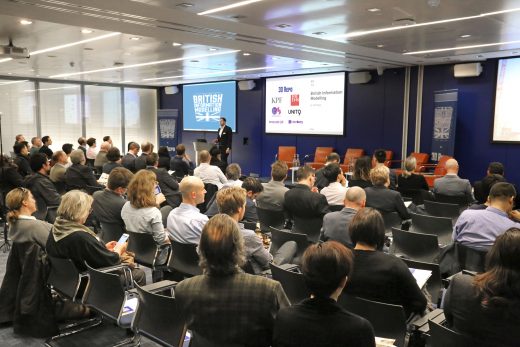 "Previous events have attracted a high calibre of delegates from across the construction sector and with such a prestigious line up of speakers and contributing organisations, and a limited number of places, we expect this event to fill up fast," commented 3D Repo's CEO Dr Jozef Dobos. "Therefore we strongly recommend that anyone interested in attending reserves their place quickly."
British Information Modelling takes place at 18h30 to 21h00 on 11th May 2017 at KPF's headquarters, Langley Street, London. The event is free of charge and places will be offered to qualifying professionals on a first come first serve basis at the following link: http://www.eventbrite.com/e/british-information-modelling-tickets-33491572194?aff=Pressrelease
20 Mar 2016
4D BIM: Building Information Modelling
BIM – the Vitamin for Infrastructure Industry
BIM – Building Information Modelling – marked its footsteps across the shore, unwashed. Well, it's going to be a part of our routine pretty soon. Not because we need it, but it's because any technology that is used for just innovation is now like a vitamin, it must be in our diet. It's something you might live without but you will not be healthy.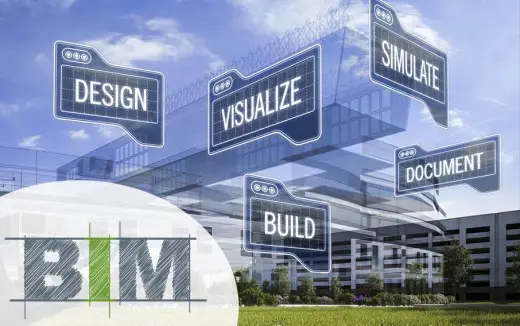 Level 2 BIM is a managed 3D environment that can also use 4D construction sequencing and/or 5D cost information. In April 2016, the collaborative utilization of BIM Level 2, in all legislature acquired structures will get to be a compulsion, with all advantages and knowledge identifying, with a task turning out to be electronically shareable in a typical domain.
Upon governments uncovering it to be a part of its BIM Strategy in 2011; numerous organizations inside of the development part have been crawling to advance their BIM capacities. It is an issue that effects organizations all through the entire construction chain, from engineers to contractual workers to material suppliers. Then again, as they stay without further ado, there is a danger that numerous organizations will be abandoned. From the latest reviews done by the Electrical Contractors' Association (ECA), it is the smaller contracting firms that are right now usually influenced.
Not prepared by any means
• 54% of firms with a turnover of not exactly £1 million are 'not ready yet, for the April 2016 due date.
• Of the organizations with income between £1 million and £20 million, 30% had the same perspective. Of the biggest firms, with turnovers of over £20 million, just 11% said they were not at all ready for warm welcoming.
• The ugly truth is, Building Information Modelling is here to stay – and stay for long, and smaller building services ought to be quickening their selection of the execution process. It is a challenge that they develop their structures following the CAD transformation in the 1990s, and expect to be accepted, no less than an equivalent level of significance.
The April 2016 BIM due date ought to be seen as a sign of what is to come. The businesses, modern and private building contracts, will unavoidably go with the same pattern on a much more extensive scale.
Top reasons for slow adoption of BIM
 Lack of awareness/understanding of BIM within the organization
 Insufficient experience of BIM within our organization
 Lack of understanding of BIM within consultants employed by our clients
 Lack of understanding of BIM within sub-contractors/suppliers
 Lack of industry/Government guidance on BIM
 BIM perceived as irrelevant/insignificant to the organization and its clients
 Lack of willingness to invest in BIM by clients
 Expectation that cost of BIM should be met by our organization
 Absence of truly collaborative approach necessary for BIM
Prepared, enduring, BIM
• Besides sticking to government prerequisites and the consequent danger of lost business from government ventures, the advantages of executing Building Information Modelling are gigantically critical as the UK's development part assembles for a more advanced methodology.
• It will incredibly enhance venture efficiencies that will at last convey extends all the more rapidly, capability and dependably for customers and will create more future business for BIM-prepared contractual workers accordingly.
• The facts might prove that insufficient data has been conveyed about how little organizations can execute BIM in a way that minimizes interruption to their current and future activities. It may likewise be genuine that the expenses of executing BIM and the potential benefits to be picked up have been miscommunicated as well.
As an after effect of its review, the ECA has discharged a four-point activity plan to keep building administrations SMEs from getting to be solidified out. The arrangement incorporates:
+ A 'BIM availability agenda' to help firms recognize the important strides for accomplishing BIM Level 2
+ A 'BIM language buster' to help firms explore the ocean of BIM phrasing and acronyms
+ Case study advancement to show directly how a BIM venture functions
+ Working with accomplices to create mindfulness, preparing and arrangement issues, nearby a typical methodology towards utilizing BIM objects
Producer Compliance
As BIM-driven activities turn out to be more normal, the responsibility will be on makers to supply exact information on how their items will add to a building's operation. Without that data, project groups might be hampered by outline fiascos that majorly affect courses of events and general expenses. One illustration is a warming items maker.
A viable radiator BIM object offers dynamic computations that naturally decide rectified yields, stream rates and weight drops. The measurements can be completely movable to suit the complexities of a building's configuration, and preset planning and enumerating can be selectable alternatives as well. These elements are significant to the whole venture group.
Assuming Liability
Defending the utilization of BIM ought to be everybody's obligation from the administration to planners, contactors and producers. It is not very late to kick it into high gear. Because the April 2016 due date hits, it ought not to imply that building organizations can't position themselves for future flourishing.
About Author
Bhushan Avsatthi is an Associate Director at Hi-Tech Outsourcing Services. As a BIM expert and a certified Sustainable Building advisor with more than 15 years of industry experience; he leads a team of architects, structural & MEP engineers, LEED consultants and energy modelers. Bhushan strives to make his organization a cohesive resource for sustainable building design. He regularly participates in green initiatives like tree plantations, and promotes using bicycles for everyday commute.
BIM: Building Information Modelling image / information received 200316
Location: UK
Architecture Designs
iHabit Modular System – Concept
Design: Jun Sakaguchi architect
iHabit Modular System
NBS And Vectorworks Partner to Streamline Design Process
Macro BIM: Building Information Modelling
BIM for Ageing Roads, Highways & Bridges
Architectural Concept Designs
Hanging Tower



image © Stephan Sobl
Metropolitan Vertical Theme Park



picture from architect
Prefabricated Architecture Book
Comments / photos for the BIM: Building Information Modelling page welcome