Macro BIM, Construction technology visualization, 3D structures design, AEC industry architecture CAD
Macro BIM: Building Information Modelling Guide
Building Information Modelling – AEC Industry Construction Computer Design Information
30 May 2017
Macro BIM cost estimation turns financial crunch into AEC industry's favor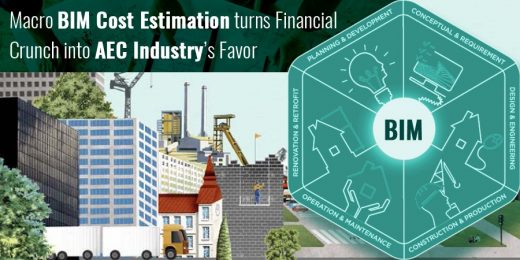 BIM: Building Information Modelling Event
BIM assembled with higher level building elements at macro levels of visualization, cost estimation, spatial coordination, construction sequencing, energy performance and risk anticipation, adds value to project outcomes. Out of these macros, cost estimation remains a key feature to connect the ends of high construction costs and tight budgets, especially in the wake of markets crash situation.
Major administration shifts directly affecting construction
Providing affordable shelter in the form of residential township to every commoner is at the center for most nations. As an action plan for this thought, governor of New York State has recently introduced a scheme of tax abatement for 35 years, in the parts of Queens, Manhattan, and Brooklyn to construct affordable New York – one of the costliest cities in the world. However, the tax abatement will stay only when the projects meet establishment of minimum wage requirements, even in the times of economic crisis.
On the other hand, the European Union saw Brexit – a major political shift and a shocker to EU and UK, both. Following the referendum, Pound Sterling weekend in international markets and the labor force in UK comprising a majority of non-British community retreated. When construction contributes roughly about 6% – 7% of the UK's GDP, this retreat leaves UK's AEC fraternity in lurch.
Macro BIM 4D, 5D and 6D Saves Costs
Macro BIM takes budgeting to a new level
In this crucial time of financial crunch, general contractors need to look for optimum order quantity, cost effective solutions to their problems and minimal resource waste. BIM 4D, 5D and 6D offers exactly this.
Savvy owners and EPC firms leverage macro BIM features to improve their evaluation ability of how a certain construction site matches its intended purpose before it is acquired. Accurate estimates from surveyors and general contractors aid the investors to determine whether a project is viable, at the initial stage; but with BIM they know if the cost figures are viable with market prices of building construction materials and project budgets.
Using macro BIM features, individual investors and real estate developers can evaluate the practicability and costs of building the project on construction site. With BIM on their side, EPC firms and general contractors have been able to conveniently manage procurement, supply chain, pre and post building components assembly task. BIM has empowered these contractors to cater with one single source of truth, by storing all of the building data digitally in a single federated model.
Now the concern for general contractors is to see and understand the assumptions upon which such cost estimates are based. Typically, all design engineers and architects sit and prepare the designs and finish them that comply with the budgets. A conceptual master planning of designs with a federated model and Macro features of cost estimation will essentially let the professionals and owners take fundamental decisions.
Once the macro designs are prepared, it becomes even easier to tweak the minute details, experiment with the design configuration and carry out cost ramification in accordance with the construction site. It not only helps in figuring a way to proceed with fiscally smart designs decisions but also meet quick changes in designs, if any.
Macro BIM applications
Grabbing the opportunity
Macro BIM applications are in agreement with the views of general contractors on cost estimation, as they facilitate quick design alteration that goes hand in hand with cost requirements. BIM has become an inseparable part of AEC industry, and professionals are continuing to innovate with a full-scale implementation of BIM.
Continuously changing political and administration rules will keep on affecting AEC industry with its new, experimental policies. But with BIM on AEC professionals' side, it will serve as a tool to shrug off the aftermath dust, whatsoever anticipated, and keep opening new avenues for building construction and development even in financial crunch.
About Author
Bhushan Avsatthi is an Associate Director at Hi-Tech iSolutions LLP. As a BIM expert and a certified Sustainable Building advisor with more than 15 years of industry experience; he leads a team of architects, structural & MEP engineers, LEED consultants and energy modelers. Bhushan strives to make his organization a cohesive resource for sustainable building design. He regularly participates in green initiatives like tree plantations, and promotes using bicycles for everyday commute.
BIM: Building Information Modelling image / information received 300517
BIM: Building Information Modelling
BIM: Building Information Modelling
BIM for Ageing Roads, Highways & Bridges
Architectural Concept Designs
iHabit Modular System – Concept
Design: Jun Sakaguchi architect



image from architect
iHabit Modular System
Hanging Tower



image © Stephan Sobl
Hanging Tower
Metropolitan Vertical Theme Park



picture from architect
Metropolitan Vertical Theme Park
Prefabricated Architecture Book
Comments / photos for the Macro BIM: Building Information Modelling page welcome