BIM Construction Technology Savings, Ageing Infrastructure Design, Architecture CAD
Ageing Roads, Highways & Bridges Technology
Building Information Modelling Cost Savings – Construction Computer Design Information
17 Aug 2016
Ageing Roads, Highways & Bridges
Repairing Ageing Roads, Highways & Bridges
More Technology than Money is the Cure
We see the media reporting that some bridge, highway or road is ageing and failing to the point of being dangerous. There are no doubts that transportation networks in various countries across the globe are ageing.
However, better use of technology including GIS, LiDAR, GPR, GDC – Geospatial Data Collaboration & 3D Engineered Models is the key to address challenges of ageing infrastructure. Using these innovations and software like AutoCAD, Revit, ArchiCAD, Blender, 3D Max & many more, governments or PPPs can yield significant savings in time, money, and materials.
Retrofitting or repairs to this infrastructure pieces need advances state-of-the-art sensing technologies that will make automatic sensing of the structural integrities and/or deterioration processes of roads, highways and bridges. Inspection and monitoring attribute as the most important component of infrastructure management. It has become more critical because portions of infrastructure are reaching the end of their life-spans and there are few cost-effective means to monitor infrastructure integrity and to prioritize the repair or retrofit of infrastructure elements such as roads, highways and bridges.
Incremental improvements of current technologies are meant to meet the challenges of providing cost-effective, widely-deployable solutions to the problems of infrastructure management. Sensing technologies are one aspect of infrastructure management. Automated sensing provides information that helps to lead to an infrastructure management decision to repair an infrastructure element.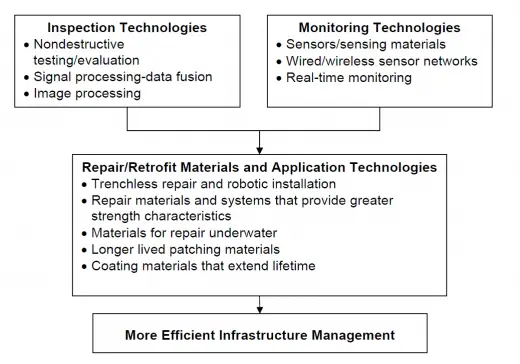 source: Technology Innovation Program – National Institute of Standards and Technology PDF
Detailed survey data is a requirement for final project designs to roads, highways & bridges. But architectural design support service providers, assist you attain a lot, well before you reach that final stage. Effective infrastructure designs play a vital role in the longevity of roads, highways and bridges.
Roads & Bridges BIM
They enable you to view complex design features in three dimensions from multiple perspectives, and run simulations to detect and correct design flaws and highlight issues well in advance as well as across the construction life cycle. Finally they export the data from 3D models and transfer it to GPS – global positioning systems; to control, guide & direct construction equipments like bulldozers, pavers, rollers, and excavators.
From LOD100 to LOD500, increased intelligence of the federated model allows stakeholders including land surveyors, MEP contractors, general contractors, sub-contractors, architectural design firms and many more, to interrogate and extract useful information in terms of Bill of Quantities (BOQs) and construction drawings. The enhanced infrastructure design communication & collaboration that they provide, undoubtedly enables your on-site workers to receive and work with the most accurate, up-to-date models, even if design changes are made half way in the project.
With the kind of transformation the geospatial technology has brought about for the infrastructure industry, we can and should expect a lot more changes in near future. We are in a new golden age of infrastructure design and construction, largely due to the innovations made possible by GPS, BIM 3D modeling, and so on. Expecting 3D-printing robots to build roads, highways & bridges from scratch on-site and they being inspected by drones – is no more a farfetched possibility.
However, if you wait for the technology to come to you – it won't help. The need of the hour is to find new means through which state and local engineers, planners, and environmental specialists can save time, money, and materials while improving the overall quality and safety of roads, highways and bridges. The solution to these challenges is to partner a team of, efficient and enabled; architectural, engineering and structural design support service providers.
Let's see what parameters you should consider before partnering them for your infrastructural designs:
Are they experienced enough to test and maximize the commercial viability of infrastructure projects?
Check out how good are their project management skills in tune to adaptability and scalability?
Give utmost preference to their executional capabilities clubbed with international building standards and delivery experience when it comes to BIM services and sustainability solutions.
Are they led by a solution centric leadership team comprising of civil engineers, architects, structural engineers and BIM specialists?
With seven offices and 700+ professionals across India, USA, Europe and Middle East, we at Hi-Tech, serve as an extension to EPCs, construction firms, contractors and engineering firms spread across the globe. We have several successfully completed projects of structural drafting, steel detailing, rebar detailing, precast and prefabricated structure detailing, 3D CAD models for structural elements & structural detailing for BIM requirement to our credit.
About Author
Bhushan Avsatthi is an Associate Director at Hi-Tech Outsourcing Services. Bhushan imbibes the prophecy of efficient and prudent use of energy in his day to day life and advices his team to do so as well. He is also involved in green initiatives like nonprofit tree plantation project and promotes using cycles for commuting small distances. Bhushan, handles a team of architects, Structural and MEP engineers, LEED consultants and Energy modeling experts.
Ageing Roads, Highways & Bridges Technology image / information received 160816
Architecture Designs
iHabit Modular System – Concept
Design: Jun Sakaguchi architect



image from architect
iHabit Modular System
BIM: Building Information Modelling
Architectural Concept Designs
Hanging Tower



image © Stephan Sobl
Metropolitan Vertical Theme Park



picture from architect
Prefabricated Architecture Book
Comments / photos for the Ageing Roads, Highways & Bridges Technology page welcome