Time To Put Our Thinking Masks On guide, Home coronavirus advice, Property after covid tips
Back to Campus: Post COVID-19 advice
21 Jan 2021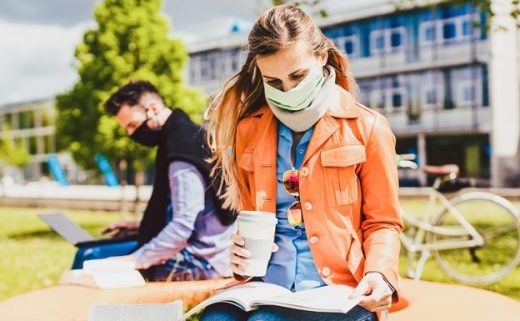 Time To Put Our Thinking Masks On
A few months ago, the novel coronavirus pandemic forced university and college campuses to close early and to finish the school year's classes online. Government authorities, universities and colleges have since begun the Fall 2020 scholastic year, with differing institutions offering various return to campus plans. Opinions remain starkly divided among students, staff, parents, health experts and more about whether reopening campuses is in fact the right move, and what campuses and learning areas should look like if they've chosen to do so.
The debate has produced strong opinions on both sides. On one hand, campuses are taking unprecedented measures to maintain safe environments for students. As such, some have argued that campuses may, in fact, be among the safest environments to be in. Conversely, many students and faculty members are not convinced that the safety measures will be enough.
Regardless of the debate, many schools have begun reopening. Inevitably, there are many factors that have been taken into consideration. For example, COVID-19 will have an impact on the design and layout of campuses, classrooms, libraries, lecture halls, residences, offices, and other areas of reopening postsecondary institutions. A number of questions must be explored. What furniture, accessories and materials will be most appropriate? How will campuses be maintained to limit the potential spread of the virus? How will these layout changes may be an advantage/disadvantage to learning? And what role will technology play?
Some schools have already begun incorporating these adjustments. We'll take a look at how both students and staff will adapt to these changes and how schools will continue to encourage educational relationships and learning, while enforcing social distancing measures.
Part 1 – The Debate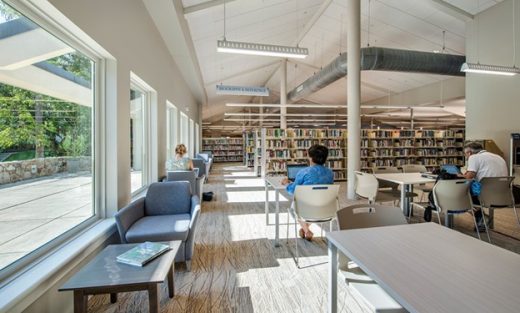 As it has been the case with many aspects of the COVID-19 pandemic, the reopening of campuses has sparked a heated debate. As far as the case for not reopening goes, many arguments, including worst case scenarios, have been pointed out.
Should an outbreak occur, institutions may not be equipped to deal with a crisis of this magnitude. It has also been argued that many students are more likely to engage in risk-prone behaviour, in spite of warnings not to do so. Plus, dorms could be the perfect environment for COVID to spread within, and given that campuses are often a significant part of their larger communities and towns, the spread could extend beyond the school. While schools have in fact taken extensive precautionary measures, many schools have not necessarily accounted for a scenario in which these measures are unsuccessful at preventing an outbreak.
On the other hand, many have argued that the reopening of campuses is entirely necessary for a worthwhile educational experience, in spite of the risks. Those on this side of the debate have offered their own points in favour of reopening.
Educational institutions have not necessarily been given enough time to develop rigorous and worthwhile online courses to make up for the in-person experience. As such, many students and parents of students will not feel as though they should be paying a full tuition fee without the real experience. It has also been argued that that many students are in a low-risk age demographic when it comes to COVID-19.
Since educational institutions are taking such serious precautions, it has been pointed out that they may actually be among the safest places to be during the pandemic, and may even allow students to avoid potentially high-risk situations that may normally encounter off-campus. Staying at home does not necessarily mean no risk. As Mark McNeilly, a business professor at the University of North Carolina puts it:
"For the vast majority of students who are not immunocompromised, this disease is not high risk. However, the mental-health risk of staying home is high… Steps can be taken to mitigate risk. Steps include testing, masking, hand-washing, decontamination, social-distancing, contact-tracing, quarantining, mixed in-person/online teaching, putting large classes online, and ending the semester early to avoid infection from returning students. Also, several universities have medical centers on campus, which can assist in dealing with the virus."
Finally, it has been suggested that the entire point of many educational institutions is to prepare students for real-life interactions. Moving everything online would obviously eliminate this key factor of the university and campus experience.
While the debate may rage on, some schools have already proceeded with the re-opening process. With that in mind, we can take a closer look at how campus designs have been impacted by COVID-19.
Part 2 – The New Campus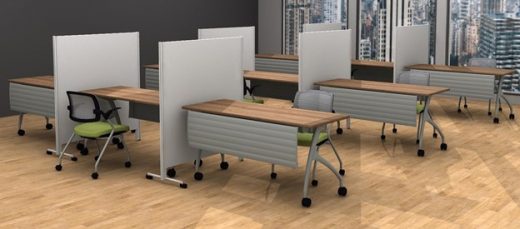 Many campuses have outlined detailed safety plans for reopening. Institutions such as Western University have rolled out specific Health & Safety pages on their websites, detailing measures that will be undertaken. In large part, classrooms will be limiting their capacities to ensure and encourage safe social distancing, while gatherings in common areas will be prohibited in many cases.
Some universities, like Purdue, have set aside 500 beds for quarantined students while removing 1,000 beds from residences in order to make them much less densely populated. Many schools have also installed dividers or Plexiglas on desks, in libraries and separation units at reception areas to help shield students and staff.
In terms of furniture, campuses may look to fixing movable furniture in place to help maintain physical distancing. Areas like libraries may introduce redesigned study spaces for physical distancing, with more spread out and separated furniture. Additionally, low-contact options for entry/exits points may be implemented, including pressure sensitive bars instead of doorknobs.
Protocols will be introduced in communal spaces like kitchens and laundry facilities to limit the use of shared items. Of course, buildings throughout campuses will make access to hand sanitizer much easier and masks will likely be mandatory in most areas.
Some universities are exploring automated sanitization options to keep spaces clean. Along with disinfectants, ultraviolet light is considered highly effective for disabling virus DNA and preventing pathogens from multiplying. In 1942, the American Journal of Epidemiology published the results of an experiment that found students in classrooms with ultraviolet fixtures were much less likely to catch contagious diseases, such as smallpox. UVL disinfectant drones could also be an option for universities to explore.
Part 3 – Examples & Moving Forward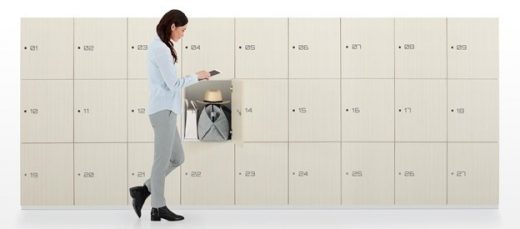 As mentioned, many schools and states/provinces have created their own specific campus reopening plans. British Columbia released their "Go Forward" plan, outlining topics such as transportation, cleaning and keeping specific communities safe. Students at USherbrooke have even petitioned for an optional pass-fail system which could accommodate for serious educational disruptions due to the pandemic.
Mount Allison University has partnered with the Mount Allison Students' Union and the Town of Sackville, New Brunswick, to form the "MtA Sackville Bubble initiative." The partnership is based on a voluntary "community commitment" that "encourages students, faculty, staff, businesses, landlords, and all residents to do their part to protect everyone in the bubble by following Public Health directives" on and off campus.
Meanwhile, Nova Scotia universities have made masks mandatory, while St Francis Xavier has introduced a specific "COVID-19 waiver," which absolves the institution of legal responsibility in the event that a student contracts COVID-19 while attending classes or activities on campus.
Clearly, differing institutions have taken on different measures to handle the COVID-19 pandemic during their reopening and ongoing scholastic processes. It remains to be seen just how effective these measures will be and if the reopening process will ultimately prove to have been successful.
What is becoming clear is that a certain amount of collaboration between students, staff and even the larger communities surrounding campuses will be necessary for higher education institutions to work properly and to avoid potential failures.
Visit Global Furniture for some examples of social distancing furniture solutions that can potentially be incorporated into campus environments.
Comments on this guide to Back to Campus: Post COVID-19 – Time to put our thinking masks on article are welcome.
Furniture
Furniture Posts
Best dining table for your house
Bauhaus inspired architecture and furniture
Building
Residential Architecture Articles
Comments / photos for the Back to Campus: Post COVID-19 – Time to put our thinking masks on advice page welcome