Architecture of Spectacle, Architectural Comment, Buildings, Architects, Images, News
Architecture Spectacle
The Future of Architecture – article for e-architect by Professor Brian Carter, 18 Oct 2011
18 Oct 2011
Architecture of Spectacle – Spectacle of Architecture
By Professor Brian Carter
Newsletter article #126


image of Brian Carter
The tussle between an architecture of spectacle and the spectacle of architecture persists.
AAMI Park, Melbourne, Victoria, Australia
Cox Architects and Planners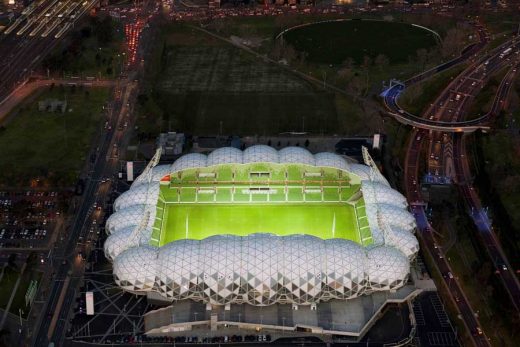 photo from Victoria Government
That struggle is perhaps most obvious if you were to compare the announcement of the latest award to AAMI Park in Melbourne with that same place seen a couple of weeks ago amidst a flood of blue, black and white as the Geelong Cats chased away the Collingwood Magpies in the 2011 Australian Rules Football League Toyota Grand Final. For while this recent monument by the Yarra recalls the enthusiasm for structure embodied in much of the work of Cox Architecture the introduction of a surprising bubbly canopy also makes it a strikingly different project.
This strange device, supposedly inspired by Buckminster Fuller and apparently developed to economize on material, also seems to hint at the roar of the crowd and the energy of the game within. And not only does this new geodesic foam appear to be brimming over the bathtub-like container of a building as a result of turbulence around the playing field but it also projects that frenzy into an otherwise predictable camp of stadia pitched close to the centre of this remarkable Victorian city.
Marlowe Theatre, Canterbury, England, UK
Keith Williams Architects



photo : Keith Williams Architects
In sharp contrast the new Marlowe Theatre, designed by Keith Williams, inserts a monumental stone arcade into the heart of the historic city of Canterbury. That white arcade, which brings to mind the Lincoln Center, not only wraps an elegant collection of auditoria but clearly seeks to announce these new theatres to a wider world.
Culture Yard Elsinore, Denmark
aart architects – more info + photos


image from architects
In Scandinavia AART Architects, the designers of Culture Yard, explore a similar approach. By fronting the elegant masonry 'Functional Tradition' buildings of Elsinore's former dockyard with a vast glasshouse they make an equally spectacular statement that here highlights the transformation of a series of former industrial spaces into a new place for the flaneurs of tomorrow.
Rue Le Lorrain Housing, Brussels, Belgium
MDW ARCHITECTURE



photograph © Julien Lanoo
The housing in Rue Le Lorrain in Brussels, which has been designed by MDW Architecture, seems to seek a balance between architecture and spectacle. The design has been developed to open up the formerly enclosed yards of an old ironworks and, in a sensitive re-making of this particular district of the city, create new social housing that is noted by the introduction of a new grid on the façade and a mysterious roofscape of sculpted timber.
White Cube, London, England, United Kingdom
Casper Mueller Kneer



photograph : Ben Westoby Courtesy White Cube
White Cube's outpost in Bermondsey meanwhile, looks to be very definitely hidden from view. Tucked away in amongst a familiar South London vernacular of cheap industrial sheds it has been seen by the architects Casper Mueller Kneer as buildings within a building.
Consequently these particular galleries are definitely a surprise. This new contemporary collection of environmentally tuned, presumably structurally independent and seemingly clinically considered boxes is set within the randomness of an everyday landscape of truck canopies, low roofs, bleak streets and big doors. White Cube Bermondsey clearly prompts the question – how are we to view this new and unlikely spectacle?
Comments on this Architecture of Spectacle article are welcome.
International Architectural Designs
Other Designs shown on e-architect:
Roca London Gallery, England
Zaha Hadid Architects
Campbell Sports Center, Columbia, USA
Design: Steven Holl Architects
The Shard photos – exclusive to e-architect
Design: Renzo Piano Building Workshop (RPBW)
World Architecture Festival Awards Shortlist 2011
Comments re Architecture of Spectacle welcome