Contextual Architecture, Building Design Article, Project, Photo, News, Global Property Climate
Architecture Context Narrative
Architectural Discussion – article by Trevor Tucker
21 Sep 2010
Architectural Context
From Mulch to Spaceships
The weather man says it'll be dipping down to three degrees tonight. We could expect frost. We're taking the bed sheets out to hang over those tomatoes that have not yet ripened. So far we've processed over four large pots of tomatoes and have a few more to go. The last one we boiled down during our first firing of the woodstove, just the other day.


Trevor Tucker
Today we took in a big bin of potatoes, though. All safely stored in the basement. I also started carting wood to keep us toasty in the winter. Tomorrow I will be killing four or five of our turkeys and chickens and stashing them away in our freezer.
This is the end of September at our home just outside of Ottawa, Canada, and its busy. Much to do. Crammed between my teaching schedule is a list of chores as long as a hockey stick: caulk around windows and doors, clean out gutters for spring runoff, winterize lawn mowers, get manure and compost onto the gardens for next spring, mulch heavily around the flower gardens to protect from frost, put the snow tires on the cars; plant garlic. I am already gathering kindling for boiling maple syrup in six months.
Sound cozy? It does to us, anyway. But, suffice it to say, I do a bit of a mental leap when I flip on the computer and scan the list of architectural happenings from this past week. They look stylish and sleek and spaceship-like, at least to my eyes that have adjusted to green and red and yellow and brown everywhere.
The aluminum cans for living in are about as foreign as it gets. I watch the forecast every day and have to adjust my activities accordingly. Not so in these edifices where temperature and light are controlled mechanically, where everything is reliable and predictable. Here, we pick tomatoes and snack as we bring them into the house; those grapes, just plump and tender for picking …there's no sweetness like it. But, the passengers of these alien ships, I'm sure they eat their meals in capsule form served with stainless steel cups of manufactured water. Or so it seems.
I get stuck trying to comprehend the chasm. Do architects work anywhere near where I live? Surely they're not that different a species. We have seasonal chores to do. We prepare. We change our attire according to the seasons. We wrinkle and blemish and get better with age.
Why, then, must our buildings ignore who we are?
As a pedestrian with far too many opinions about this stuff, let me offer the puzzlers first.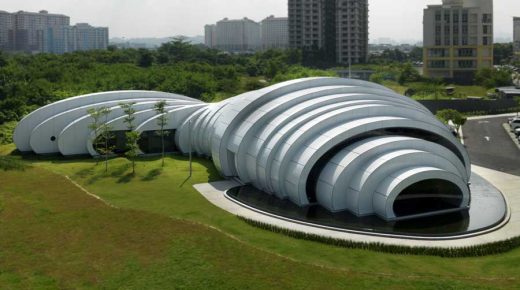 photo © H. Lim Ho
The POD Pavilian in Kuala Lumpur. See what you think of this droplet shaped building that will house the developers' offices and showroom. I still don't know what to do with it. There is a sense of coziness here and it does make a statement. But is that all? I'm still stuck wondering how one furnishes such a place and how short one has to be to walk anywhere near the walls.
The Portugal municipal theatre is explained this way: "The buildings are located in a central part of the city south of the old city limits. The site is contiguous with the close-knit urban fabric, but does not share a direct relationship with the surrounding public space. The construction site possesses an apparently invisible contextualist character." Enough said.
Finally, we have an announcement that Ole Scheeren is setting up a new practice and will be going it alone…something that his iconic structures, such as the China Central Television Station and the Prada epicenter stores, do already.
On the other hand, consider the Integrated Habitats Design Competition, which calls contestants to think more holistic. "The competition," explain the organizers, "focuses on valuing biodiversity in the built environment." This, if you ask me, is what architecture should be about. Forego the splash, the statement, the snub to the neighbours. Where am I and what's around me? Am I skilled enough to take it all in?
Then there is the Lost in Nature Exhibition. Here, some key samples of Nordic architecture, and particularly how it responds to its natural environment, are on display. We see further representations of how Scandinavian architecture—and art in general—particularly of the domestic kind, uses bold and bright colours together with strong natural materials. Elsewhere, colour would make the building look kitschy or trendy. Not here. It adds life even to the boxiest of shapes.
My favourite is the Fontys Sports Centre in Eindhoven, by Mecanoo. In this centre, there is a keen feel of accessibility, which fits the sporting ethos. It aims at a "cross-disciplinary interaction between sports and education." The architects explain that "The intelligence of this building is that most of the sports accommodations are located on the first floor.
This creates not a closed off sports box, but a completely transparent ground floor which is in relationship with the environment." There is a warm sense of horizontality…a place for gathering, and communing both with the outdoors and each other.
What do we see in such buildings? A conversation happening at ground level. Human interaction and human-natural interaction. A reaching out. Ideally, the best buildings don't scream to the onlooker or seemingly suck the surrounding context into themselves. They give back.
On these darkening and cool nights, we've been viewing Lord Kenneth Clarke's monumental documentary Civilisation. Clarke highlights the elements that mark societies in the midst of taking a leap forward: Light, represented symbolically and literally by its artists; a daily and conscious sense that we occupy a place in the continuum of history; clarity and economy of scale in our architecture; a keen belief in progress and human dignity; and an overriding sense of confidence.
Is this what we see today? Yes, we look at the icons around us, and confidence (or arrogance) is clear. But, evidently, this has to be balanced with an overriding consciousness of our history and humanity. We must nurture these. These two concepts are what, without overstating it, see us through the toughest of winters.
Trevor Tucker
Editor and sessional professor of English literature at the University of Ottawa
Trevor Tucker
Comments on this Architecture Context Narrative article are welcome.
Architectural Articles
Architectural Context : article by Melissa Beasley. 15 Mar 2011
Sustainable Design : article by Trevor Tucker. 15 Sep 2009
Sustainable Building Design : article by Trevor Tucker. 18 Aug 2009
Design Narrative : article by Lee Miles – 7 Sep 2010
Architectural Narrative : article by Trevor Tucker. 2 Mar 2010
Nature Architecture : article by Trevor Tucker. 15 Sep 2009
Sustainable Buildings – Building Issues : article by Adrian Welch
Comments / photos for the Architecture Context Narrative Article page welcome