Add sliding pocket doors to your home, House wardrobe design style, Architecture interiors decor
Add Sliding Pocket Doors to Your Home
24 May 2023
If you're looking for fitted wardrobe doors, you have a lot of options to choose from. It can be confusing to know which one is right for your space. This guide will help you make an informed decision when it comes to buying fitted wardrobe doors.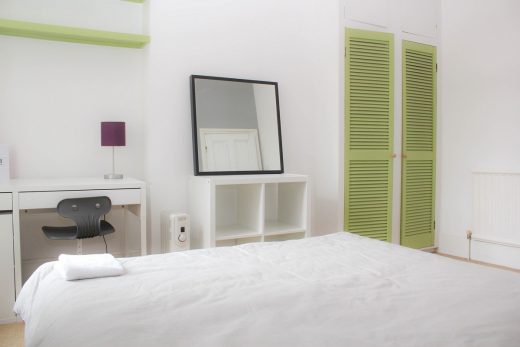 image source : pixabay.com
What are Fitted Wardrobe Doors?
Fitted wardrobe doors are a popular choice for those looking to update their home. They come in many different styles and colors, so it's easy to find exactly what you want.
The main benefit of fitted wardrobes is that they require less space than free-standing ones because they have no side panels or legs (although some manufacturers do offer this option). Also, fitted wardrobes don't need as much clearance from other walls because the doors fit inside the frame rather than protruding outwards like a free-standing one would do.
How to Choose the Right Fitted Wardrobe Doors?
Now that you know what to look for in a wardrobe door, it's time to choose the right material. The most popular options are wood, glass and metal. Wood is beautiful but also expensive; if you have a large budget and want something more traditional-looking, this may be your best bet. Glass doors can be stunningly modern or more classic depending on how they're designed–they're also less expensive than wood so they're great if money is tight! If you prefer something modern or contemporary but still want something affordable (and easy to clean), then metal might be the perfect choice for your new fitted wardrobe doors!
Once we've decided on our materials we need one more important thing: color! You'll want something that matches well with existing furniture in your room so choose wisely here–you don't want mismatched colors messing up an otherwise perfect design scheme!
How to Find Out if the Fitted Wardrobe Doors are Right for Your Space?
Before buying any fitted wardrobe doors, it is important to measure the door opening first. This will help you determine if the door will fit in your space or not. To do this, you need to measure the width and height of your door opening as well as its depth (measure from wall to wall). You also need to check whether there is enough space for a wardrobe or not.
What are the Different Types of Door Styles You Can Use for Your Fitted Wardrobe Doors?
The first thing to consider is the style of door you want for your wardrobe. There are a number of options available and each will have its own pros and cons, so let's take a closer look at each one:
Shaker-style doors have a flat top with square edges, which gives them their name. They're usually made up of several panels that are joined together with mortise and tenon joints at the corners – this means they can be easily removed if necessary!
Transom style has a raised panel in the middle with smaller panels on either side (like an arched window). Because it's not as bulky as other styles, it works well when space is limited but still needs some visual interest!
How to Ensure That Your Fitted Wardrobe Doors Fit the Space Perfectly?
Before you buy your new fitted wardrobe doors, it's important that you make sure they fit the space perfectly. There are a few things to consider when measuring for your new fitted wardrobe doors:
Make sure the doors are the right size. Fitted wardrobes come in different sizes, so make sure yours will fit where you want them to go before buying them! If there's not enough room in between two walls or on one side of an existing door frame then this may cause problems later on when trying to install them into their new home.
Make sure they are the right height (or depth). Most modern-day homes have standard heights between floor boards and ceilings at around 2 meters (6ft) tall but some older properties may have lower ceilings which could mean having trouble finding something long enough that fits comfortably within those parameters without scraping along overhead beams etcetera… So if possible try measuring up beforehand just so there aren't any surprises later down the road.
Find a Professional Who Creates Custom Wardrobe Doors
If you weren't able to find any wardrobe doors fitting your interior, then custom wardrobe doors are your solution. Experienced custom wardrobe doors companies like Fitted Wardrobe Doors have many standard options for any type of decor. However, if you won't find anything that fits, then you can ask them for a custom project just for you based on your preferences.
Once you've found the company that looks reliable, check out reviews online from previous customers so that you know what type of work should be expected. Prices vary widely depending on location but typically start around $500-$600 per door.
Using This Guide Will Help You Make a Better Decision When it Comes to Buying Fitted Wardrobe Doors
Choosing the right fitted wardrobe doors for your space can be a daunting task. There are many things to consider, including the overall look and feel of your room, how much storage space you need, and how much money you want to spend.
It's easy to get overwhelmed by all the options out there and end up with something that doesn't quite fit into your home's design scheme or meets all of its needs. If this sounds familiar, then this guide is perfect for helping find just what it is that fits perfectly within both worlds: style + function!
Conclusion
You have to make sure that the door is the right size for your wardrobe. It should be wide enough so that you can easily access it without any problems. Also, make sure that the height of the door matches with the height of your wardrobe so that there will be no issues when closing or opening it.
Comments on this guide to adding sliding pocket doors to your home article are welcome.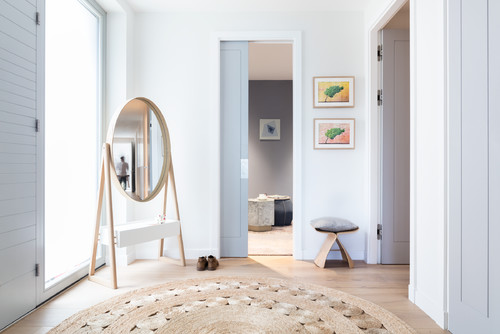 photo : Black and Milk | Interior Design | London
Help from a Professional Locksmith
Doors
Doors Posts
What is So Special about the Magnet Screen Door
Bifold doors: consider different door design
Help from a Professional Locksmith
Do bi-fold doors add value to your home
Residential Property Articles
Contemporary Property Articles – architectural selection below:
Comments / photos for the Add sliding pocket doors to your home article page welcome