Paypal, Visa lead investment in Blockchain Capital, Guide, Tips, Architecture
PayPal, Visa lead investment in Blockchain Capital Article
1 Jul 2021
On the 22nd of June, PayPal in collaboration with Visa led a $300 million fundraising in Blockchain Capital, a cryptocurrency venture capital company. The combination of these two payment giants and few other investors are the backers of this new venture. The fifth funding round named "Fund V" has hit a $300 million hard limit.
According to the investors, the funds will be used to partner with industry professionals who would help grow the business and protocols and also make informed investments on DeFi, blockchain infra, non-fungible tokens and any emerging blockchain technology.
PayPal, Visa lead $300 million investment in Blockchain Capital
According to the VP and GM of Blockchain, crypto and digital currencies at PayPal, Jose Fernandez da Ponte, the company is "committed to fostering an ecosystem" for digital currencies and to make them "more accessible, secure and useful".
He added: "this investment allows us to engage with the entrepreneurs driving the future of the decentralised economy and the new wave of financial services."
Notably, PayPal's investment comes after CEO Dan Schulman in February said the company will "launch international crypto offerings" and will "significantly invest" in its new crypto, blockchain and digital currencies unit.
According to the CFO at Visa, Vasant Prabhu, Visa is focused on enhancing every form of money movement, be it on the visa network or beyond, and this investment will increase efforts to support and shape the role of digital currencies in the nearest future.
Effect of PayPal and Visa investment in Cryptocurrency
These two financial giants are newcomers to the crypto VC industry. While both have invested solely in a handful of crypto start-ups, coming together to form this joint venture as limited partners allows them to explore this market from another angle and also allow them to proffer an outside manager who will place broader equity investments on their behalf.
Confirming to immediateedge.biz, this is the first such arrangement with a crypto VC. According to Spencer Bogart, the payments giants are hungry for bolder investment opportunities across an industry they believe in but need the help of a "field guide" to fully navigate.
There's nothing better than walking an early-stage startup into the likes of a Visa or PayPal and helping them secure a commercial agreement, and helping make sure that on Visa and PayPal's side, they have solutions for the products that they want to launch.
Investing in Blockchain Capital's new fund allows PayPal and Visa to engage with and learn from entrepreneurs driving the future of digital currencies and blockchain. Blockchain Capital is looking to scatter this $300 million in early-stage gems. It has begun deploying capital over 12 months ago but most of its new fund is waiting.
The new fund is maintaining a focus on crypto infrastructure plays like startups building to support decentralized finance (DeFi) and non-fungible tokens (NFTs) while avoiding the assets.
Conclusion
This is Blockchain Capital's fourth fund since its existence. Through PayPal and Visa fundraising it can diversify its interests into decentralized finance and Non-Token Funds. Both payments giants are focused on enhancing all forms of money transfer hence the collaboration.
Comments on this PayPal, Visa lead $300 million investment in Blockchain Capital article are welcome
Cryptocurrency
Cryptocurrency & Bitcoin Posts
How To Trade Bitcoins And Make Profits
Bitcoin Mining Power Consumption
Way of selecting the best crypto signal services
Common Cryptocurrency Terms You Should Know
The Gaming Industry and the Crypto World
Casino Buildings
Casino Building Designs
Vdara Hotel Las Vegas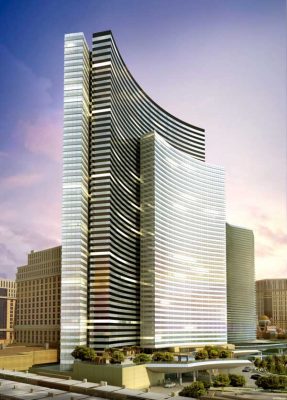 image : CityCenter Land, LLC
Casino Architecture Design Guide
5 of most extraordinary casinos in world
Comments / photos for the PayPal, Visa lead $300 million investment in Blockchain Capital page welcome