9 design trends for steel staircases in 2021 tips, Building metal stair guide, Property style advice
9 Design Trends For Steel Staircases In 2021
1 November 2021
It's without question how a grand staircase often steals the home's focal point or commercial space. It adds an elegant and sophisticated touch to your beautiful interiors even more. With many materials to choose from, the use of steel is now becoming more preferred for homeowners or industrial property owners who want to feature modern styles. Promising clean and sleek aesthetics, they're also robust and functional at the same time.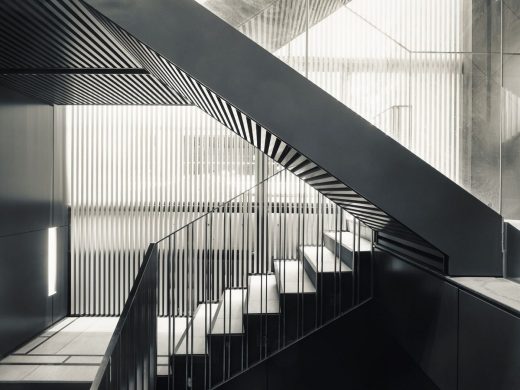 Fortunately, because of the development and innovations of staircases, they're now easier to engineer and install. With the help of companies offering prefab metal stairs, you'll only need to decide the suitable designs that'll match your overall home or property's theme and needs. They can be installed conveniently and speedily too. The steel material offers flexibility in which you can gain access to numerous design choices for staircases.
Here is some trendy steel staircases design that you can consider adapting to your property:
9 design trends for steel staircases in 2021 guide
Spiral Steel Staircase
There's a big comeback in style for spiral staircases. Spirals offer a great way to maximize the space in your home or office since they have a small footprint, requiring far less room than other styles.
Spiral staircases are an excellent option for people who want to extend their living space without adding bulky stairs made of concrete or wood. They look wonderful and structural in design, allowing your property to look sophisticated and minimalistic. Modern shapes can be incorporated into a spiral to create a streamlined, contemporary look.
Also, most spiral staircases usually come with handles on the right, but you can add railings in whichever direction you prefer depending on your home's overall look. You may even opt to add handles on both sides for added user functionality.
Integrated Steel Staircase With Furniture
By combining furniture with the steel staircase, you can create a room that flows. This style unquestionably saves space and elevates your staircase design even more. It gives out a modern touch of minimalistic interiors. You can incorporate an all-black steel staircase and create a base on the bottom stairs with storage cabinets or closet racks. They're functional and allow people to store some more things in this nook.
Contemporary Elegant Steel Staircase
Adding new interior designs for your modern home is a must and using a contemporary and elegant steel staircase is definitely a fresh addition. Choose a modern design that is structural and sleek. With L-shape stairs made of steel, you'll turn your property look elegant without much effort and costs on added materials. Steel can be used for the entire staircase while painting them with the right neutral colors that work with your interior theme.
Steel And Mirrored Panels Staircase
Mirror panels as an addition to your staircase give out an illusion of more expanded space. Mirrored walls make the steel stairs seem long and endless, and you can accentuate with some carpet on the steps for an additional layer of sophistication.
With a minimalist balustrade and inline glass panels, you can create a contemporary and elegant staircase. The inline glass allows more light into your staircase and changes the vibe of any dark and secluded living space. Despite having lesser lighting fixtures or being far from natural light beaming from the windows, these mirror panels can naturally project more light into the staircase. Use the steel material as handrails, as they match perfectly well with the mirrored walls.
Steel Bookshelves Staircase
Perfect for modern and minimalist living, having a steel bookshelves staircase allows the owner to maximize their narrow living spaces. Use your inventive and creative ideas, and you'll be able to add some bookshelves right underneath your steel staircase. Add some sideboard and bar into the lower parts of the stairs while designing the bookshelves to be sturdy enough to accommodate all your books in the house. If there's enough space underneath the stair's area, you can add some comfy chairs and lounges for reading.
Iron-Wrought Steel Staircase With Ornate Designs
Iron-wrought steel can be designed with ornate and detailed structures to create an elaborate and impressive conventional masterpiece. While steel is a modern material for stairs, they're also perfect for recreating historical and artistic ornate elements. Such traditional elements can be combined with a modern style of décor for your home or office.
Floating Steel Staircase
Floating steel staircase designs can use different materials like wood or steel. But with this design, you can use steel and trust its robust features while highlighting a modern concept for your interiors. By contrasting thin metals with heavy-set supporting columns, you can emphasize the thin elegance of metals.
Columns will add a grounded feeling to the space as well as highlight the delicate steps, making them a focal point in the room. You can further enhance the look by choosing contrasting metal and paint colors.
Steel And Stone Exterior Staircase
Some houses require staircases upon entering their home's entryway on the second floor. If your home is designed in such style, steel and stone-based exterior staircases would be the most ideal design for you.
With integrations of steel and stone materials, you can create sturdy but aesthetically beautiful stairs that are visible from the outside. Upon entering your home's gate, your friends and family can adore the arrangements of gravel and stone-lined up in each step, along with metal handrails and other stair parts.
Minimalist U-Shaped Staircase
Using thicker metal surfaces as step ways on the staircase, you can have a simple U-shaped floating staircase without support on the back area of the stairs. Its curved design is engineered in a way that's supported on the walls so the weight of the people going up or down can be contained and sustained.  This minimalist design is effective as a space-saver too, so it's best for homes or offices that have constrained space.
To elevate this modern look design, you can create wooden baseboards on top of concrete floors, and paint this U-shaped staircase with darker colors like gray or black to create a contrast with the wooden features of the baseboards. This design is sturdy, functional, and ever so modern and unique.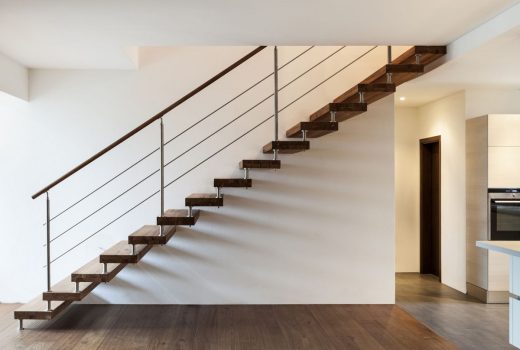 Conclusion
Steel staircases are believed to be more durable, flexible, eco-friendly, and cost-effective. Not to mention, they instantly create a sense of modernity and style into your interiors. With the support of prefabricated steel staircases design today, you'll have lesser worries and hassle with your staircases project. Simply decide on a design trend from the list enclosed above and you'll be able to add an architectural statement to your home or office space.
Comments on this guide to 9 design trends for steel staircases in 2021 article are welcome.
Residential Property Articles
Norra Tornen, Hagastaden, north of Stockholm
Design: OMA / Reinier de Graaf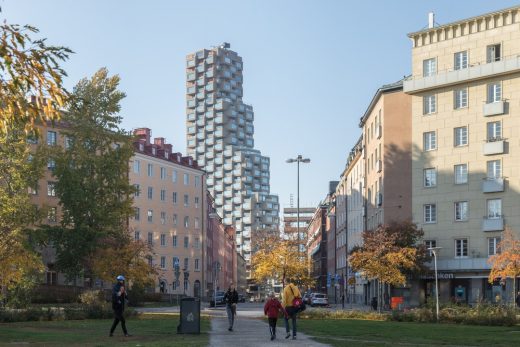 photograph : Laurian Ghinitoiu, Courtesy of OMA
Norra Tornen
Comments / photos for the 9 design trends for steel staircases in 2021 guide page welcome