5 ways technological innovations impacted real estate guide, Future property online advice, New building design
5 Ways Technological Innovations Have Impacted Real Estate
19 Mar 2022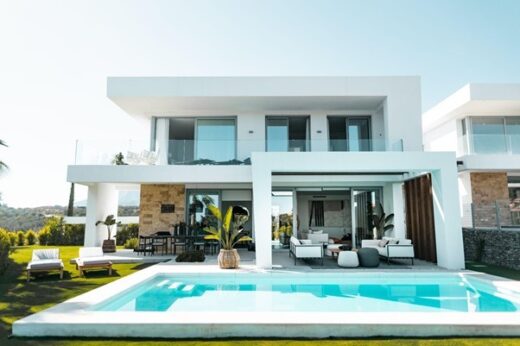 Photo by John Fornander on Unsplash
The real estate industry has been greatly influenced by technological innovations over the past decade. From online lending to virtual tour photography, real estate isn't the same as it used to be, and it is bound to keep changing as technology advances. This trend continues to shape the way that people buy and sell property, including their expectations, needs, and even the geographical locations in which they choose to live.
Technological innovations have made people more real estate savvy, helping them select vinyl doors when trying to reduce the overall home renovation budget, or finding cheaper alternatives within the same building. The truth is, these innovations have improved the overall real estate experience for most. But, what exactly are the "innovations" being spoken of? Well, there's quite a few, let's get into some of the main ones.
5 ways technological innovations impacted the real estate industry
1) Potential home buyers can view many properties online, without even stepping foot in them
Online shopping for homes is a huge advantage for home buyers and home sellers, as potential home buyers can view many properties online, without even stepping foot in them. The same holds true for individuals looking to sell their homes; prospective buyers can take an in-depth look at a property's features, location and history before making an offer. Moreover, most platforms allow conversation between buyers and sellers, which means that any requirements can be discussed beforehand, thus, it saves a ton of time and helps avoid disappointment.
The online shopping aspect of homes has also influenced rentals, with companies like Airbnb and OYO growing extensively. This essentially provides the public more power over real estate dealings than ever before. With so much information available to everyone involved, an informed decision is easier to make.
2) Google Earth allows potential home buyers to see what the neighbourhood looks like
Google Earth allows people to virtually walk through a neighbourhood they are interested in before purchasing real estate. It is a great way for potential home buyers to get a sense of what kind of neighbourhood they want to live in. They can also see what their view will be from their property and if there are any areas that could use some improvement.
This is an excellent technological innovation because it gives consumers a new way to search for real estate by using technology. Previously, those who wanted to buy or sell property had limited ways to do so and now, with Google Earth, these options have increased significantly. The more you know about your neighbourhood before buying a house in it, the better off you will be. This tool is easy to access and anyone can sign up right away. While it has been years since Google Earth launched, its importance in real estate is yet to diminish.
3) Digital Marketing increases ability to compare properties and their prices
Digital marketing allows real estate agents to advertise property listings more easily and cheaply than ever before. Instead of relying on papers, newspapers, and magazines to advertise properties, real estate agents can reach millions more potential customers through online advertising or even organic social media posts. This increased exposure leads to increased property sales for real estate agencies, which are themselves typically started by entrepreneurial individuals looking for new business ventures. Additionally, as real estate agents post prices and full home tours on YouTube, home buyers also get a sense of what value for money they can get. Ultimately, increasing knowledge and ensuring that no home buyer overpays for a property.
4) Virtual reality tours allow potential home buyers to feel as if they're walking through a property
The online real estate experience has improved to a whole new level with the ability of taking on virtual reality tours. With the metaverse being much more discussed in media recently, more people are understanding the multiple ways virtual reality currently shapes and eases their lives. Home tours through virtual reality are a quick way to not only see a home, but feel what it would be like to actually be inside it. Experiences as such have definitely been useful to help home buyers make final decisions during the Covid-19 pandemic, whereby many finalised their home deals directly on their devices.
5) Homes are becoming smarter and more convenient
With technological innovations making their way into homes, there are a number of ways that your home could be smarter than you. Home automation is becoming more common—whether you're looking to control your lights, security system or thermostat with voice commands—there are a number of products available for purchase.
Similarly, smart devices in homes are also helping make life easier, as products like Amazon Echo or Google Home can take care of certain tasks for you with simple voice commands. Nest, a company that builds smart home products, has partnered with Johnson Controls to create a system that allows you to control your home's temperature, lighting and entertainment systems using your phone. As smart devices continue to be developed and innovated upon, real estate will continue to grow more and more convenient for both buyers and sellers alike.
Ultimately, technological innovations will continue to impact the world we live in. It is up to us to adapt to these changes and make use of them to positively influence our lives.
The real estate world which once seemed to be only understood by a select few, is now openly available to anyone around the world. If one is keen to learn about the industry, it has become easier than ever to become an expert straight from the comfort of home. It can only be expected that such innovations will grow and further change the dynamic of the real estate industry.
Comments on this guide to 5 ways technological innovations impacted real estate article are welcome.
Buying Property Articles
Buying Property Posts
5 step guide on how to find perfect new home
What are main reasons to invest in income property
Do architects make good real estate agents
Building Articles
Contemporary Architecture
Comments / photos for the 5 ways technological innovations impacted real estate advice page welcome